SANDFLY 4A, SWALLOW 4B and SPHINX 4E were part of 4 Tp, 26 ASRE during Op Infatuate II, but I believe that they all came from 11 RTR. I even think that all LVT in 5 ARRE and 6 ARRE with names in 'S' came from 11 RTR.
If we look at the style and location of the '4' (dark digit outlined in presumably white colour) in SWALLOW's '4B', we note that they match exactly those of the '4' on SHITE HAWK ('A' Sqn 11 RTR), whereas other vehicles of 26 ASRE show a different style altogether: large (probably) white characters with no outline.
The style and location of the name is identical for all 4 LVT SANDFLY, SWALLOW, SPHINX and SHITE HAWK, but different from those of other 26 ASRE LVT: see the name ADAMANT, smaller, over a dark rectangle and located aft of the hull side. Same applies to the Sqn symbol when visible.
To me this is evidence that SWALLOW was a vehicle in 4 Tp (but not No.2, or 'C', veh), 'A' Sqn, 11 RTR before she joined 4 Tp, 26 ASRE as its No.2 Vehicle.
On the other hand, the callsigns '4A' & '4E', like the 'B' in '4B', are of the same style (and location for the former 2) as the other LVT in 26 ASRE. They were probably painted afresh on SANDFLY and SPHINX, which we can therefore assume did
not
come from 4 Tp, A Sqn, 11 RTR (unless the painter was less lazy with these two than he had been with SWALLOW...). The former Tp No must have been blanked off (or rather 'blacked out'), as the darker patch at the former location of the Tp No on SPHINX and SANDFLY seems to indicate.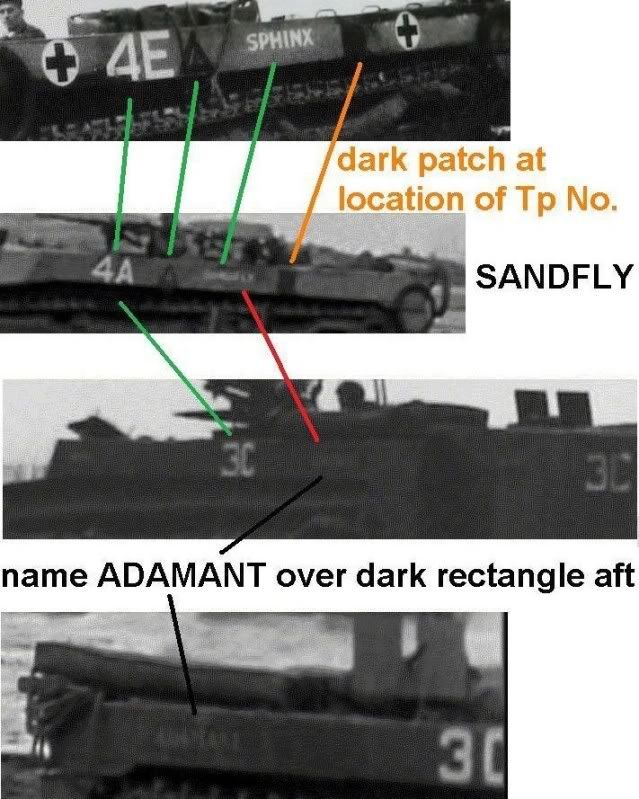 Michel
remove "truck" from email address