Quote: "Was the Russian flak gun ever used for anti-tank action the way the 88 was?
And what was the usual prime mover for this gun.
Every picture I've seen of this gun is emplaced, either in an urban situation of in the field.
I've read it was used in the anti-tank role during the 1944 summer offensives on the Eastern Front"
Yes, of course ! This guns were widely used as anti-tank guns, especially during early period of War, when Red Army had great lack of effective AT guns. For example, these guns were used during Moscow battle in 1941 as AT guns (see image 1 - here is 52-K gun of 6th Battery of 732nd Anti-Aircraft Regiment in town Tula. Date - October 30, 1941):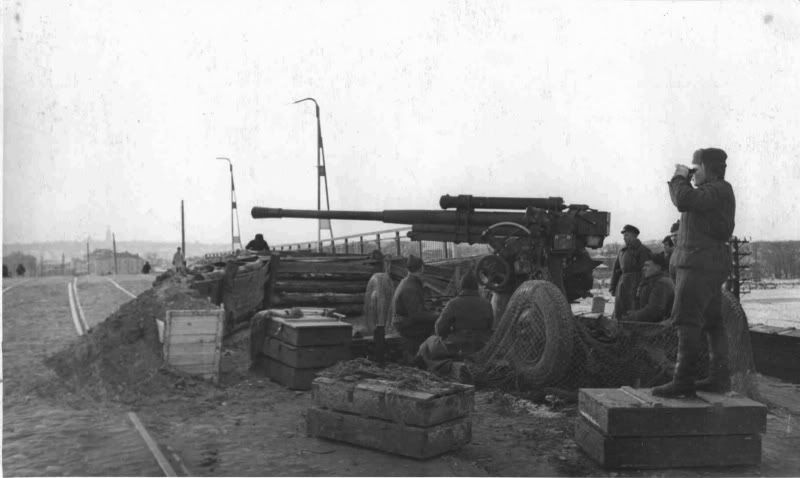 During battles near Tula on October 30, 1941 about 40 52-K guns were used as AT guns; but due to poor defence plan the most part of them was destroyed or captured by Germans.
Another example about 52-K, in another place: "During 2 days of hard fighting, on August 23rd and 24th, 1941, the 1077th Anti-Aircraft Regiment has destroyed or damaged 83 German tanks, 15 trucks with enemy troops, 2 fuel trucks, has killed over 3 infantry battalions and shooted down 14 enemy aircrafts".
Image 2. Exact place is unknown. But different types of crew member's helmets - 1936 model and late pre-war model - indicates, that this image was taken in early war days too:
Image 3. The place is unknown again, and this is mid-War period:
During Battle of Kursk at least one Anti-Tank Regiment has 52-K AA guns as main weapon. According to memoirs of one soldier of this Regiment, his gun have destroyed or damaged 9 German tanks in this battle, and gun nearest to him - 11 German tanks.
As for towing vehicles - there were no special tractor type for 52-K only, and different vehicles were used:
1) ZiS-42 Half-Track Truck:
2) STZ-5-NATI tracked artillery tractor:
3) Some unknown truck (there is 52-K, captured by Germans. It looks like ZiS-5 wheeled truck, but, maybe, this is some German truck - it is hard to say):
And other vehicles were used, which had enough power of engine to tow this gun.