There is no hard and fast 'you must put these with this' rule, there are plenty of photos showing all sorts of combinations, some I've posted here before in response to this very same question. There were no less than three distinctly different 'directional' patterned tires, at least one 'street' pattern tire and of course the more common uni-directional pattern tire.
...and any of them could just as well be mounted on the combat rim.
In fact, there is a very well known LIFE photo of an M3A1 stateside, covered in mud camo and cactus and it has the 'early' directional pattern tires on 'late' combat rims. The tires and rims aren't 'incorrect' for the HobbyBoss kit, since the kit isn't a true 'early' M3A1.
Here is the previous thread about the tires:
http://www.network54.com/Forum/47208/thread/1324332408/Is+there+a+prob+with+the+Hobby+Boss+White+Scout+wheels-!
I posted a photo of true 'early' scout cars and what the original 'early' pattern was in that thread, that photo Tom posted above (and in the other thread) isn't an early scout car and only represents one possible tread pattern.
[IMG]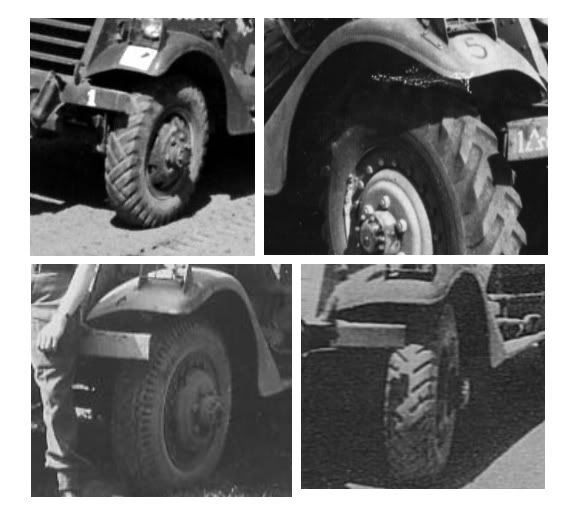 [/IMG]
To answer your question though, with a little customizing I'm sure you could make those tires work on the kit.
___________________________________
Build how you like, like how you build.
http://armorfarm.blogspot.com/