" I am guessing the BRE in the M1A2 SEP is not the same as the USMC one?"
Yes, the folding BRE is the same one. It is also the same on the Aussie M1A1 AIMs recently fielded.
The clear resin gun shield would be fine for me, provided it is nice and clear.
Mesh would be prefered for the BRE. Mesh doesn't mould well in resin. It tends to be too thick and blobby-looking (if you know what I mean).
I would prefer as complete a set as possible. I think that would be best if you want to sell them. That way modelers can get all they need in one place and don't have to search for pices still.
Slave cable ends: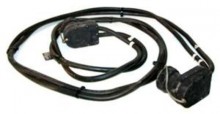 I can help with some pics if you need them, just let me know what you are looking for.
Gino P. Quintiliani
Field Artillery --- The KING of BATTLE!!!
HeavyArty's Showcase