Hello Andrew
Thanks for the comments. As you suggest, Mapham's pictures give an excellent narrative of D-Day. They are perfect for model makers because he tends to take a bunch of pictures in a single spot before moving on to the next.
Here are some more pictures as requested: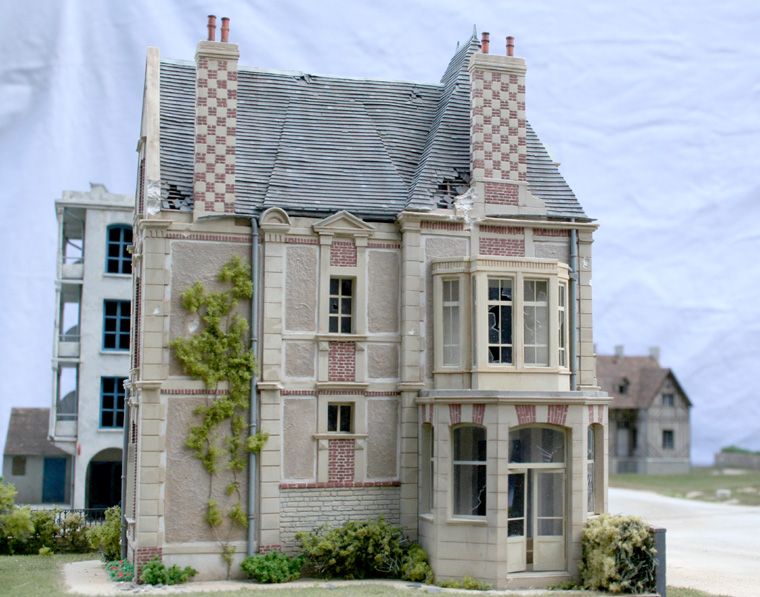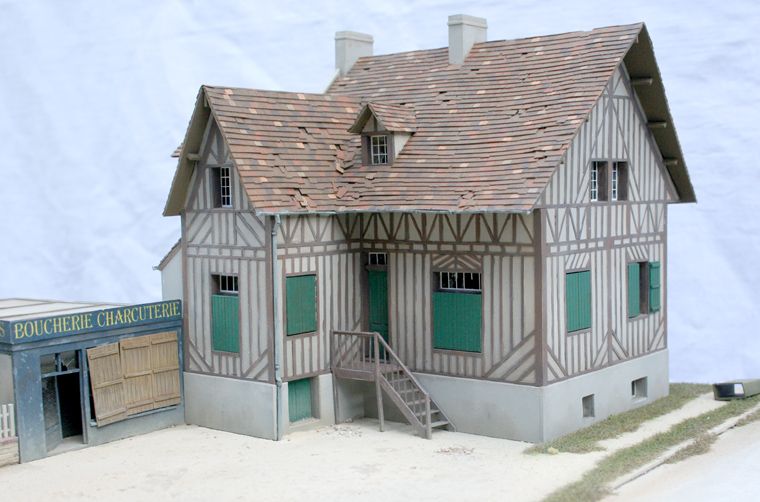 It needs a lot more dirtying up and I'm working my way through the figures in the photographs, adding them to my range as I go. If you look at the illustrations for the figure sets on my website you can probaly work out where they are meant to be placed. The buildings are (with minor alteration) still there and so I was able to fully survey the site and create plans of each of them. I have somewhat over produced the vehicles so that all of the ones depicted in the photographs are available in order that I can choose the precise moment at a later stage.
Though there is still some work to do, you can get a pretty good idea of the scope of the model from this aerial view: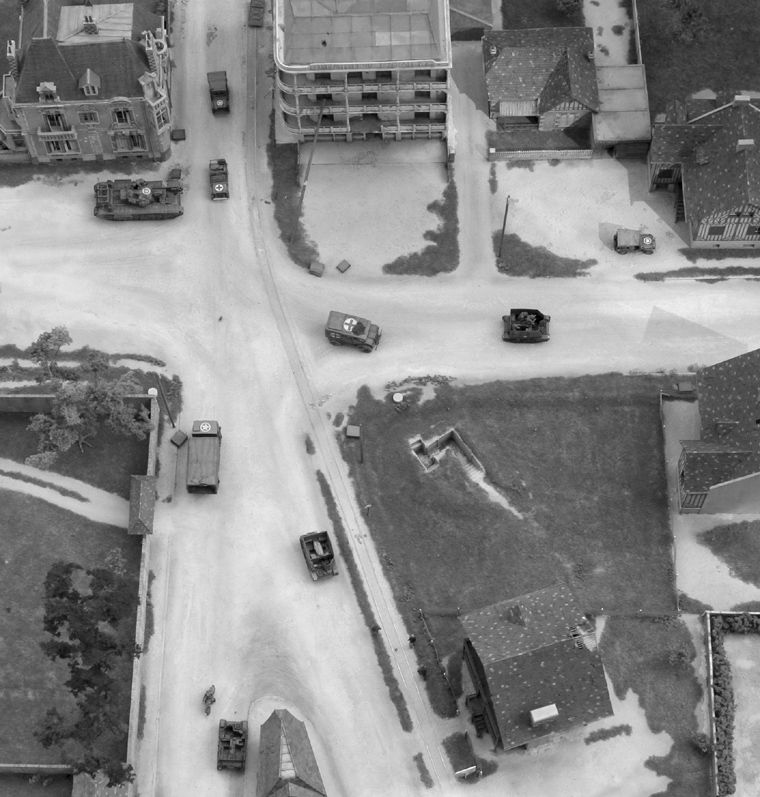 A couple more test layouts: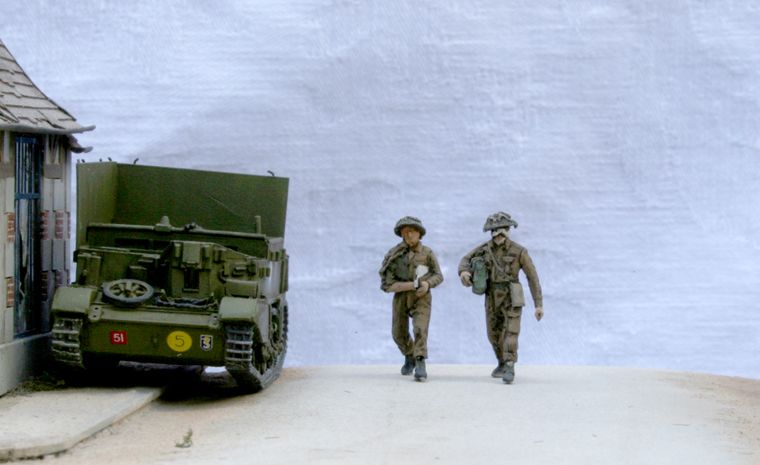 This is the third of three dioramas depicting 'Jimmy Mapham's D-Day'. The first is based on the pictures taken in Shoreham on either 4th or 5th June; the second shows the scene on the beach at about 10am on 6th June, approximately when he landed; and the third scene shows the junction at Hermanville-la-Breche, the first lateral road off the beach an hour or so later.
Though the Hermanville diorama is the furthest developed, the first is coming along fairly well too. It depicts two landing craft of 41 LCT Flotilla as they are being are loaded with 13/18 Hussars and various units of 3 Inf Div. When I built the LCT4 for Accurate Armour about ten years ago this scene was the intended conclusion: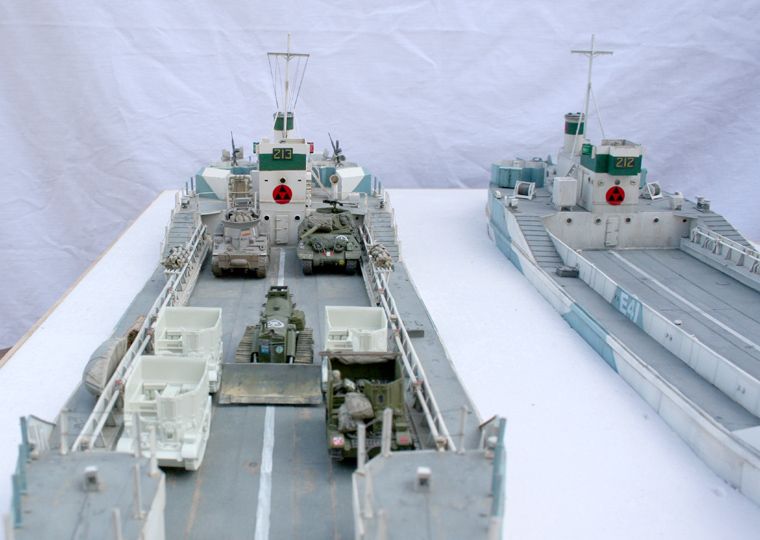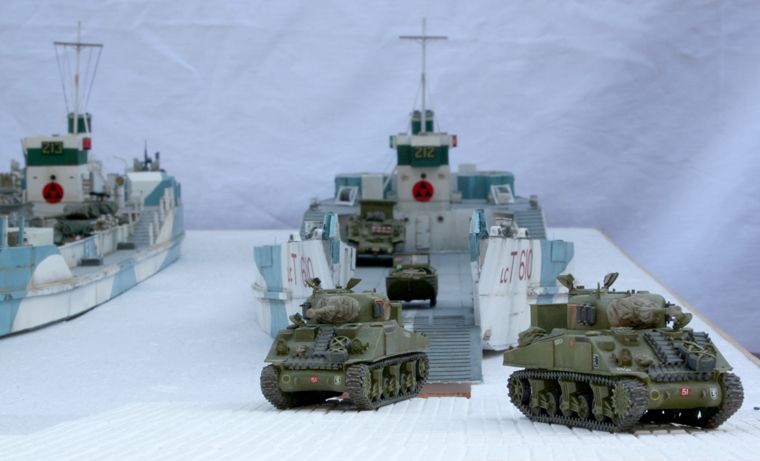 This is just a basic layout and requires a lot of work to finish the sea, the hard and the myriad figures. There's going to be a jetty running out between the two craft and a number more vehicles in LCT 789. You can probably tell, it is a labour of love.
The plan is to have the three dioramas completed next year so that they can be displayed for the 70th Anniversary of D-Day.
The LCS (M) is still on the cards and I have the basic hull built. My problem is that there are not enough of me to go round all of the projects I have on the go and I can't afford an assistant as yet. If you happen to know of any funding angels, their telephone numbers would be appreciated!
Hope that was interesting
Regards
Dan
www.dantaylormodelworks.com