Hello everyone, just home from the beautiful Dordogne region in France (Perigieux) were a fine and quiet holiday was spent, without braille or computer at hand !!
Meanwhile, my Email account was hacked and some of you may have got a nasty linked Email from my mailing list in error, wich I deeply regret...Meanwhile it is all solved...
Now I had time to browse through the messages and beautiful work on braille, ALL OF YOU : WELL DONE, there is no time to comment you all seperately, but I will try to keep up from now on.
Big cheers for the Medical group contest : I am eagerly awaiting the final collection of pictures Paul !!
Now I also had time to finish some stuff : The Hummel group with all its funnies and the discussion heavy PzKfW IV F2 mit 88mm FlaK 36.
I finished the latter in deserted wreck style so there is lots of operational detail missing, just like seen on the original(s) pics.
Here are the pictures with some comments :
GW III/IV Hummel mit 10,5 cm LeFH and GW III/IV Hummel Munitiontrager.
Both reworked from old Esci models I had in my collection for ages. The obvious flaws in the basic models were not corrected, only side visors installed.
1945 cammou schemes and Archer dry decals tact symbols.
Weathered in Humbrol dark grey, mud brown and light grey.
These were a realy fun rebuilt to do and all my collection Hummels are different now!
The Pz IV F2 from Airfix lost its turret parts to the PZ BefW III K and was chosen to become this cumbersome tankjager. A recessed interior platform was made with Fujimi Kingtiger grilles and front and back got holed bulkheads. The lowered drivers position roof is up for discussion...
As per Panzerwrecks 10 (X) it got a Schwerer Panzerjager tactical symbol in red. (although the "s" is not correct..)
This Esci PzKfw III M was already in my collection as a Versorgungs vehicle but with sone Dragon bridgeparts from a SdKfz 251/7 it is promoted to PzVers. und Pionierwagen III M (fieldmod). It now fits to the Hummel late war group nicely with its brother the PzBefWg III K (Are you all still with me on these names ?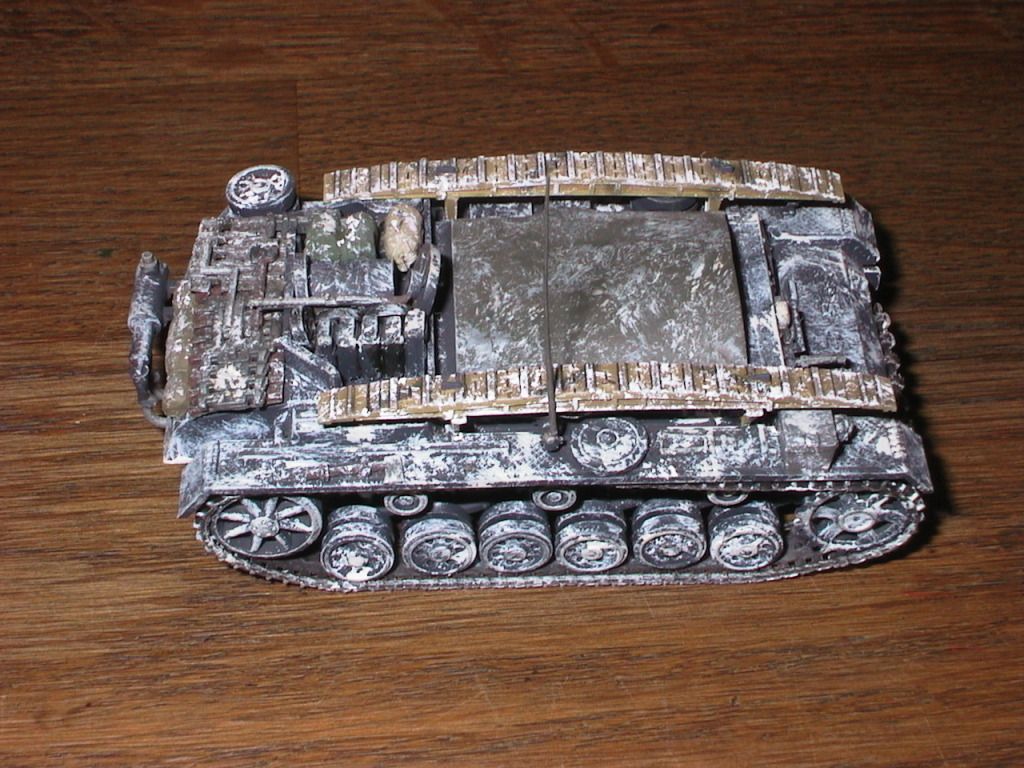 The complete late war Hummel platoon section outfitted with more suplemental vehicles than actual firepower.....very German late 1945 style...
Hummel 150 mm, Hummel 105 mm, Hummel Munitionstrager, Pz III M Vers/Pio, Pz III K Befehl and Pz III H Beob.
At least every single shot was well commanded, observed, and replennished and Heeresgruppe Command was surely very happy with all that good communication....
Comments welcome and talk to you all soon, Alfred van Netburg.