Hey all,
Selling more stuff. To keep it simple, sales are limited to US / Canada only. All items shipped at $7 per package (including delivery confirmation) using USPS economy. Im open to dropping the shipping costs for small items (like PE or decals). Prices listed in US Dollars; Paypal preferred but money orders also accepted. If interested, please contact me at danielcruz561@yahoo.com.
All items are open, complete and unstarted unless otherwise noted; relevant info is listed when appropriate. Pictures of just about everything are at the bottom of the post.
Full Model Kits
SdKfz 223 Package
Tamiya kit (#35268) with Voyager PE (#35216 includes resin MG and jack, brass turned driver poles, copper tow cables, exterior PE including all fenders/stowage boxes) and Tank Workshop SdKfz 223 interior (full resin interior including radios, drivers station, etc). The Tamiya kits complete though theres 5 or 6 pieces loose off the sprues; the Tamiya box is a bit beat up as well and I got rid of the Voyager / TW packaging to save space. All in all, this will build up better than the newer Hobby Boss kit at least this package has a radio!
$35
PLA BJ212 Military Jeep (Trumpeter #02320). Includes Trakz resin tires (0105) to replace the stock vinyl tires. Note that this is from the boxing that included the Type 63 rocket launcher, which is NOT included as I used it for a Libyan Technical conversion.
$15
1/4 Scale Colt AR-15 (M-16) Rifle USA (#660): Resin kit of the M-16; 15 pieces. Comes with a small brass plaque that reads Colt M16 Rifle U.S.A..
$10
Village Wall (Warriors #5029): Resin corner wall piece with detailing on both sides
$10
Verlinden Figures:
$7 per item.
Most of these have 2 figures (one has 3 figures).
Take the whole lot for $60.
Reporting Afrika Korps (#1410): Two resin Afrika Korps figures, one whos saluting and one who looks kind of like Rommel.
British MPs WWII (#622): Two MPs pointing the way; I dont think the figures are historically accurate as neither is drinking tea.
SS Cavalry / Mounted (#701): SS guy on horseback. Note that the original riders head is missing so Ive replaced it with another head from Warriors.
SS Infantry WWII (624): Two guys in smocks; one drinking from his canteen, the other just standing around.
Panzergrenadier MG Squad WWII (#936): Two guys in smocks; one carrying an MG 42, the other carrying an ammo box in each hand.
Liberation Normandy 1944 (#838): Old lady holding a bottle of wine and a GI with a cup happily drinking said wine.
Nurse with Children (#291): One nurse, one young girl and one young boy just standing around.
German General WWWII, Generaloberst W. Model (#391): German General just standing around. The box top has him holding some kind of map in his left hand; this never came with the kit.
US General (#594): Stormin Norman Schwarzkopff standing around.
Woulded GI & Medic (#253): WWII GI leaning over/caring for a wounded GI lying on the ground.
Photoetch / Detail Sets
Russian BTR-60P APC PE set (Voyager #35473); for the Trumpeter kit. This is for the open-top version of the BTR-60.
$12
IDF Merkava MBT IV Windbreaker Active Protection System; AKA Droid (Voyager #PEA267)
$7
SdKfz 223 PE set (Eduard #35322); for the Tamiya kit
$8
Sherman Update Kit (Verlinden #204): Verlindens generic resin update kit for Shermans with about 24 detail pieces.
$7
Centurion Suspension and Wheels (AFV Club - AF35101)
$8
Decals / Dry Transfers
Centurion Shot-Kal and Tiran Decal Sheet (Bison Decals #35030)
$5
Israeli Military Vehicle Markings #1 (Verlinden #DTMI302)
$5
Books / Magazines
MMIR (Military Miniatures in Review) #54: Unread copy I got two by accident.
$7
Squadron Signal #117, M113 in Action: Decent shape again, I got two by accident. Am I the only one who does this?
$5
Journal of Museum Ordnance, 12 issue set including: Volume 4, issue 5; Volume 6, issues 1, 3, 6; Volume 7, issues 1, 2, 3; Volume 7, issues 5 & 6; Volume 8, issues 2 & 6; Volume 9, issue 1. These guys are about 10+ years old so theyre not pristine, but not horrible either.
Take the lot for $12.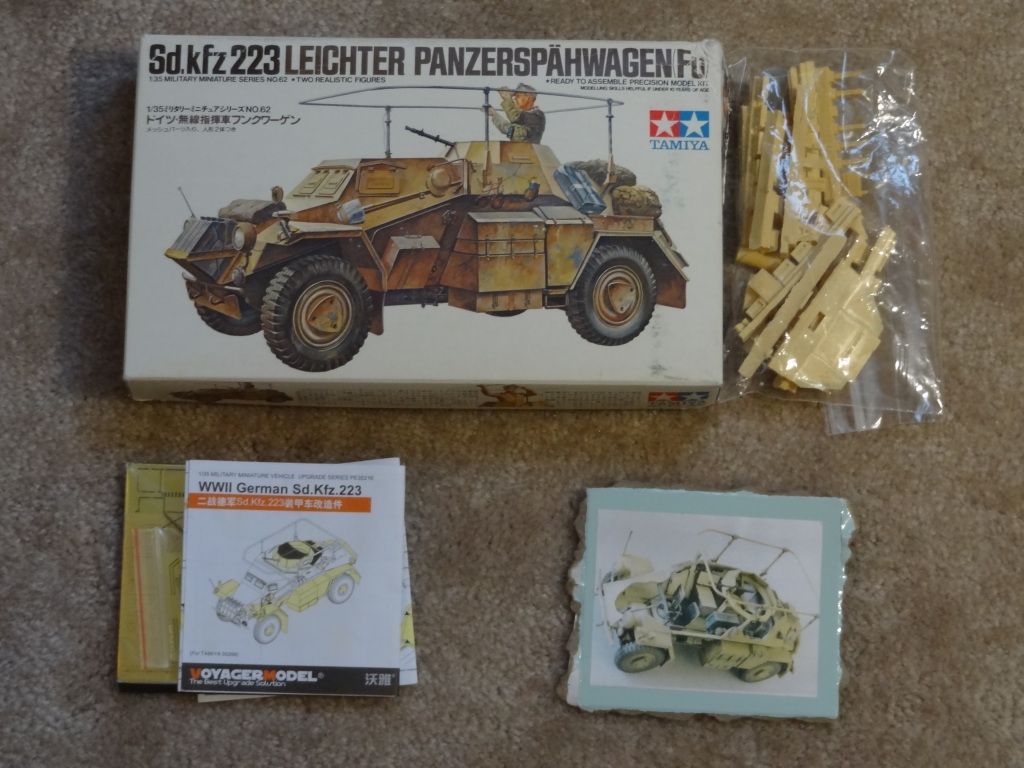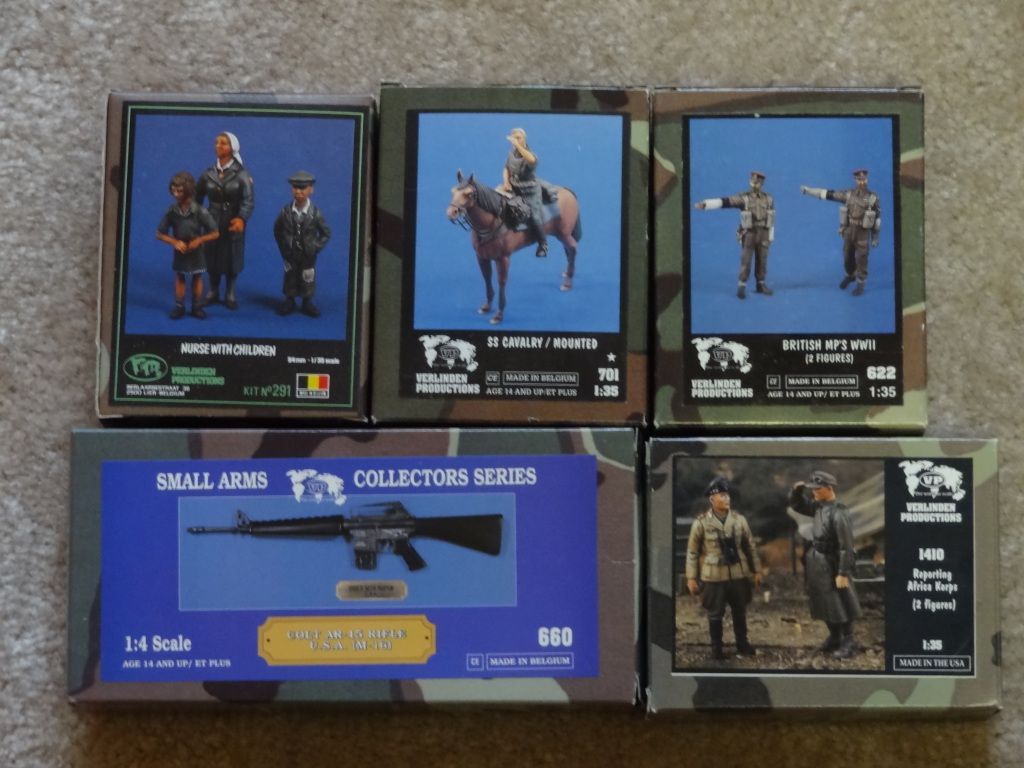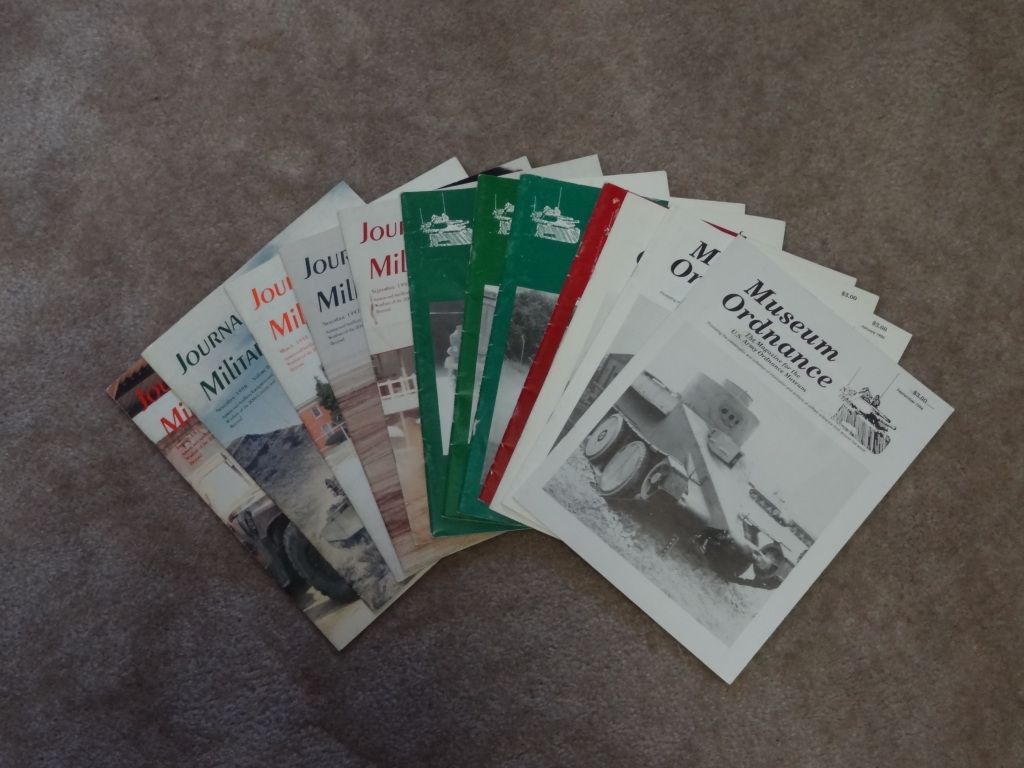 Cheers,
Daniel Cruz