DRAGON MODELS LIMITED
Product Specifications.
6462, USMC M4A2 Late PTO 2-in-1. 1/35th-scale styrene/multimedia kit. Contains 458 styrene parts (including 22 clear), four DS-100 track lengths, one piece of wound metal wire, one etched brass fret, three decal/markings schemes and eight pages of instructions in 12 steps.
Introduction.
Recently DML announced the upcoming release of a late M4A2 and billed it as being from the Iwo Jima campaign. This drew immediate criticism on various web-sites because more recent information has shown that two of the three USMC tank battalions deployed to Iwo Jima used M4A3 VVSS tanks with later 47-degree hull; the other used the earlier M4A2 with welded driver's hoods. In short, DML was basing the markings and packaging on older information, which (it must be said), had been widely accepted by modelers due to its source.
So, I got together with the folks at DML and provided them with the most recent info, based on the work of Ed Gilbert. While the parts included are virtually identical to what was planned initially, the packaging was changed and proper markings were worked up for this type as seen serving with 1st tank Battalion on Peleliu and 2nd Tank Battalion on Tinian. Therefore all the bits needed to properly model and mark this version are included in the box. In addition, DML decided to include several extra parts intended for the Iwo Jima kit, such as wood plank armor, commander's vision cupola and T54E1 steel chevron tracks with extended end connectors, a.k.a. Duckbills. This is a boon for those modelers who are always on the look out for bits for a particular project. Or, if they have an M4A3 kit sitting around in the stash, most of the needed parts are available.
Tracks.
These consist of two pairs of lengths molded in DS-100 soft styrene. The track type represented is the T54E1 steel chevron, with one set being in the standard configuration, while the second set has Duckbill Extended End Connectors in place. This material can be glued with standard styrene cements and will take paint better than vinyl. Coming from a slide-mold, the detail rivals that of any individual-link products on the market. For instance, the end connectors have the proper details on their outside surfaces, to include the circular openings for the track pins and distinct bolt detail, while ease of assembly is self-evident.
Two versions of T54E1 steel chevron tracks are included in the box; one set has Extended End Connectors, or Duckbills, included.
Suspension System.
The bogie trucks and swing arms have nice foundry parts number details cast on. The swing arms will remain movable, while the return roller arms are of the so-called upward swept type, which is appropriate for this tank. The leading faces of each bogie unit needs some detail added, including the drilling out of four holes, while the track skids can use the addition of four attachment bolts and some thinning-down; the return roller brackets also need some bolts added. Perusal of references listed below (particularly number 2) will show the detail-oriented modeler what needs to be done. Because of the sprue layouts, there are also bogie trucks included that have the straight return roller arms. These will come in handy for the ever-expanding spares bin.
There are two sets of road-wheels included in the box: welded with five spokes and stamped with six spokes; the latter are accompanied by separate back hub details. The instructions note that the proper ones to use are the welded types, but also show the stamped types as an option. Photos indicate that the stamped types are correct for the tank for which the markings are provided. Again, the spares bin will be well-fed! Two styles of idler wheels are supplied, with the stamped type featuring a separate rear face. There is also a choice of drive sprocket rings (usually described as plain and fancy), but only one is used as properly noted in the instructions.
Hull.
The hull belly and side plates are a one-piece molding in the appropriate configuration for the diesel-engine version of the M4. There are separate mounting plates for the bogie units as well as other parts to detail where the mounts fold over onto the belly plate. A separate attachment strip for it has raised bolt heads without any extra splash protection; separate tow clevis mounts are provided as well.
The hull rear plate is attached along with separate exhaust pipes and mufflers, plus the grill work seen beneath the superstructure overhang. The radiators and splitter plate seen above this are not provided. Other items include a tow pintle and mount as well as molded-on mounts for the tow clevises. The idler wheel mount assembly is a multi-part affair and includes an axle that can be adjusted for proper track tension; don't glue it in place until you're satisfied with the appearance.
Superstructure.
This kit is provided with the later welded superstructure, which had a 47-degree glacis plate. The part comes from a slide mold and has fine weld detail on the roof and side plates, where appropriate; these are all properly raised above the surface. The rear plate has painted-on marks to show where etched brass hex-bolt heads are to be applied; there are also styrene versions on the sprues, which are not mentioned in the instructions. There have been some corrections made to the entire molding to include properly-located painted-on marks for the bolt pattern on the rear plate and properly-configured join between the side plates and the roof. Applique armor plates are provided for the superstructure side plates for placement over the areas where the internal ammo racks were positioned, as is seen in contemporary photographs.
The superstructure part has raised weld bead details, newly-corrected engine access hatch lids and proper painted-on pattern for the bolts on the rear plate.
All crew and engine deck hatch lids are separate parts and can, of course, be depicted opened or closed. The same can be said of the various fuel, oil and water filler caps, which also have detailed orifices. The crewmen's hatch lids have separate periscope rotation plates and covers, as well as periscope heads in clear styrene; grab handles are molded in place and should be removed for replacement with fine brass or styrene rod. The engine deck access hatch lids also have grab handles molded in place and should be treated accordingly; they have been re-tooled to give the correct grill pattern.
There are a host of other detail parts including lift rings, dome vents, head- and tail-lamps (the former as clear styrene parts), brush guards (with only the ones in front given the option of being replaced with etched brass parts), horn and various (quite well done) tools. The bow-mounted .30 cal. Browning machine-gun is slide-molded so it includes nice cooling jacket detail as well as a pre-opened bore. There are also optional styrene armor strips for the area around the filler caps, optional styrene or etched brass fire extinguisher pull handle covers and other etched brass details. The provided braided metal wire, styrene end loops and etched brass clamps will result in a nicely-done tow cable.
Etched brass front fenders are supplied as are the mounting strips for the sand shields. The latter items seem to have properly captured all of the subtleties of the prototype parts to include the spacing of the bolt holes as well as the taper of the front and rear segments. New styrene parts to represent wood plank armor are included, but should not be used with the markings/vehicle type combination given in the box.
Turret.
The high bustle turret features the M34A1 mantle and rotor shield as well as the later low profile commander's split hatch cupola.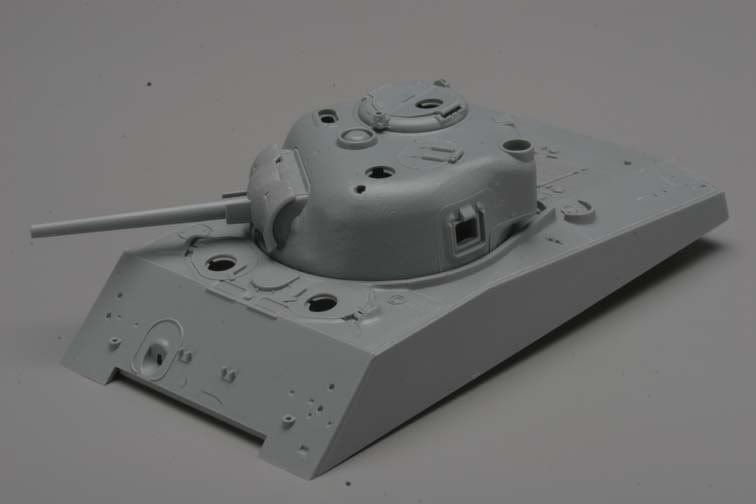 The turret is the so-called high-bustle type first seen on DML's M4A3 105mm kit; it has a separate oval loader's hatch lid. The main shell is beautifully textured; coming from a slide-mold, the pistol-port hatch opening is already molded in place. Cast-in cheek armor is seen over the gunner's station; this features a soft edge at its bottom, which is a correct variation. There is a fine seam that must be eliminated, while the hatch lid is separate and includes an internal locking lever. All periscope heads are clear styrene, while there are separate rotator plates and covers for them, so they can be depicted opened or closed and pointed in any direction. The commander's split-hatch cupola has separate lids with complete detail on both sides, to include separate lift rings and handles, hold-open latches and machine-gun travel lock, as well as molded-on foundry numbers. In fact, there are two split-hatch cupolas, one of which has a lower profile than the other. In addition, a complete vision cupola is provided. It features a multi-part hatch lid in which the central rotating portion is a separate part. Clear styrene periscopes and vision blocks supply the final detail bits.
The 75mm gun tube is from a slide-mold, so it is pre-bored; careful clean-up of the mold seam is needed and for this I strongly recommend the old stand-by tool, the Flex-i-file. Two variations of the M34A1 mantle along with its associated rotor shield are included as are two variations of the older M34 mantle; the latter are not for use and can be consigned to the spare parts bin. The co-axial .30 cal. Browning is from a slide-mold and includes fine cooling jacket detail as well as a pre-opened bore. An etched brass blade sight is supplied for the commander, while extremely fine styrene tie-down loops are given for the turret bustle rear; these are complimented by etched brass straps and buckles.
Wood plank appliqué armor as well as the standard sponson ammunition rack armor plates are provided. Note the baggage rack for the rear plate as well as the later commander's all-around vision cupola, with separate hatch lid, which in turn features a separate rotating section.
Molding, Fit and Engineering.
I noted only one pitfall, related to the fit of the hull side extensions and the cast transmission/final drive cover. Do not fit parts A13 and A14 to the cover part A10 using the tabs on the inside for alignment. This will place the sides too far in; they must be flush with the edge of the cover. In a related issue, the hull side walls tend to lean in towards each other, which may or may not affect the fit of the final drive cover. Proceed with care!
Accuracy and Details.
I have no 1/35th-scale plans to compare the parts to, but photographs indicate that the details are proper for this version and that the components are where they should be. In addition, I have noted corrections where they have been made. The various features of the vehicles for which markings are provided are properly noted; in essence, the wood armor, commander's vision cupola and the set of Duckbill-equipped tracks are all extras, which will be of great assistance to the Sherman modeler.
Instructions.
They are the usual drawn style and are not nearly as busy as most of the recent ones seen from this manufacturer, there being only 12 separate steps, not including the painting and markings section. Part Blue B20 should be installed separately inside the turret, Black B10 and not attached to the main gun assembly as shown in step 10.
Decals and Markings Information.
These are from Italy's Cartograf and are very well-printed. Registration is very good, carrier film is thin and closely-cropped to the design edges. Markings for three M4A2s are provided; they are:
• White C8, Co.C, 1st Tk.Bn., Peleliu, 1944
• White C40/Caesar, Co.C, 2nd Tk.Bn., Tinian 1943.
• White C30, Co.C, 2nd Tk.Bn., Tinian 1943.
The kit features a modest etched brass fret, wound metal wire tow cable and water-slide decals for three tanks.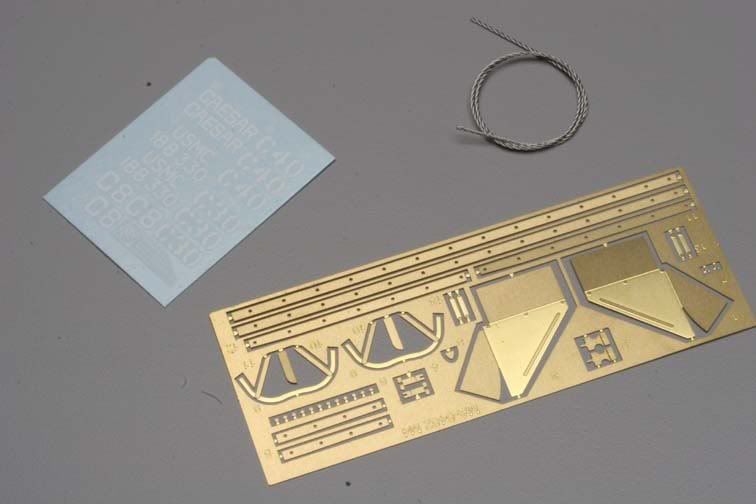 Conclusion.
DML continues to bring out versions of the venerable M4 Sherman medium tank in order to allow modelers extremely wide latitude when it comes to vehicle and unit type. This is a good thing. What's even better is that they listen to constructive comments from modelers whenever practicable, with the result that this kit has enhanced accuracy, proper detail fittings and accurate markings for this particular version.
Highly recommended.
Frank V. Curley Stooge De Sisto
References consulted for this review included, but were not limited to:
1. Sherman: A History of the US Medium Tank; Taurus, by R. P. Hunnicutt.
2. Walk-Around M4 Sherman; Squadron 5701, by J. Mesko.
3. US Marine Tanks in World War Two; Tanks Illustrated 29, by S. Zaloga.
4. Tank Battles of the Pacific war 1941-1945; Concord 7004, by S. Zaloga.
5. The Sherman Tank in US and Allied Service; Osprey Vanguard 26, by S. Zaloga.
6. Armour of the Pacific War; Osprey Vanguard 35, by S. Zaloga.
7. US Armour Camouflage and Markings 1917-45; Osprey Vanguard 39, by S. Zaloga.
8. Marines Under Armor; Naval Institute Press, by K. Estes.
9. Tanks on the Beaches; Texas A&M University Press, by R. Neiman & K. Estes.
10. Marine Tank Battles in the Pacific; Combined Publishing, by E. Gilbert.
11. US Marine Corps Tank Crewman 1941 -45; Osprey Warrior 92, by E. Gilbert
12. Sherman in Action; Squadron 2016, by B. Culver.
13. M3 and M4 tanks in Pacific Combat; Kagero Armor Battles 1, by A. Zbiegniewski.
Reviewer's note: Since May of 2005, I have been writing books for Concord Publications, a sister company to DML. The reader may wish to take this into consideration. For my part, I will attempt to maintain an objective viewpoint when writing these reviews.
DML kits are available from retail and mail-order shops. For more details see their web site at: www.dragon-models.com.
Delete abwehrabwehr from email.