DRAGON MODELS LIMITED
6425, Sd.Kfz.250/8 w/7.5cm K51 L/24 Premium Edition. 1/35th-scale injection-molded styrene/multimedia kit. Contains: 390 styrene parts (including 18 clear), two bags of Magic Track, one photo-etched brass fret, two turned brass parts, four decal/marking schemes and 10 pages of instructions in 29 steps.
Introduction.
The tiny Sd.Kfz.250 armored half-track, like its larger stable-mate, the Sd.Kfz.251, was fielded in a number of variants, many of which featured a heavy, crew-served weapon. In the case of the /8, it mounted the 7.5cm KwK (which was taken from older Pz.Kpfw.IV medium tanks when they were up-gunned), in the so-called K51 mount, which could be adapted to a number of different vehicle types. These vehicles provided close-support for reconnaissance and other units and also included the Sd.Kfz.251/9 and Sd.Kfz.234/3.
Like the Germans, DML has taken parts from their Pz.Kpfw.IV Ausf.F and Sd.Kfz.234/3 kits and added some new parts so the modeler can build a replica of the Sd.Kfz.250/8.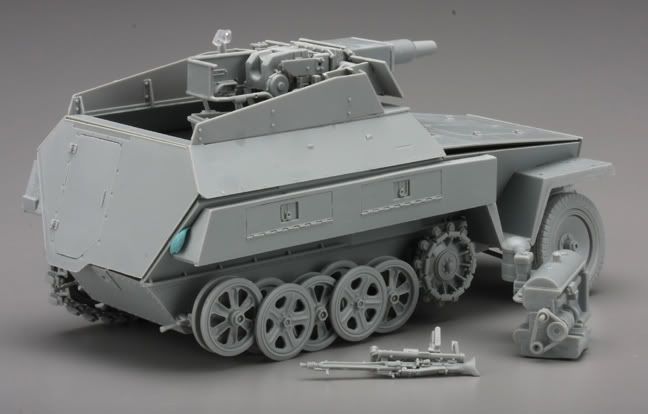 Tracks.
From the ground up, the kit provides semi-workable individual links of the Magic Track type; these come in two parts (rubber pad and steel shoe); when sandwiched together they will remain flexible. Each steel shoe part of the link has two very subtle ejector pin marks on the inner face; the fastidious modeler will wish to clean them up and since they are subtle and not below the surface, this should be a relatively easy, if time-consuming operation. Assembling the parts will be a bit of work (its a small vehicle, so thankfully we are not talking too many links on either side), but will result in very well-detailed tracks that also exhibit the proper sag. The instructions specify 38 links per side; I found that 39 worked better.
Suspension System.
The suspension system for the tracks has been given a complete make-over. The re-tooled three-part drive sprockets feature excellent small detail, including roller bearings that are subtly off-set. New torsion bar swing arms are provided as is a new final drive housing; the idler wheel axle is also separate. The road-wheels are also new and they have been given more details than the originals. Specifically, the rims are more accurate in appearance and the inner faces are completely detailed.
The conventional front wheels are completely re-designed and are composed of five disks that are laminated to form the tires; these fit over a new, separate wheel rim, which only needs an air filler valve to be added. This method of breaking down the parts will allow for an extremely accurate rendition of the tread detail; manufacturers logo (ContinantaU) and tire data are depicted on the outer side-walls. Unfortunately, the latest drawings in reference 9 indicate the tires are too small in circumference; it seems that the side walls are where the discrepancy occurs. These mount on a multi-part axle arrangement, which can not be configured to show the wheels steering, out-of-the-box. With some care and skill, the wheels can be re-positioned for a more distinct look.
Hull.
The belly plate and lower chassis sides is a single slide-molded piece to which separate torsion bar arms and final drive housings are attached; this core part, too, is all-new and replaces a previous three-part assembly. From the sides, it seems to represent the welded version, but if so, some rivets must be removed. The belly detail does not match the drawings in reference 9, particularly where it comes to the location and number of drain and access plugs. Likewise, several lines of rivets are not present. Tow hooks and a curved armor plate are attached to the front, while a trailer hitch is attached to the rear.
Superstructure.
The superstructure consists of the following separate parts: two side plates, the nose plate, rear plate and a one-piece upper side panel/roof/engine deck assembly. The latter includes the engine hood panel, upper side panels, drivers compartment front plate and roof panel. These are all based on the original parts but have been up-graded with subtle weld beads. Up front, the engine compartment access hatch lids are separate and there are etched brass screens to cover the two rectangular engine compartment cooling vents. Also included is a multi-part engine; this will provide the basis for further details from the modeler and is a nice addition, considering the engine deck hatch lids can be depicted in the open position.
The rear crew compartment access door is separate and can be depicted opened or closed; it sports a stowage box on its inner face and a rain guard gets positioned above it on the hull rear plate. The drivers view-port flaps are separate and feature clear parts for the vision blocks, as well as internal hinge mechanisms; naturally these can be depicted opened or closed. However, only the driver should have this assembly, since the other port was blanked-off on production vehicles; this plate is not provided, but can be easily made with sheet styrene. A separate radio antenna base and mount is placed forward on the K51 mounts starboard side plate, but no rod antenna is provided. A mount for the rear MG is also provided, but marked as not for use; the opening on the rear edge of the fighting compartment gets a cap instead. A new multi-part slide-molded MG42 and an MG34 from the Gen2 figure series is provided for the front and rear machine gun mounts; no ammunition boxes or belted ammo is provided.
The track guards with their integral stowage lockers have also been re-configured so the lids are all separate and can be depicted opened or closed; these also feature improved piano hinge detail as well as details on their inner faces. The rear convoy marker and brake light are separate and there are separate mud-flap/registration plate assemblies for the rear edge of the units. Drawings in reference 9 indicate the entire assembly is too short; this can be rectified by padding the ends with sheet styrene.
The front fender units are separate and mount tools, Notek black-out driving head-lamp, marker lamps and turned brass vehicle width-indicator stalks. The multi-part muffler/exhaust pipe assembly mounts on the port side and includes a choice of configurations; the opposite side mounts a stowage bin.
Fighting Compartment Interior.
DML has extensively re-vamped the interior of the fighting compartment by using etched brass and Gen2 German infantrymans equipment. These items include water bottles, gas mask canisters and mess tins. Spare MG barrel cases (I think!), stick grenades and racks, MP40 ammunition containers (but no MP40s), fire-extinguishers and spare vision blocks complete the area. There is a host of extra Gen2 infantrymens gear included and marked not-for-use. These include extra stick grenades, egg grenades, steel helmets, bayonets and entrenching tools. Naturally, the modeler can use them as he sees fit or consign them to the spare parts bin against future needs.
A ready ammunition rack is provided with six rounds for the 7.5cm K51. There is also a larger enclosed bin which may be for additional ammunition stowage, but this reviewer is unsure if thats the case. It should be mentioned that reference 9 states that this type was supposed to carry 20 rounds for the main gun. In addition, stowage for 2,010 rounds of 7.92mm ammunition was to be provided for the MG42 and 1,024 9mm rounds for the (not included) MP40. The crew was three men.
A separate floor panel mounts a single, three-part seat on one side and a bench seat on the other. Both have a nicely-rendered cloth texture and there are a couple of other parts to finish this area. The drivers compartment features an instrument panel (with decals for the dial faces) and a radio set in its rack, mounted side-by-side. The separate floor panel features re-tooled two-part seats that now come with spring details on their rear faces; reference 9 states that the co-drivers seat was eliminated. The firewall is dressed up with some stowage items, a multi-part steering wheel and transmission housing, with the latter including a shift lever; no foot pedals are provided. Behind that is a fairing that covered some drive-train items. The original kits in this series lacked a visible assembly under this part. It was included in some later kits, but for some reason is again absent from this kit. In addition, some easily-visible details around the inner hull walls, near the final drives are still not included.
7.5cm Kwk37 L/24 in K51 Mount.
This is the only really new segment of the kit and it is very well-done. The base plate for the universal Kanone 51 mount is placed over the new upper hull adapter parts. It is accompanied by commendably thin side and front shields, as well as armored cover and gun tube sleeve. The finished assembly will elevate and traverse.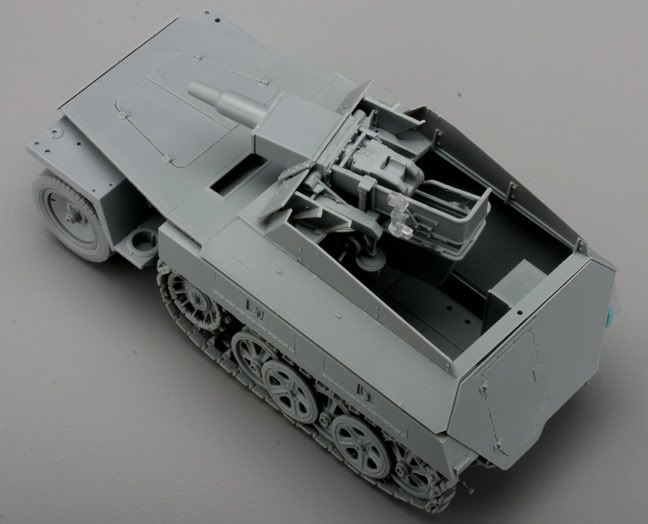 The 7.5cm KwK itself is based on a one-piece slide-molded gun tube. It is completed using parts from DMLs Sd.Kfz.234/3 kit, as well as other parts from their Pz.Kpfw.IV Ausf.F Smart Kit. On the inside, the gun is fully detailed to include: recoil guard, empty shell catcher, hand-wheels, clear slide-molded Sfl.Z.F.1b sight, breech block and separate wedge. The co-axial MG42 is a Gen2 item, so it has a pre-opened muzzle, complete cooling jacket detail and a separate receiver cover; the entire unit mounts on a separate tray. It is not supplied with any ammunition feed or magazines. In addition, there is also a Gen2 MG34 of a similar configuration, which is called out as an alternative to the MG42.
Molding, Fit and Engineering.
There was no shrinkage of any parts; there was no flash, while mold part lines are minimal and easily-cleaned. I have already mentioned the slight ejector pin marks on the inner surfaces of the track shoes. It should also be noted that the rear wall of the superstructure and the exit door have had their original molds cleaned up to minimize the work of removing ejector pin marks; the marks are still there but are very subtle and easily removed.
Accuracy.
Some omissions were already mentioned regarding the area around the drivers cockpit. Drawings in reference 9 show the following:
The tires are not large enough in circumference (the wheel hubs are fine).
The side stowage locker/track guard assemblies are about 1mm too short and the stowage locker lids are not deep enough.
The blanking plate for the co-drivers vision port flap is not included; his seat should be eliminated as well.
Improperly and incompletely-detailed belly plate.
There is a slight discrepancy, in plan view, regarding the contours of the superstructure around the engine compartment.
In all probability, the port-side fender should mount a Bosch, instead of the provided Notek black-out driving head-lamp.
None of the cited references show what the precise configuration of the vehicles interior should be, specifically the seating and ammunition stowage arrangements. So, this reviewer cannot comment on the accuracy of the configuration as presented by the manufacturer, one way or the other.
Instructions.
These consist of traditional line drawings; they are less busy than most from DML, but there are enough new bits to keep things interesting. In step 12, the stick grenades and racks are assembled, but no where are they shown in place. As usual, colors are keyed to Gunze and Model Master paints.
Decals and Markings Information.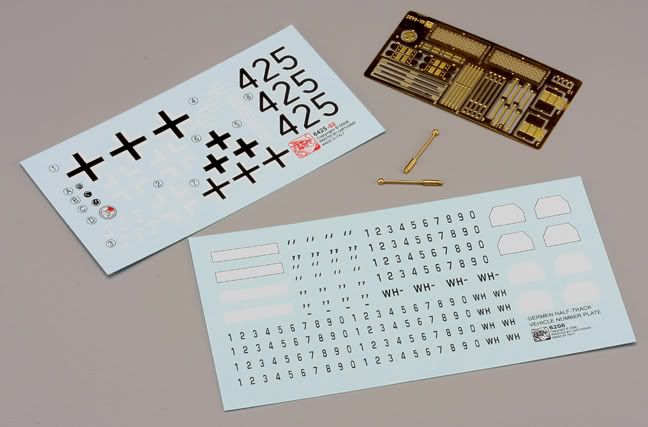 Water-slide decals for four vehicles are provided by Cartograf of Italy. They are in perfect register, have crisp, sharp edges and excellent color saturation. There are two sheets provided; one has the vehicle markings, while the other has several styles of generic registration plates, with separate numbers and letter prefixes. The modeler must not only assemble the numbers, but for legal reasons, the SS runes are also broken down into two parts. The markings depict the following vehicles:
Panzer-Grenadier-Regiment 304, 2.Panzer-Division, Germany 1945.
Black 425, 5.SS-Panzer-Division, Ostfront 1945.
Unidentified unit, Germany 1945.
Unidentified unit, Ostfront 1944.
Within the cited references, I cannot confirm or contest these schemes.
Conclusion.
This kit is a mixed bag; certainly it looks very good when completed and is a fine visual representation of the Sd.Kfz.250/8 Ausf.B. However several accuracy and detail issues, as well as the questionable interior stowage arrangements prevent it from living up to its full potential. However, thats where the term modeler comes in!
Recommended.
Frank V. Curly Stooge De Sisto
References consulted for this review included, but were not limited to the following books:
1. Schützenpanzerwagen in Action; Squadron Armor 2, by U. Feist & K. Rieger.
2. Sd.Kfz.250 & 251; Sturm & Drang 3, author unknown.
3. German Armored Personnel Carrier; Tank Magazine Special 2, author unknown.
4. Schützenpanzerwagen Sd.Kfz.251 and Sd.Kfz.250; AFV Weapons Profile 57, by W. Spielberger, P. Chamberlain & H. Doyle.
5. Halbkettenfahrzeuge, German Half-Track Vehicles 1939-1945; Almark Wehrmacht Illustrated 4, by J. Williamson & K. Jones.
6. German Armoured Cars and Reconnaissance Half-Tracks 1939-45; Osprey Vanguard 25, by B. Perrett & B. Culver.
7. German Half-Tracks of World War Two; Concord 7054, by F. De Sisto.
8. Allied and Axis, Issue 10; Ampersand, article by P. Stansell.
9. Leichter Schützenpanzer (Sd.Kfz.250) Ausf.A & B; Panzer Tracts 15-1, by T. Jentz & H. Doyle.
Reviewers note: Since May of 2005, I have been working on books for Concord Publications, a sister company to DML. The reader may wish to take this into consideration. For my part, I will attempt to maintain an objective viewpoint when writing these reviews.
DML kits are available from retail and mail order shops. For details see their web site at: www.dragonmodelsltd.com.
Delete abwehrabwehr from email.
Visit frankdesisto.com.