BISON DECALS
BD-35089, British Shermans in Italy. 1/35th-scale water-slide decals with instructions.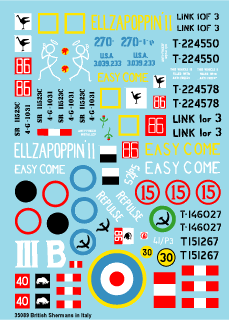 The American-designed and produced M4 medium tank saw widespread service with the British Army in Italy as part of their 8th Army. Bison has recognized this by producing this latest sheet, with markings for five tanks as follows:
Sherman Mk III, 3rd County of London Yeomanry
Sherman Mk III, The Royal Scots Greys (2nd Dragoons), October 1943.
Sherman Mk III, 46th Bn., RTR. Anzio 1944.
Sherman Mk III, 46th Bn., RTR, Anzio 1944.
Sherman Mk IIB, The Queen's Bays, 2nd Armoured Brigade, San Martino, November 1944.
In typical British fashion, the earlier types have multi-color camouflage schemes reminiscent of those seen in the campaigns in North Africa, while the later types, exemplified by the Sherman IIB (M4A1 76mm) are in single, drab colors. More color is provided by the usual British markings, such as AoS codes, divisional signs, squadron signs, AFV flashes, Allied stars, RAF-style roundels and various vehicle names. Census numbers, US serials, shipping data stencils and bridge classification disks are also included, adding additional interest and color. One highlight is the stick-figure drawing of The Saint, a fictional English film and literary character, on the sides of the Mk.III named Ellzapoppin; another is a squadron sign with a communist hammer-and-sickle in its center.
The instructions are nicely laid out as half-tone drawings. They often feature more than one full view, as well as some scrap views; brief notes are spread throughout to clarify certain points. Features seen on specific tanks are depicted, including track types. In addition, sub-types are accurately designated. Camouflage patterns are also shown, and references are listed. The modeler is also directed to Bisons web-site, where full-color instructions can be down-loaded and printed, as needed. Finally, a map is included that shows the designs as they appear on the sheet, with their superimposed alpha-numeric identifiers. These correspond to the call-outs for each tank in the instructions. This is quite handy and takes much of the guess-work out of the process.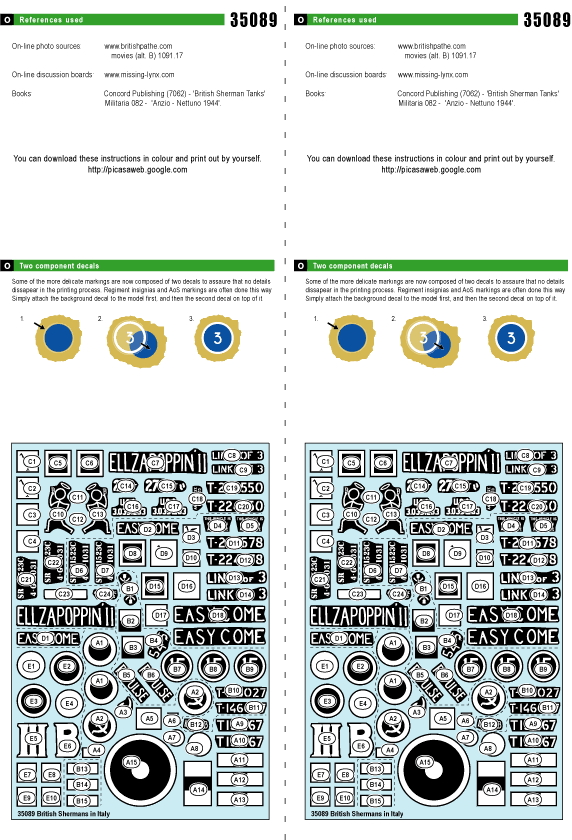 The designs are printed by Begemot, Bisons usual supplier. The quality is excellent, with good color saturation, proper registration and crisply-detailed edges. The carrier film is matte and cut close to the edges of the designs. I do have reservations regarding the blue in the RAF roundel; it appears much too pale and more like the color seen on contemporary French roundels.
These markings will do just fine on one of DMLs M4A2 (75mm) kits as well as the M4A1 (76mm) from that manufacturer and the similar, but older kit from Italeri. There is color and variety on this sheet, which should be most welcome by fans of British armor, Sherman tanks and the Italian Campaign in general.
Highly recommended.
Frank V. De Sisto
Bison products are available at retail and mail order shops. For more information, visit: www.angelfire.com/pro/bison.
Delete abwehr 2x from email.
Visit frankdesisto.com