It seems that I am on a mission to build all of the 1970-1988 Monogram kits multi-engine model kits. I built this kit sometime back in the 80s, but I have no recollections of what became of it. Back in November our club was hosting its contest and a vendor had this kit for a reasonable price and I have been wanting to build another one of these since I had helped work on a restoration at Castle AFB on a RB-36 in the early 90s. With a little push from one of my good friends John Jernigan I was on my way building this massive model. The kit is strait forward and not overly complex, the really only main issue is the size making it awkward to deal with. I followed along with the directions and started the build with the two-story flight deck.
[IMG]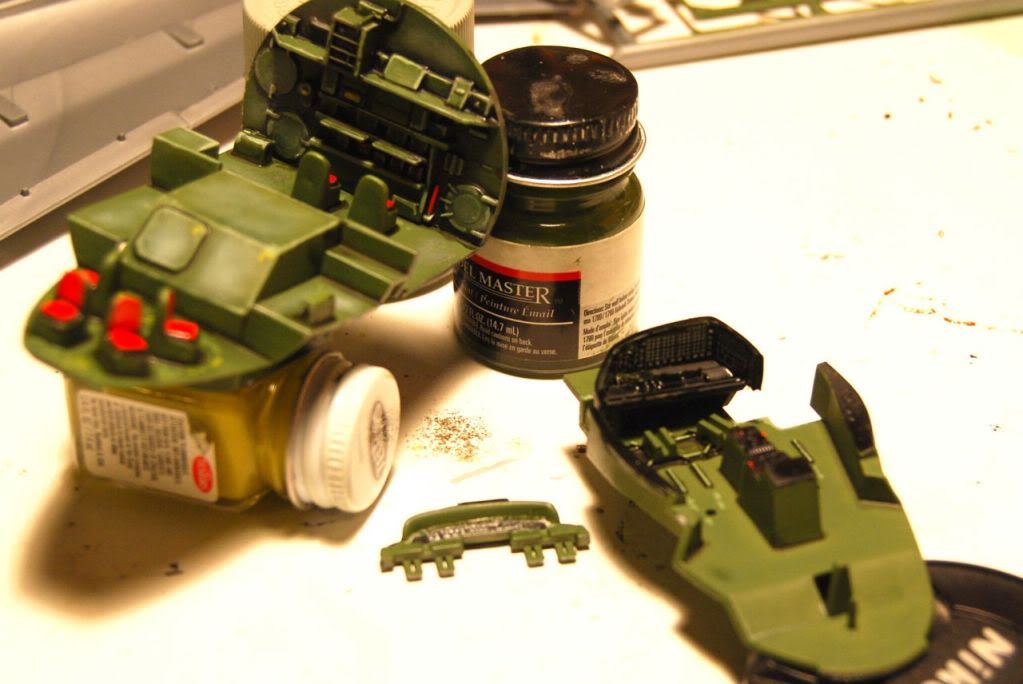 [/IMG]
Decals are provided for the main instrument panel and the flight engineers stations.
[IMG]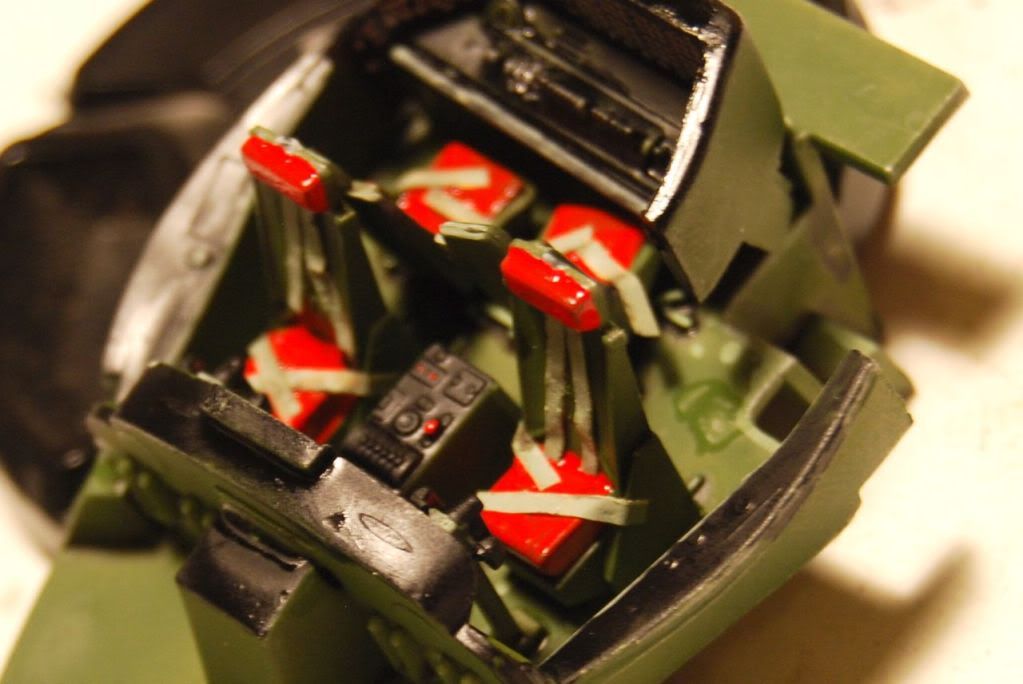 [/IMG]
Seat harnesses were made from thin strips of Tamiya masking tape.
[IMG]
[/IMG]
[IMG]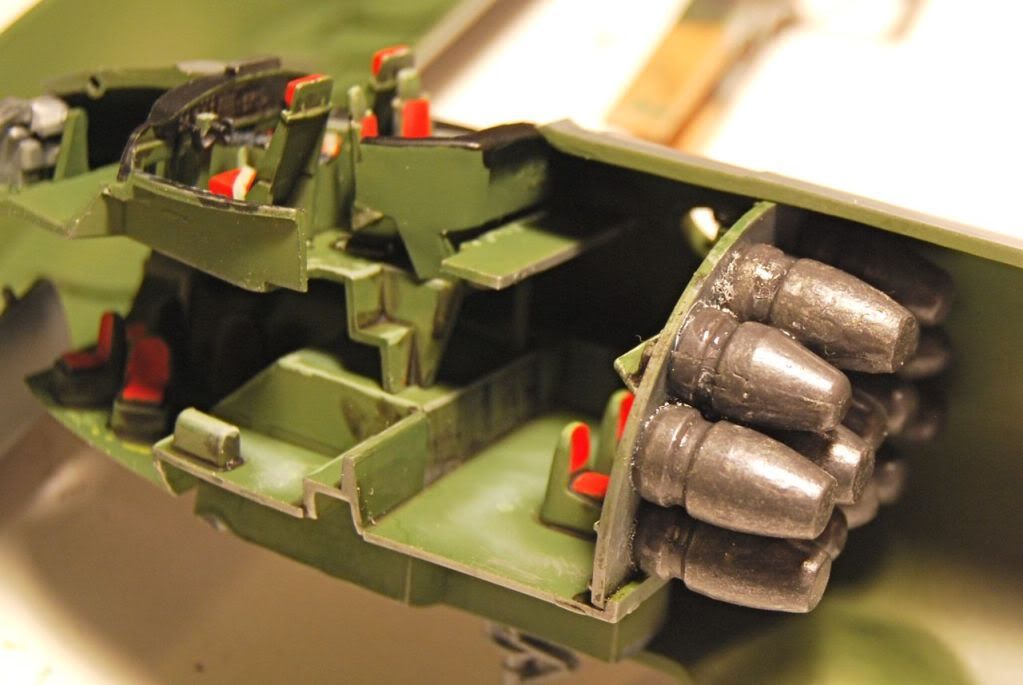 [/IMG]
About 20 9 mm 124 gr. Bullets were glued in place to insure this massive model would sit properly on its tricycle landing gear.
Moving on to the bomb bay section, I started with the painting of the ordinance and the rack structures. I am still a little puzzled about the kits representation of the bay, as it seems that it is way short of the actual scale size.
[IMG]
[/IMG]
[IMG]
[/IMG]
I then was ready to glue the fuselage halves together. The fit was not bad with only minor seams to be cleaned up and sanded. I then moved on to the wings and no major issues slowed me down. Then all of the subassemblies came together horizontal stabilizers, wings and fuselage. I filled in all of the gaps with Tamiya putty and sanded them out. Since this kit has raised panel lines and I had a few that got sanded away, I used the stretched sprue method in restoring them.
[IMG]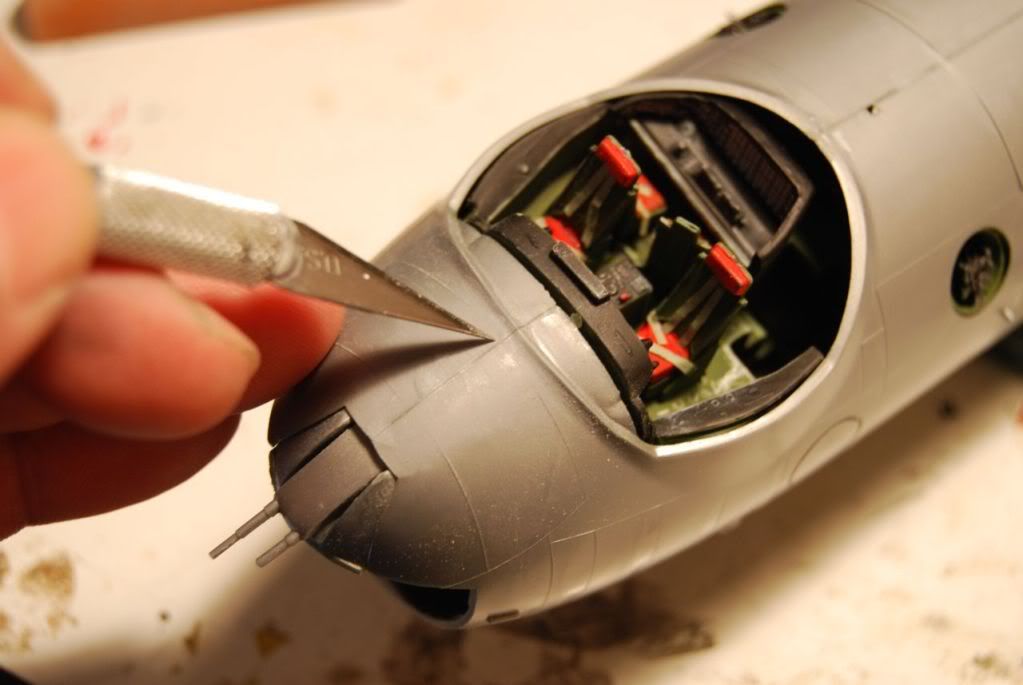 [/IMG]
Locating the location of the missing detail was easy since you could see where the detail had been.
[IMG]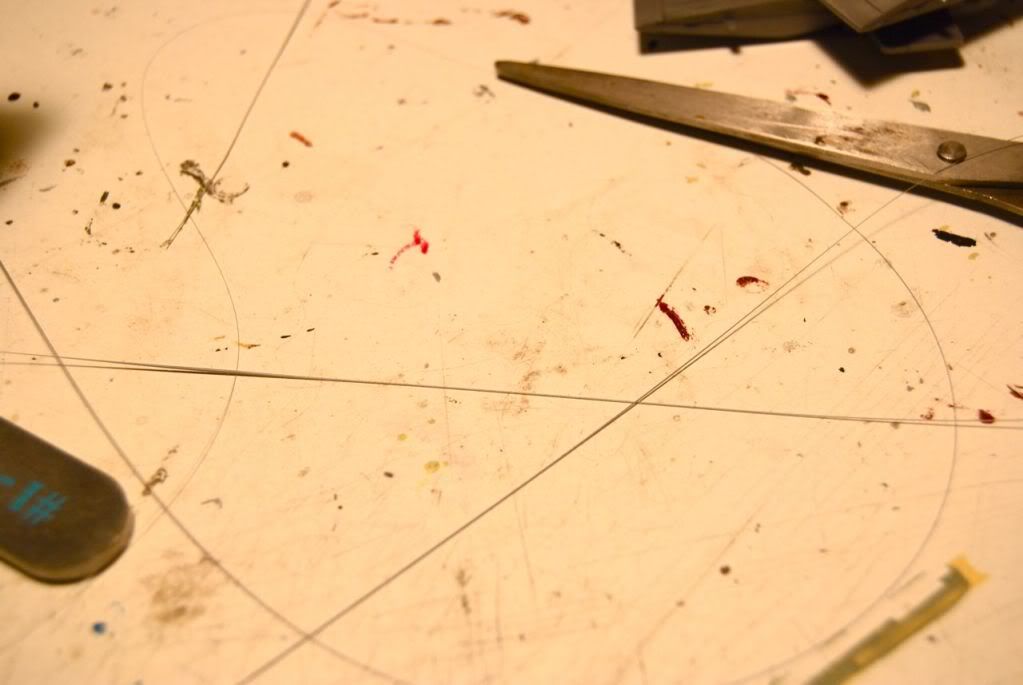 [/IMG]
Stretching sprue as fine as the detail you plan on replacing.
[IMG]
[/IMG]
Cut a segment of sprue the length needed and I use Testors liquid cement to secure it in place.
[IMG]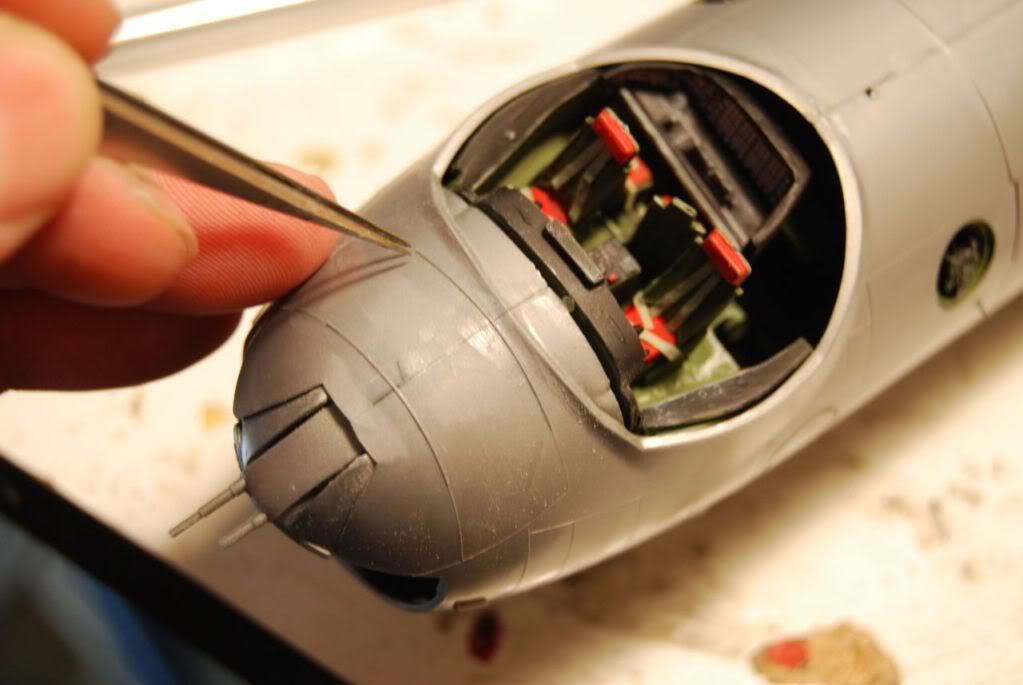 [/IMG]
Next came the masking and this was very time consuming and difficult. I started up front on the clear parts using Tamiya brand masking tape; it seemed like an endless of stringers that take several hours to mask. I then shot my first color through my airbrush witch was black. This would be for the anti-glare panel and the black walkway outlines. This next step in masking was some the most time consuming and difficult making I have ever done. I use a technique to cut the strips of tape by using 2 Xacto # 11 blades with a shim of strip styrene sandwiched between the blade and securing the blades level with tape.
[IMG]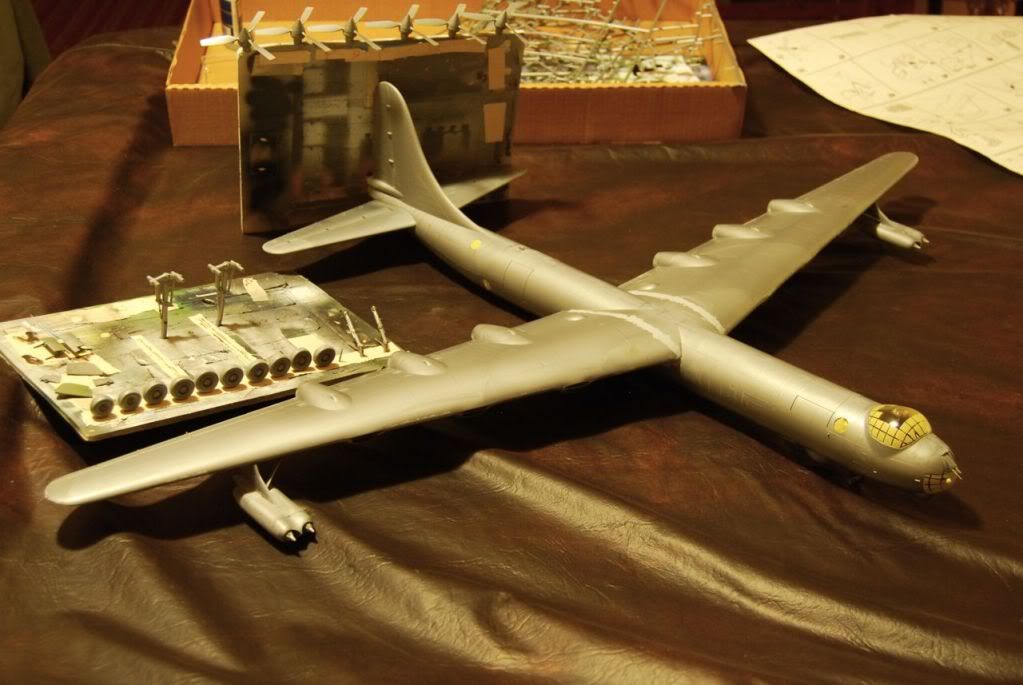 [/IMG]
The beast clear parts are masked and ready for the first color.
[IMG]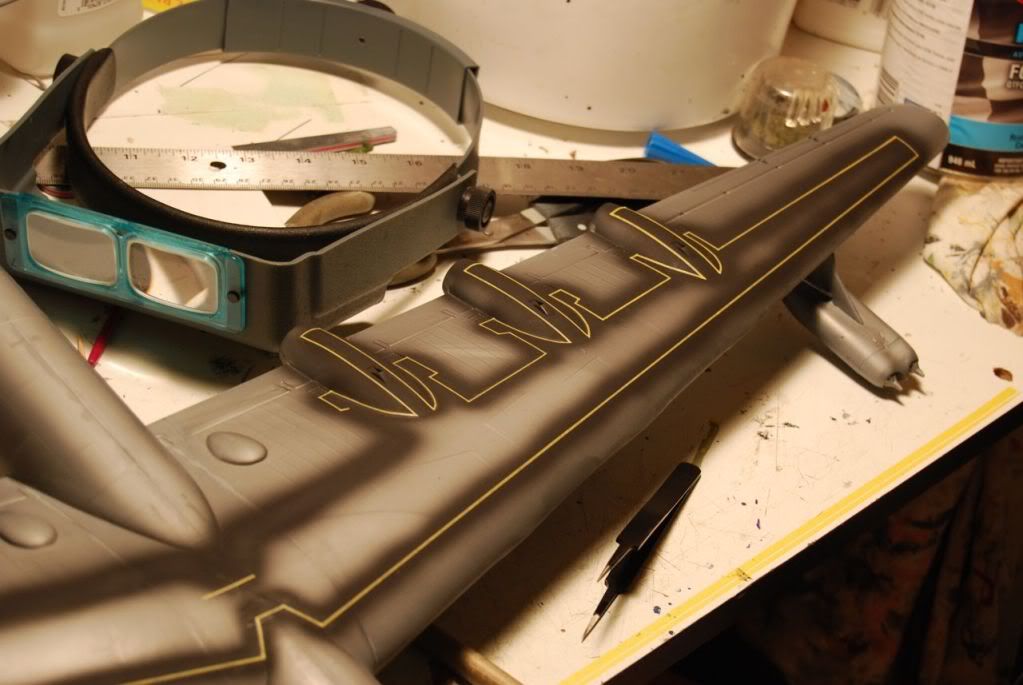 [/IMG]
[IMG]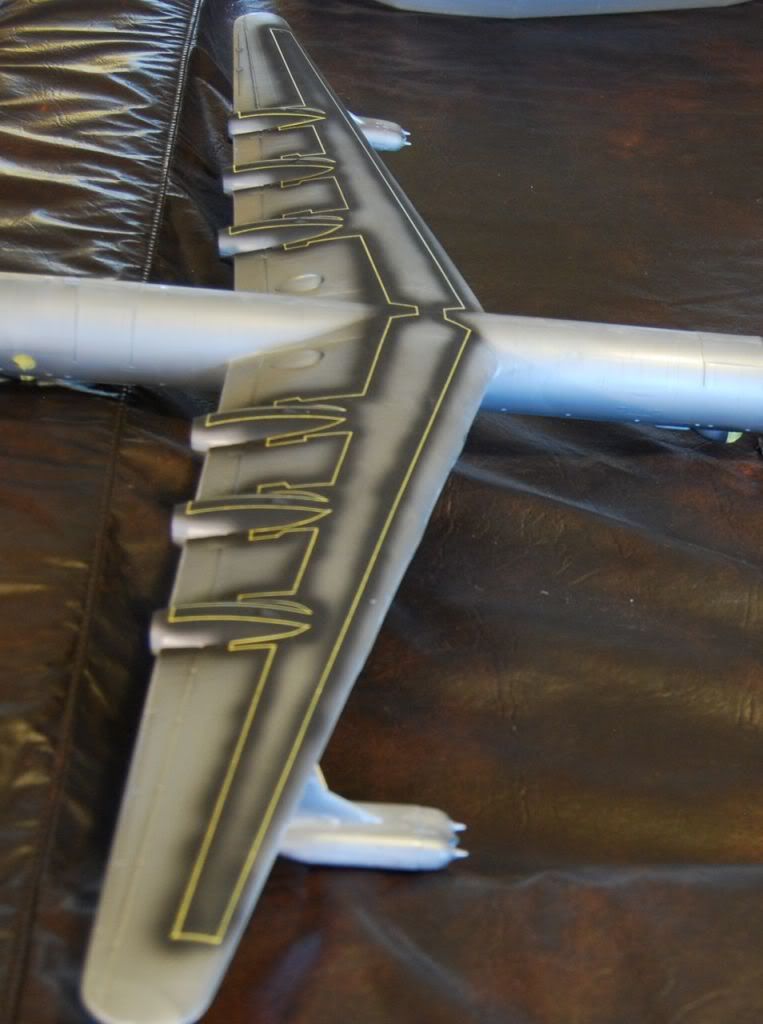 [/IMG]
Hours went into cutting masking tape into fine strips and laying out the walkway outlines.
[IMG]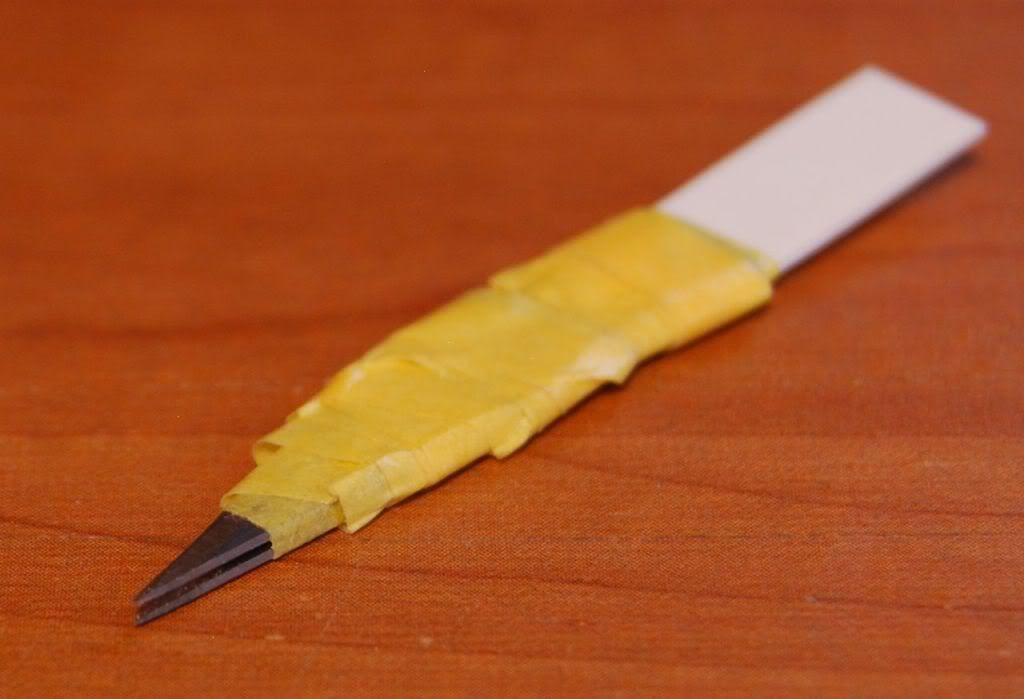 [/IMG]
Pin striping tool made from 2 Xacto blades taped together with a plastic shim to achieve the desired thickness of the walkways.
[IMG]
[/IMG]
Foam is stuffed into any remaining openings prior to painting.
[IMG]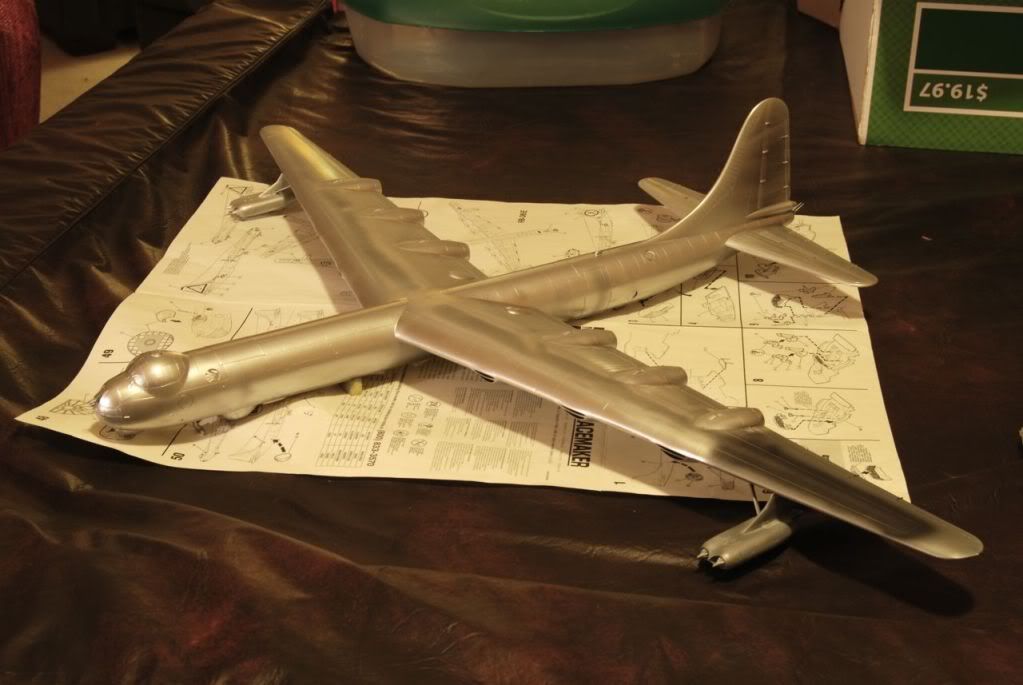 [/IMG]
The base coat of Floquil bright silver, I had to do this in 2 separate sittings to allow the paint to dry before handling the other side.
[IMG]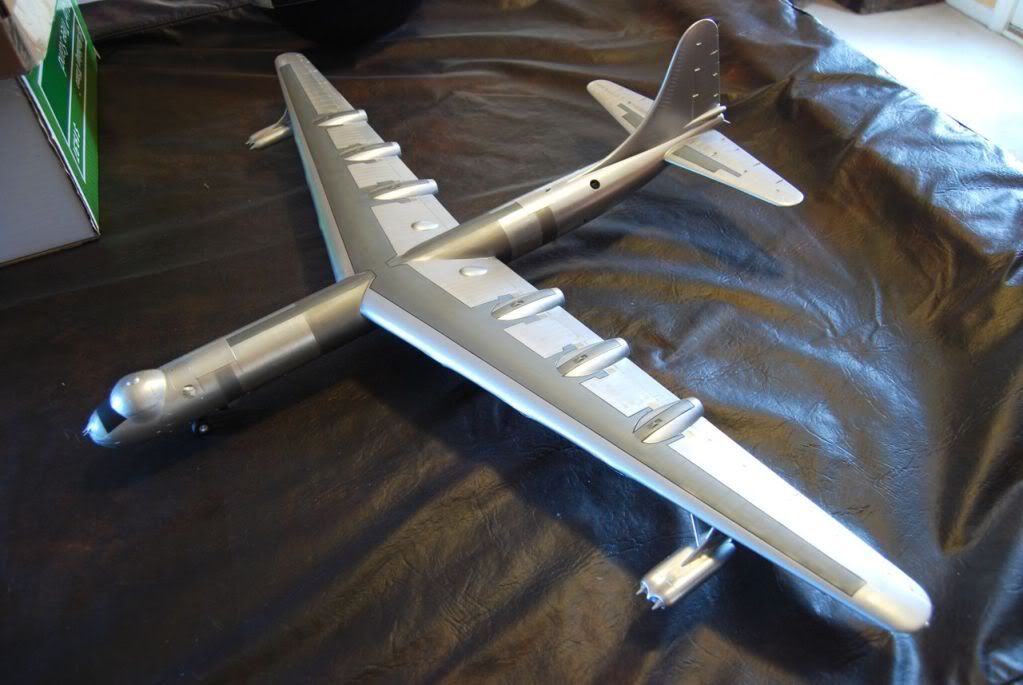 [/IMG]
Testors magnesium metalizer was used on the fuselage right over the base coat of Floquil paint.
[IMG]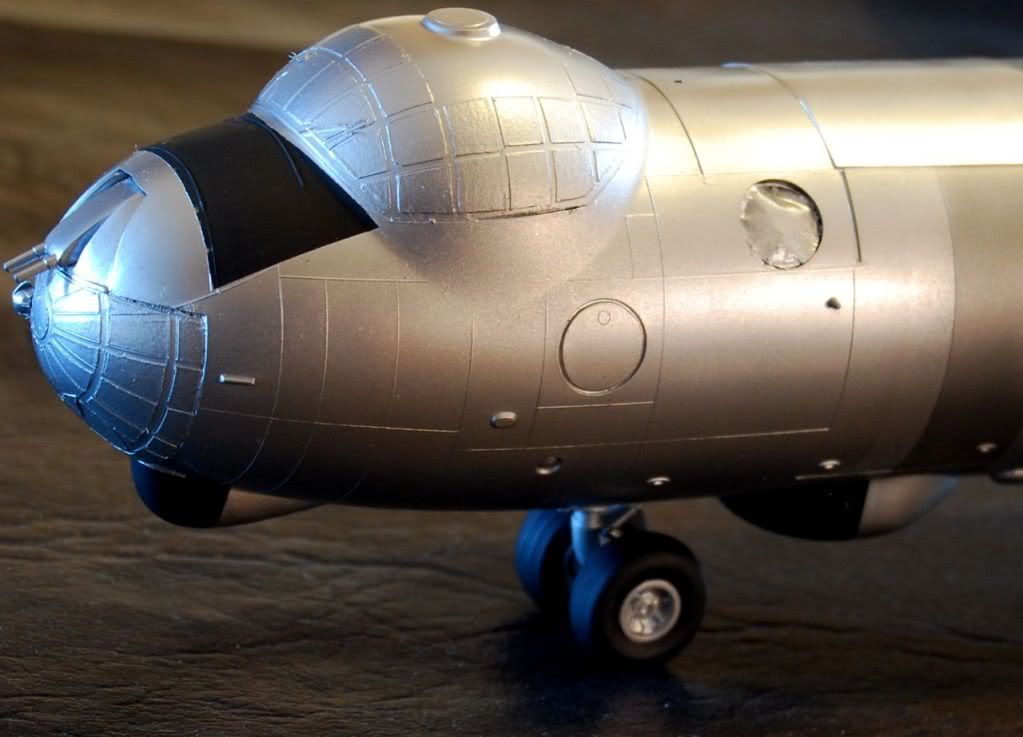 [/IMG]
[IMG]
[/IMG]
Wheels panted and in place.
[IMG]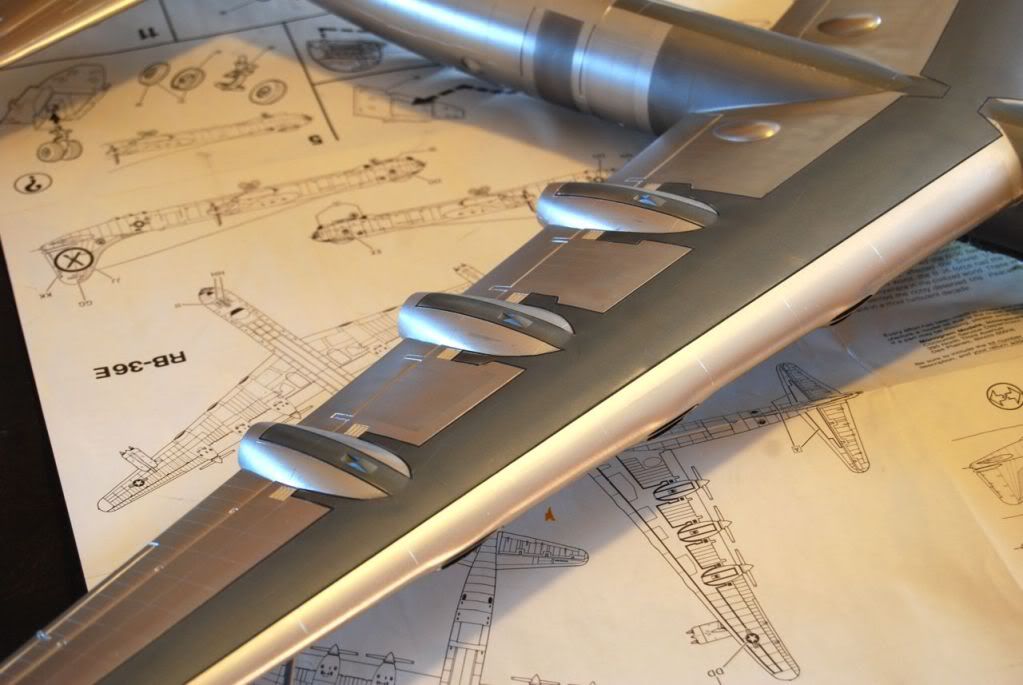 [/IMG]
Testors anodonic gray metalizer was used on the anti-skid surface on the top surfaces on the model, right over the base coat of Floquil paint. Now it is on to the decals.
What can be said about 30 year old decals! Since there are not any other choices for marking I did use the kit decals. Now I remember why I normally use aftermarket decals. I used a method of application using 50/50 mix of Future floor polish and water. Since some of these old decals no mater how well you prepare the surface for decals you can still get the decals to silver. So I use a paintbrush to make a small puddle of my concoction where I intend to place the decal, place the decal and then dab dry and let setup. I sealed the whole thing with several coats of Future floor polish prior to the weathering.
[IMG]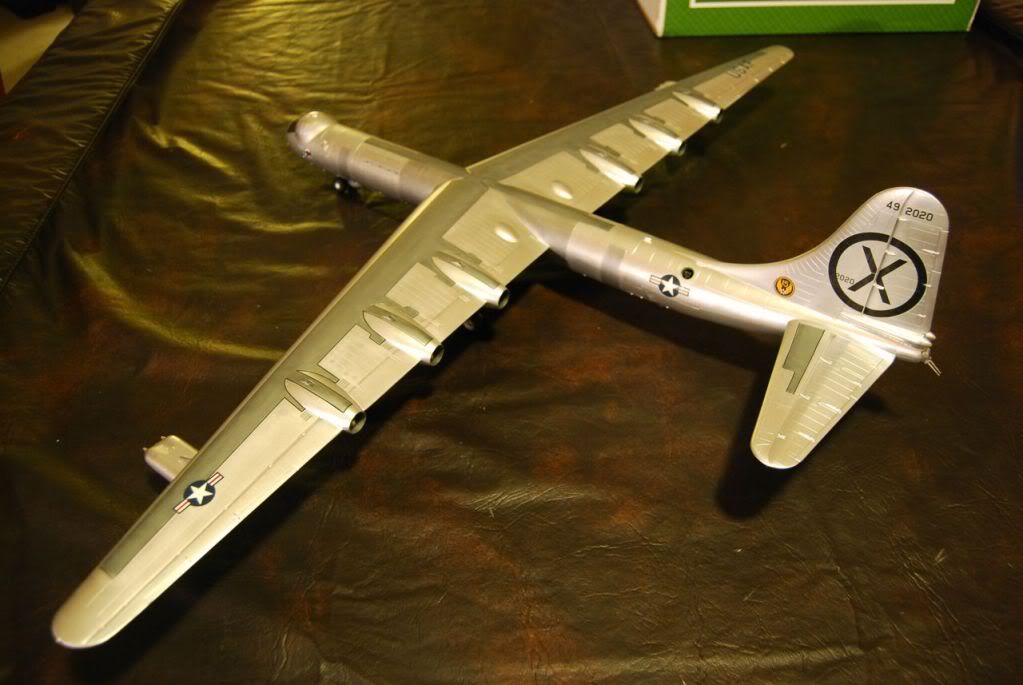 [/IMG]
[IMG]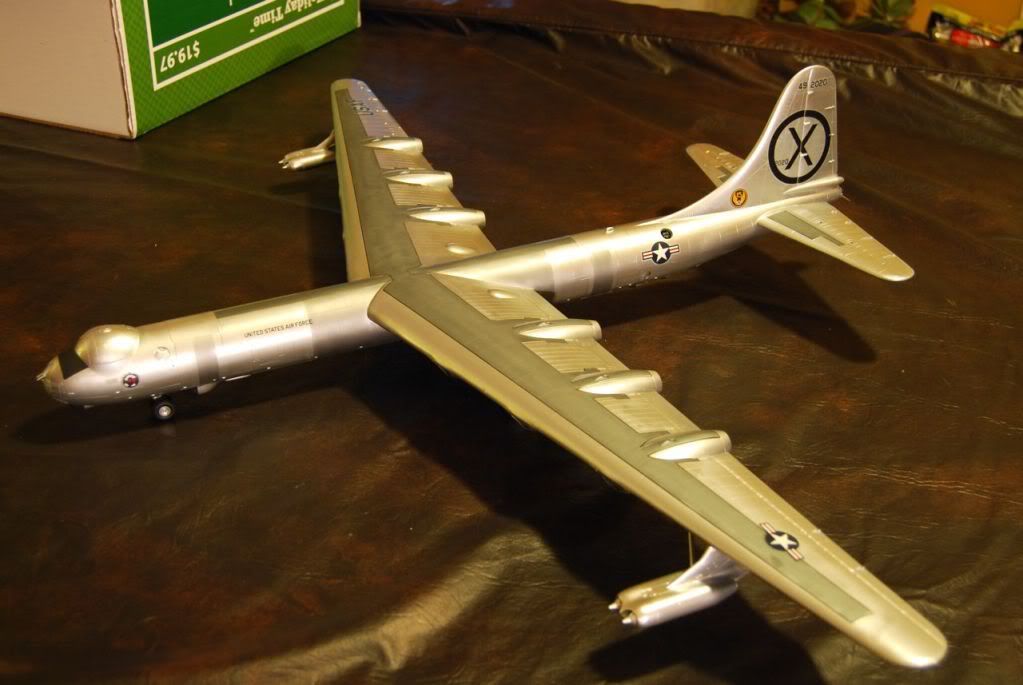 [/IMG]
The decals were difficult to use and some of the prop makings silvered on me.
The main landing gear receiving an oil wash to bring out the detail.
[IMG]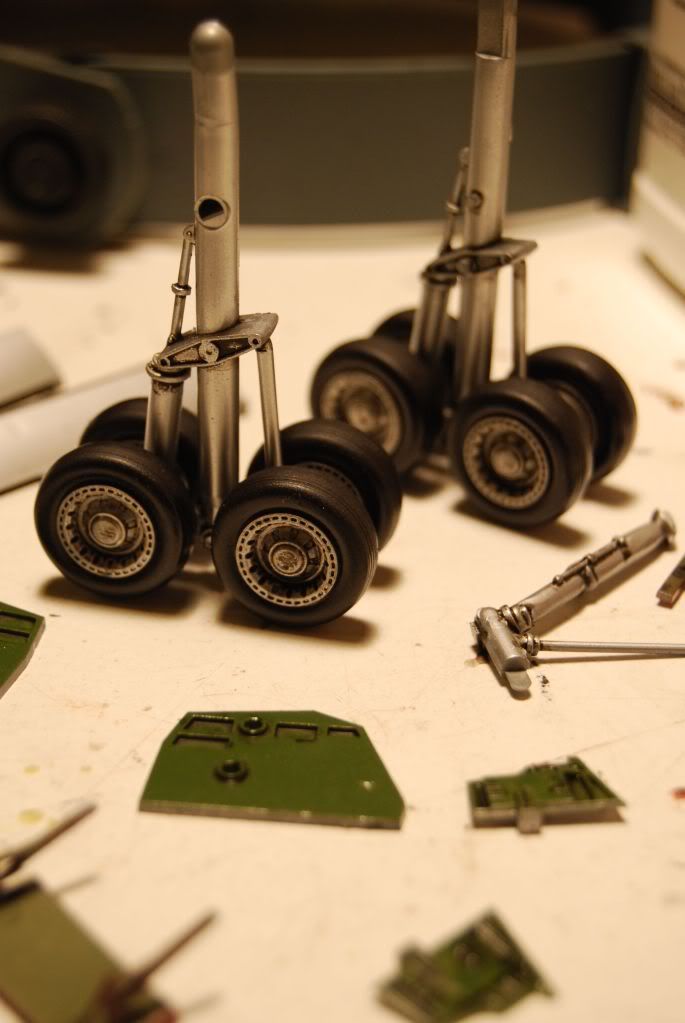 [/IMG]
The greenhouse after removing the masks with satisfactory results.
[IMG]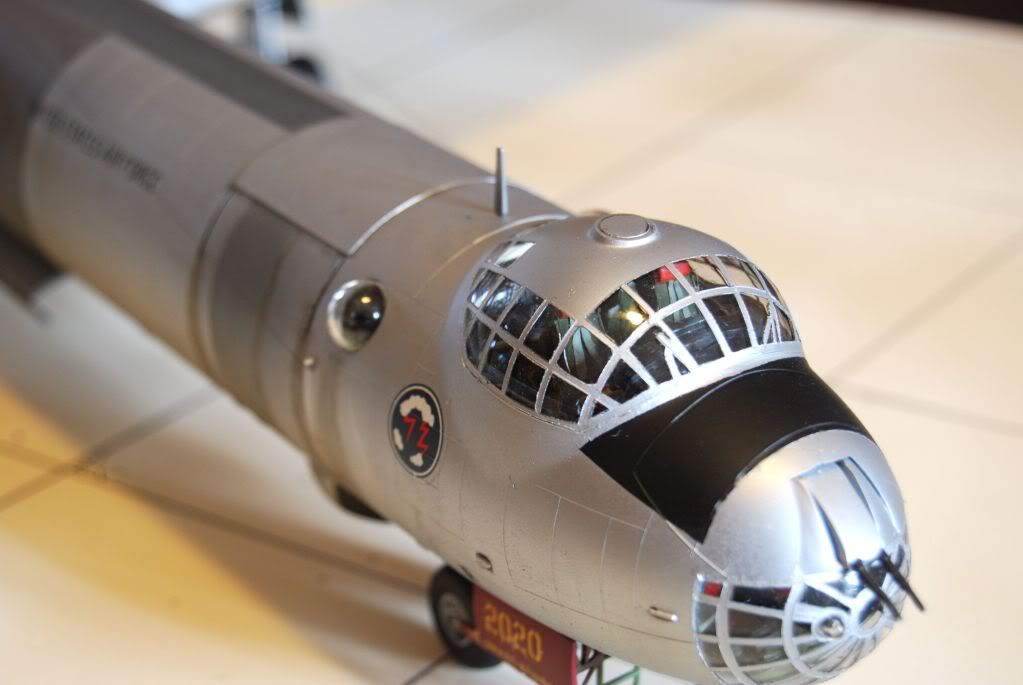 [/IMG]
[IMG]
[/IMG]
[IMG]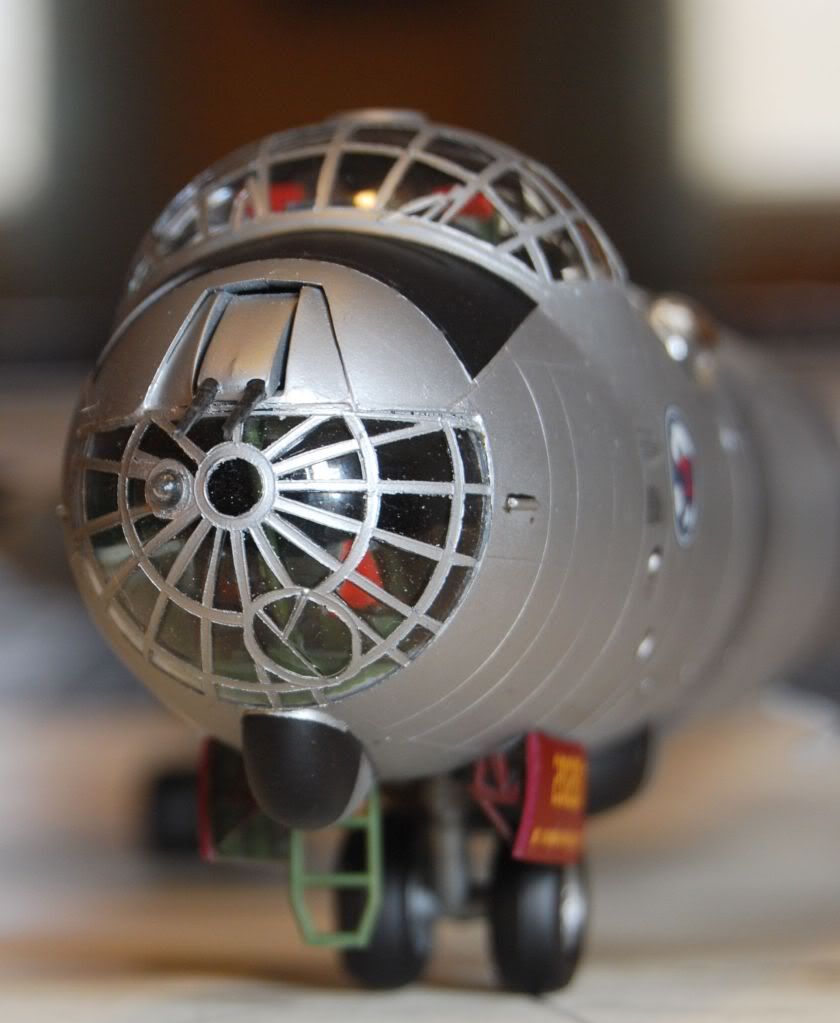 [/IMG]
This is on impressive sized model when finished. It was a lot of fun, not overly complex, just a little awkward because of the size. I will have to find a place to hang it up since I do not have enough self space.
[IMG]
[/IMG]
[IMG]
[/IMG]
[IMG]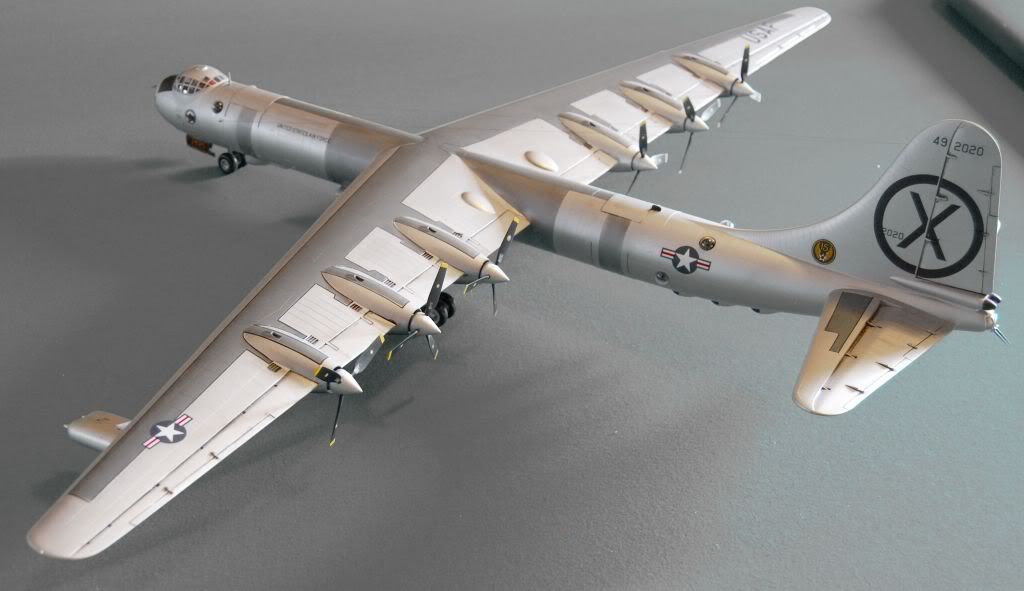 [/IMG]
[IMG]
[/IMG]
[IMG]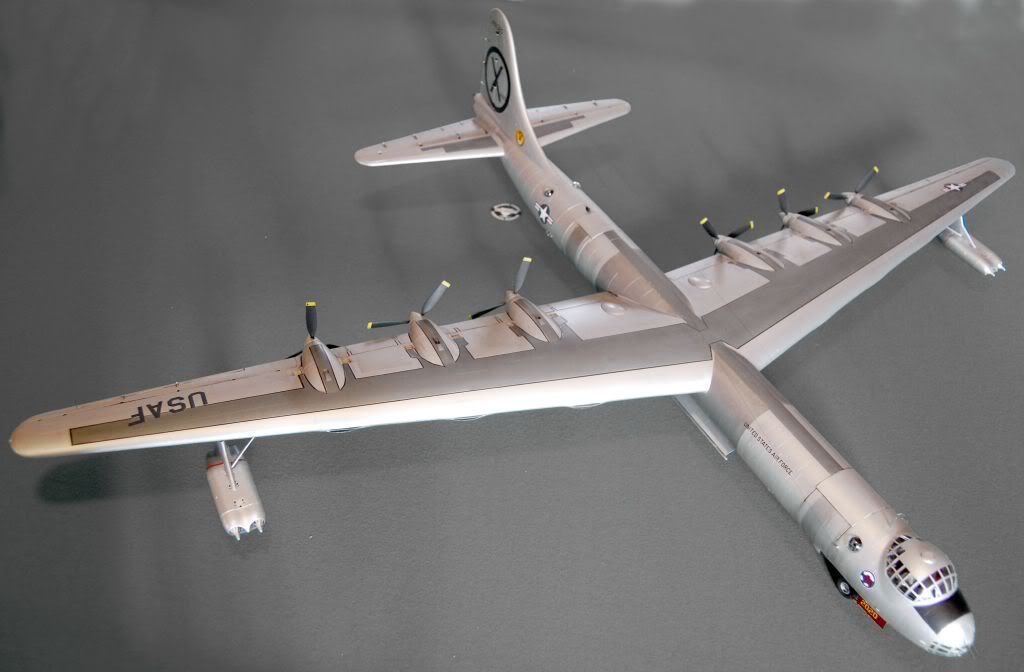 [/IMG]
[IMG]
[/IMG]
[IMG]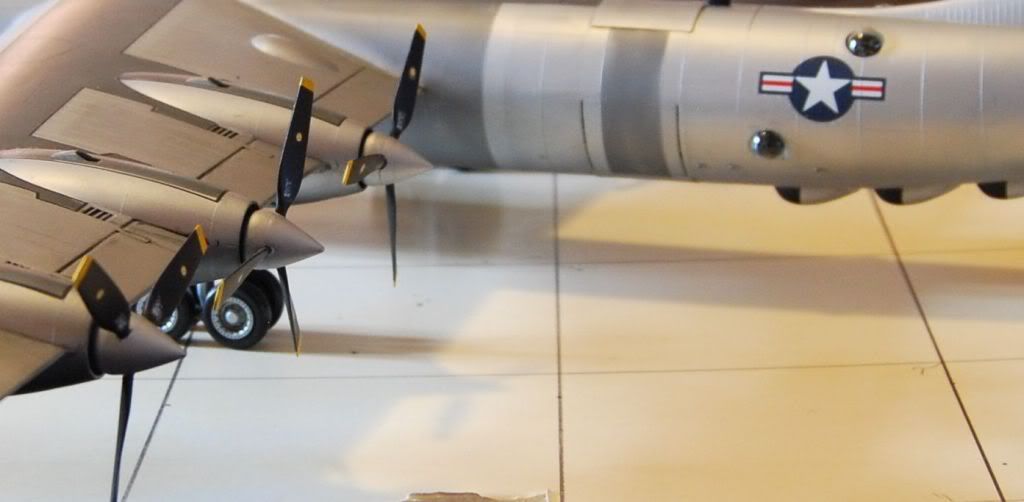 [/IMG]
From Bombshell Decals, I would like to wish everyone a Merry Christmas and a Happy New Year. My sentiments also extended to all other beliefs. May there be peace and good will towards all in this special time of the year. I wish the world could learn from websites like this that draw from all corners of the world with many different backgrounds that share a common bond of plastic, glue, resin for the bettering of our hobby. I would like to apologize for not having many new releases this year, but my day job has been more demanding of my time. I hope this new year can bring new decal designs. Thank you all for your support and all of the wonderful models that have been posted here.
[IMG]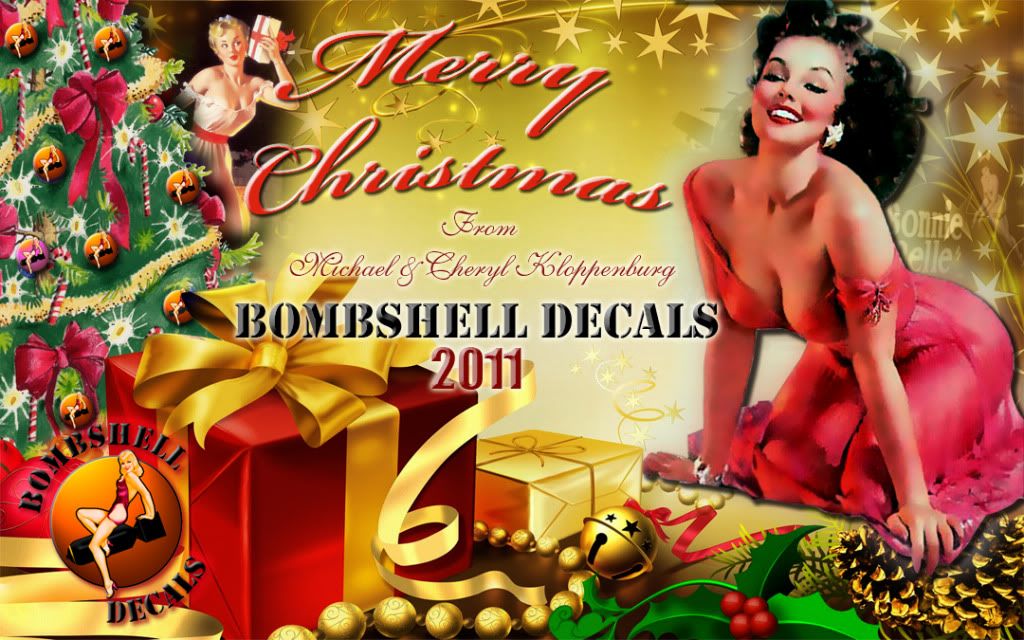 [/IMG]