Here is one of my recent finishes for the past week. Its Monogram/Revells 1/48th Me109G-10 converted into a K-4. This is the second K-4 I have made from the Monogram/Revell kit. I first build this model when I was 14 or 15. When I was 23, I decided to break it apart and redo it. The first attempts at the model were not that great. So, sometime about 2 years ago I started tinker with it. Realized that it wasn't too hard to rework. I did a lot of extra things to the model. I chopped all the flaps as well as the wing radiators outlet flaps off and reglued them. Also added sprue to the leading edge of the flaps to give them the airfoil shape. Then cut the wing radiator inlet flaps and displayed them in a slightly more open configuration. Added Campbells corrigated HO Scale aluminum to the wing radiators, and photo etch HO Scale rolling stock walk way mesh to the oil cooler. Rescribed the panels around the engine and nose. I was going to cut them open and use an after market engine set but decided against it. Instead with the pannels, I under cut the edges to make it look like they were unlocked but closed cowling. I added True Details K-4 cockpit and wheels. Sanded, filled and rescribed hatches on the side of the plane correct to a K-4. Modified the tail wheel with telescoping brass tubing. Added Fujimi outer gear doors, and Aeromaster decals. Lastly bent a small tot staple for the DF loop.
As for painting the model. I used Model Master, Xtracolor, and Floquil enamels. I used French Chesnut Brown mixed with a little bit of British Dark Earth to get the brown of RLM81. I didn't like the RLM 81 Brownviolet from Model Master. I just seems too green compared to profiles you see in publications as well with decal sheets. Then I used dark and lightend Xtracolor RLM 83 dark green to do the other camo color with some slight post shading fading. Then the fuselage underside color was RLM 84 in which I used a lighted mix of Britsh Sky. For the undersides of the wings, I used Floquil Bright Silver and Model Master RLM 76 on just the control surfaces. A lot of masking was done to make it look like a pieced together late war machine. I cut my own spiral masks for the spinner and sprayed it. Topped it all off with a Model Master flat coat. Hope you enjoy.
[IMG]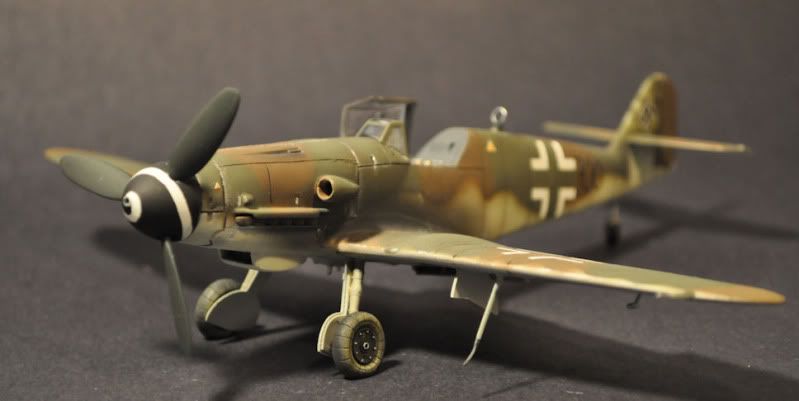 [/IMG]
[IMG]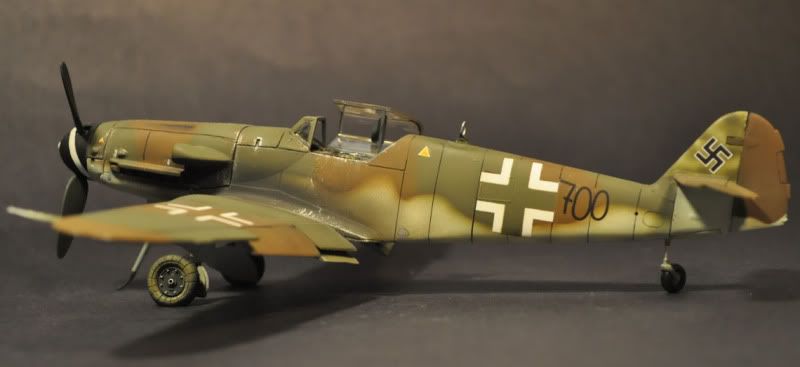 [/IMG]
[IMG]
[/IMG]
[IMG]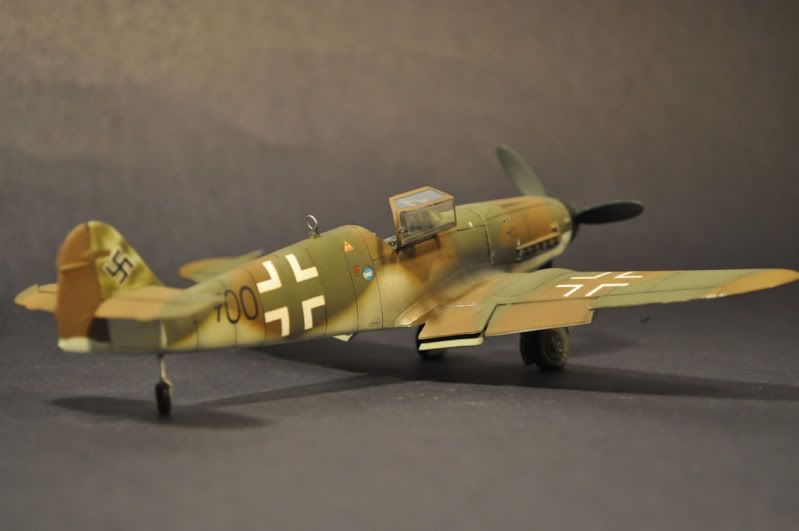 [/IMG]
[IMG]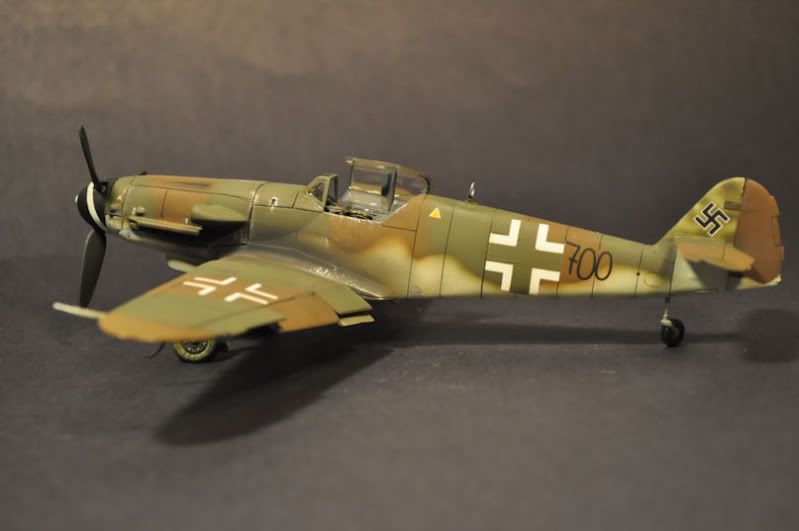 [/IMG]
"Get to the chopper!!! No! Get to the choppers!"