It's a major breakthrough for me. I have been stalled on my personal building for what seems like forever.
This one is special. It is a Spitfire Mk. VIII from 152 Squadron RAF, when they were operating from Burma as part of the SEAC. Flown by Flying Officer Paul "Gus" Ardeline. Sinthe Airstrip, Burma, 1945, it was in this aircraft that he shot down a Dinah.
What makes this model special? I included it on the BarracudaCals Spit VIII sheet, which was released back in early 2011, IIRC. I received an email shortly afterward from a woman who wanted to buy the sheet and wanted to get a model Spitfire to go with it. She clearly was not a modeler, so I asked what was up. Turns out her father is Paul Ardeline, and he's still alive and kicking up in Canada (hence the Maple leaf zap in the fuselage roundel).
I offered to build the model for her to present to her dad. Life got in the way and the project stalled. I finally finished it up late last night, and emailed her to tell her it was finally finished. She was thrilled. Gus just celebrated his 95th birthday. I am greatly relieved!
The model will feature in a future issue of the IPMS Journal, and later will be added to the Barracuda Studios Gallery. The kit used is the Hasegawa Mk IX converted Mk VIII standard. I added some Cooper Details parts to the cockpit (seat, stick, throttle and retract quadrants, door) and mainwheels. I shortened the Spinner to make it look better. Other than that, its mostly stock.
I have broken through my wall, and have managed to kickstart a number of projects that stalled on relatively minor issues. Going to do my best to have two models completed for Orlando.
I'm back!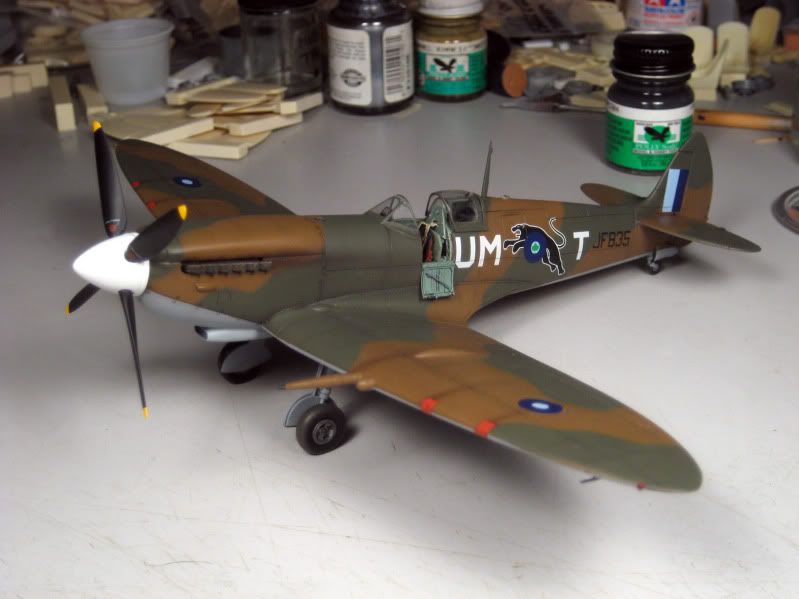 Happy Modelling! Roy
Visit my blog at:
http://barracudacals.blogspot.com
"What doesn't kill you, makes you stronger. This is why they make straight jackets out of such sturdy material" Roy S.