Started the Monogram F-20 and got it this far and painted sometime in the old apartment, and we moved into this house in 1993...you do the math. It was THAT CLOSE to being done and then somehow the lower forward fuselage joint glue-shrank and left a big azz-looking depression the length of the nose. Couldn't figger out how to fix it and touch up the glossy metallic gray paint without a complete repaint, so onto The Shelf of Doom it went! Discovered it this week, decided that a complete repaint wouldn't be THAT big a deal (the glass is still masked, note--I'll just have to remask the Gunship Gray nose and fin tip, no big deal). Puttied/filled/sanded the offending joint, now all I have to do is finish cleaning it up (yes, it still has a lot of decades-old dust on it) and resquirt it.
The Monogram Bearcat I bought off eBay and got this far about 5 or 6 years ago, just before my last great Modeling Walkabout, which I'm now coming out of. This one was also well on its way to completion but the kit decals didn't want to lay down, and then they silvered, despite repeated applications of Decal Goo, so onto the Shelf of Doom it went! Found it last week, too, but just located the missing parts--gear doors, wheels, and prop--today, in three different places in the Snakepit (I am not the world's most organized person).
I'm ready to do battle with those decals again, and might have to do some touchup with paint and brush to get 'em right, but that's okay. I got the time, I got the paint, and I got the mad skillz.
Time to kick both these suckers through the damn goal posts. Wish me luck.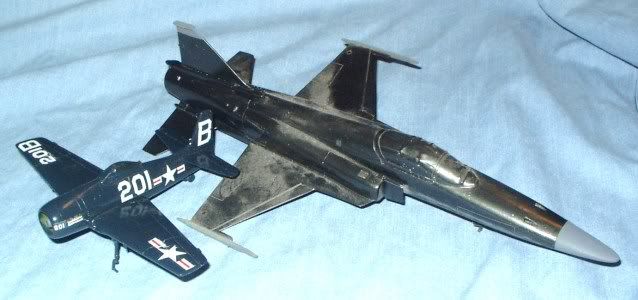 Steel cuts flesh. Steel cuts bone. Steel does not cut steel. --Stephen Hunter, The 47th Samurai.
We will march on a road of bones. --Hunter S. Thompson.
Sat Cong!