Trust me, there's no plan, I'm makin' this sh!t up as I go along...
When we last saw our plucky builder, it was with a shot of the wing root with the caption "the next mess I have to clean up", conveniently forgetting about getting the wings themselves together.
[IMG]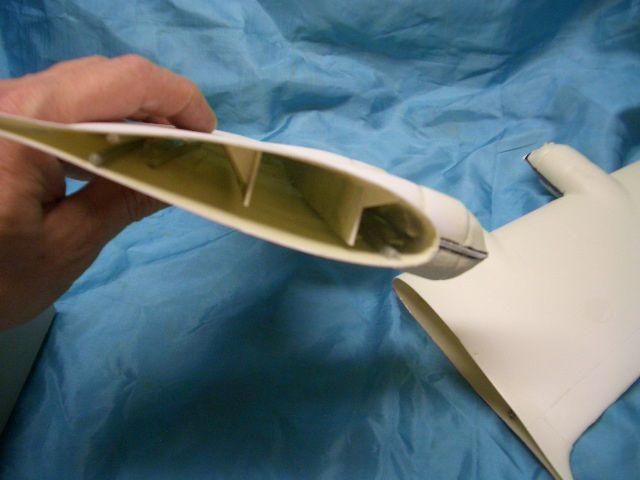 [/IMG]
Looking into the wing root, you can see the channel for the spar, as well as the reinforcing along the leading edge.
Once the halves were glued, I poured a bunch of epoxy down the inside of the two sprues, bonding upper and lower together. You can take the leading edge between your thumb & forefinger and squeeze- it's solid, no popping seam there.
[IMG]
[/IMG]
This build has had a few firsts for me- I can't say I've ever had to fill the leading edge before!
Here you can see my fix for the nacelles that were too large and oval. I cut some pie slits out, squeezed them together and filled the inside with- you guessed it- epoxy.
Again, incredible strength, with the bonus that it flowed nto the crack and conformed to the shape of the tape holding the nacelle together. When the tape was removed, a light sanding was all that was required to clean up the area.
The inboard nacelle on the bottom wing was still too large, so the process was repeated. Still need to do a little filling there.
Once all that was done, I sanded them flat on the sanding board and faced them with a sheet of plastic. I'll have to add one more for a bit more thickness, then bevel the edges as they're still slightly too large for the cowlings I'll be using.
[IMG]
[/IMG]
I think I'm in love...
And one for scale:
[IMG]
[/IMG]
Won't be too long before they're on there for real...