Hello,
The Dating of a catcher's mask could prove to be a difficult task. Construction styles, models, or features could have been used for many years after they were introduced. In some cases you could positively date a mask to after a feature was first introduced. Novice or not you did well in dating the mask to the 1940's and you are correct, it is a softball mask. I was going to ask if you had the manufacture brand or catalog No. printed on it, but I found a mask that I think is a close enough match for dating.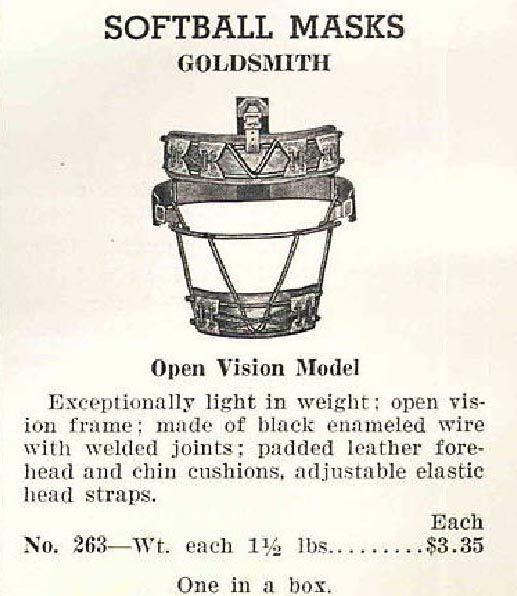 This image is a 1941 Goldsmith No. 263 Open Vision catchers mask. The only difference I see is the "V" Style Forehead truss in the center. Your mask has a "U" shape. (the difference could be in the illustration) All the manufactures pretty much used the same style frames.Sometimes with little to no difference. I could show you a Draper & Maynard mask from 1954 that has the exact same frame. The only difference being it has two leather forehead flaps laced to the frame, the 1941 Goldsmith, like yours, has four. By 1957 all of the manufactures used snap on buttons to secure the pad to the frame.
If you have a manufacture ID or and a catalog/model number post it here and I'll see if I could find it in a catalog.
The following link is to the cathers mask dating guide on the website. -Steven KeyMan
CATCHER'S MASK DATING GUIDE
http://keymancollectibles.com/catchersmaskdatingguide.html
KeyManCollectibles.com is now on Facebook! Come by, 'Like' this page and become a Fan. Your support will be greatly appreciated. Visit KeyMan Collectibles on Facebook by clicking the following Link:
http://www.facebook.com/KeyManCollectibles
You are also welcomed to join the KeyMan Collectibles Baseball Memorabilia Group. Post Questions and comments relating to Baseball Collectibles and Memorabilia. Interact with other collectors or show off y
https://www.facebook.com/groups/396604447042593