Hello Mark,
I still have some work to do with the Spalding bat dating guide. They used many center brands at the same time, and they even had sub model numbers for model numbers.
The Spalding line of "Gold Medal Baseball Bats" were made available in the catalogs from 1905-1918. The "Spalding Autograph Bats" that were issued from 1908-25 are not part of the line of Gold Medal bats. It was a separate line of bats.
The Gold medal bats made from 1909-1911 featured the "Autograph Series" In 1912 The Spalding Gold Medal Autograph Series was discontinued and until 1918 the Gold Medal Bats just had model numbers.
To sum up the 1905-1918 Gold Medal Bats:
1905-1908 -
featured a Gold Medal Decal centered between the Spalding Trademark logo decal to the left, and the Spalding script branding to the right, towards the barrel.
1909-1911 -
Spalding introduced the "Gold Medal Autograph series." The Gold Medal decal was removed and the signature of a "Leading Player" was added below the "Gold Medal" engraving, and above "Autograph."
1912-1918 -
the bats simply reads: "Gold Medal" with the model number below.
The Spalding Gold Medal series at $1.00 was their Hallmark baseball bat, and at $1.00 was among the highest priced baseball bats in the spalding catalog. The bat came with a guarantee. (see below) In 1908 when the "Spalding Autograph Bats" were introduced at $1.00, they were the same price. Hope this helps. -Steven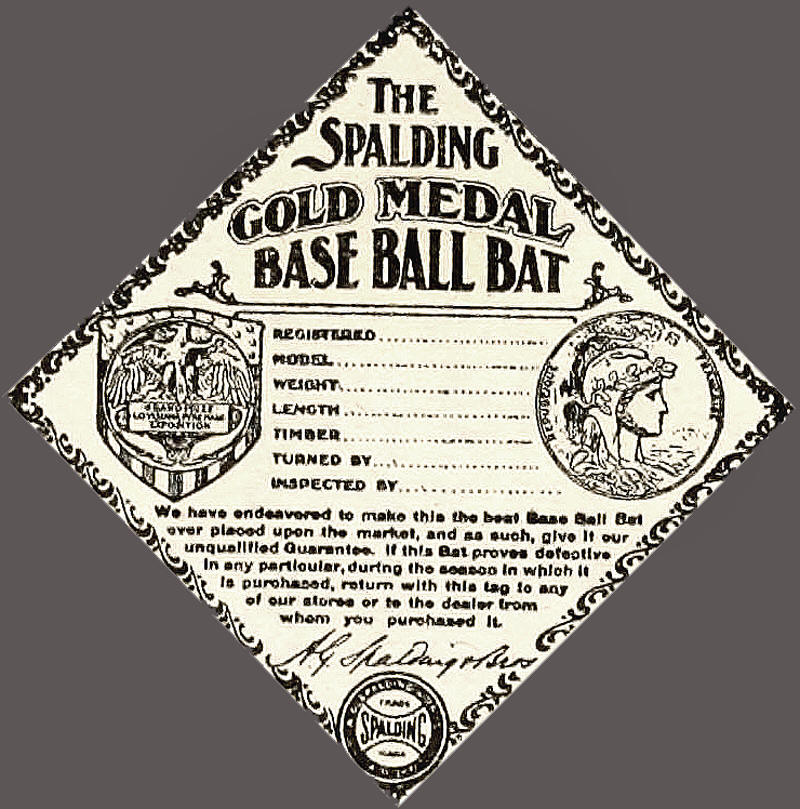 KeyManCollectibles.com is now on Facebook! Come by, 'Like' this page and become a Fan. Your support will be greatly appreciated. Visit KeyMan Collectibles on Facebook by clicking the following Link:
http://www.facebook.com/KeyManCollectibles
You are also welcomed to join the KeyMan Collectibles Baseball Memorabilia Group. Post Questions and comments relating to Baseball Collectibles and Memorabilia. Interact with other collectors or show off
https://www.facebook.com/groups/396604447042593