Sarah Geronimo overworked?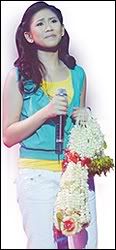 A DAY BEFORE THE LAUNCH of the new sineserye (movie-based soap opera) "Bituing Walang Ningning," teen singing champ Sarah Geronimo checked herself into a hospital.
It was right after "ASAP," the Sunday noontime variety show of ABS-CBN, where she's one of the featured performers, Sarah recalled.
And then, the following day, she was back onstage, belting it out with "Bituin" co-stars Zsazsa Padilla and Angelika de la Cruz—at the Music Museum.
Right after the launch program, Sarah took a French leave because she "had to go back to the hospital."
Inquirer Entertainment caught up with her backstage.
She admitted that she had been on needles and pins lately. "Kinakabahan at kinikilabutan [nervous and afraid]" was how Sarah described the way she felt. "I'm so happy that they trusted me enough to portray a role (Dorina) previously played by the Megastar (Sharon Cuneta). [But] it's overwhelming."
Overwhelmed, overjoyed… is Sarah also overworked?
notreally," she said. "I just need to take it easy. I had [sore] throat. I have to take care of my voice. Ito ang puhunan ko (This is my asset)."
Asked exactly how she was feeling, she said: "I just need to rest my voice because it's been overused—all the tapings, concerts, promotions for the soap, recording of the soap's soundtrack. I just came home from shows in Canada, where it was very cold."
Does she ask her mom permission to miss work now and then?
"Sometimes," she admitted. "I tell her when I'm too tired. But I've come to accept that, being an actress-singer, it's my responsibility to show up and honor all my commitments."
She said she related well with the opening stanza of the song "Bituing Walang Ningning." (The sineserye premieres May 15.)
"It says that even if you've achieved your dreams, you still long for something," she said. "Meron pa ring konting lumbay. (There's still a certain sadness.)"
It's probably the inevitable sacrifices she has had to make for fame and fortune. "I've been so busy, I've had to give up truly important things, like time with my family. When I get home, my siblings are asleep. I can't even hug them or talk to them as often as I used to."
Not that she's not grateful to the biz.
"I'm thankful because I've fulfilled my dreams," she said.
But it's a tough balancing act, she acknowledged. "I also have my studies to take care of. It's important to me that I finish school. I'm a high school senior under the home study [program] of the Angelicum College."
She intends to take up a music-related course in college.
Her calendar is so crammed, it looks like she will be celebrating her debut on the soap. (Yes, it will be incorporated in the show, according to the soap's directors Jerome Chavez Pobocan and Erick C. Salud.)
Sarah turns 18 on July 25.
Maybe a vacation would be the best gift for the hardworking champ?