Here is an example from 1951 Ringside. First, the regular box top art:
[IMG]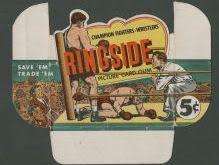 [/IMG]
Next is the 8 card ad panel, arrayed 4 x 2:
[IMG]
[/IMG]
On the back of that panel, there is this:
[IMG]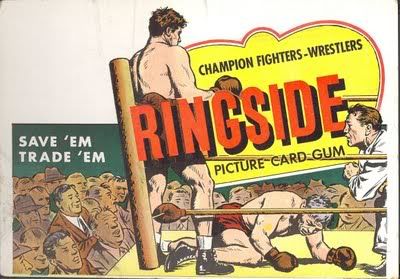 [/IMG]
The ad back actually has a bit more detail to the left side than the box top, the box top has more to the right. Some of these have been cut up over the years and are known as puzzle backs. A similar ad back exists for 1951 Magic Football and 1952/53 Fighting Marines. Cut up cards from the latter are known that must have come from an ad panel.
I assume Look N See would have such an ad panel, not sure about Scoop which came a little later than the rest but is a good candidate. All five sets had cards that measure: 2 1/6" x 2 15/16". jest also measure that size but differ so much in appearance and time I don;t know if an ad panel would have been made.
I surmise these panels were not necessarily for salesmen; instead I think they could have been handed out at Confectioner's conventions, which Topps attended in spades, especially in the early years, although both uses are certainly possible.