Hate to throw any more love on Marty Krim, but its deserved
I just got back some cards from PSA that I dropped off at the National (yes, they will make good on the late arrival back from Newport Beach).
Before I arrived at the National, I had talked to Marty about a Superman # 72, agreed on a price, and subsequently picked up the card when I arrived at Martys booth (tour guide Mark Finn making the introduction). Marty could have easily sold the Superman card for much more money than what I paid him, and I was more than happy with the purchase. Its a beautiful card, and its one I have been looking for.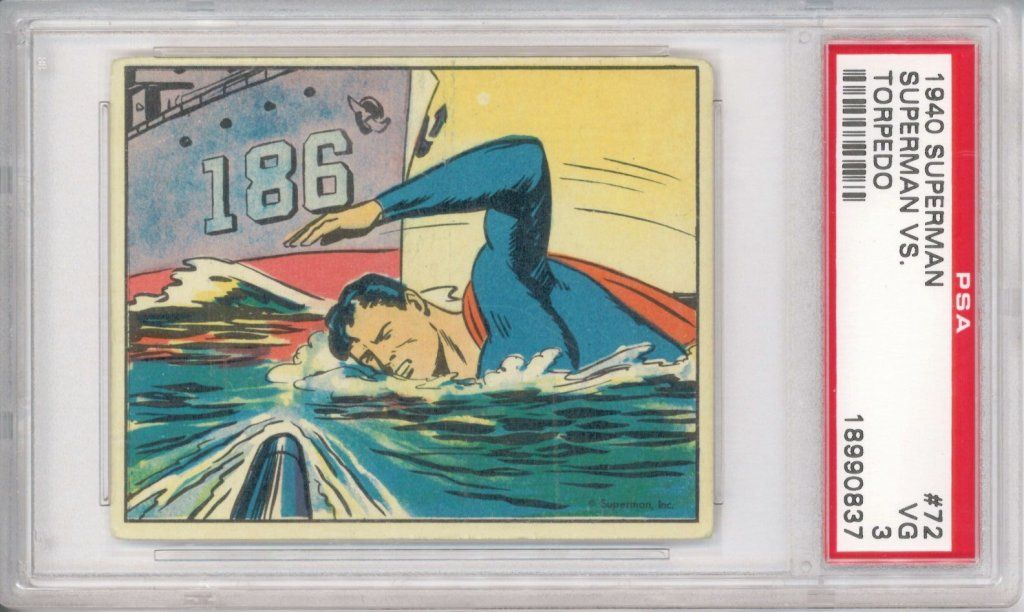 Marty further surprised me when he started grinning ear-to-ear, and said he had a surprise for me. What happened next can only be described in Hollywood-Movie terms. Marty said he located a specific card from my wish list, and then took a small piece of paper, wrote a price on it, turned it over so I could not see the dollar amount he wrote, and slid the piece of paper across the table to me (face-down). He then said, do you want to see the card first, or the price first? Now the dilemma, do you look at the price first or the card first? Finn gave me kid-in-a-candy-store-look and said I had to see the card first. And theres Marty, grinning like the Cheshire Cat. Against my better judgment, I agreed with Finn and asked Marty to see the card before I knew the price.
Marty pulls out a hefty Pelican Brief case complete with cipher coded locks. Its just then I notice the case has been handcuffed to Martys wrist. Marty unshackles the handcuff from his wrist and briefcase, then places the briefcase on the table, and starts ratcheting through a series of coded numbers until hes ready to unlock the briefcase. About then, Im noticing people start looking around towards Martys booth. Marty looks up grinning, and you hear one loud metal click as one of the locks pops open. I notice its getting quite on the National floor. Then comes the 2nd click and by that time, you can hear a pin drop on the floor, and everybody I see is looking over at Martys booth. (I think Steve Sabow even stopped selling cards to see what was going on). When Marty opens the briefcase, a yellow glowing light emerges from inside the briefcase (just like in the 1994 movie, Pulp Fiction, when Jules, the Samuel L. Jackson character opens the briefcase belonging to Mobster Marsellus). By that time, both Mark Finn and I are both salivating at the unknown card. And the unknown price written on the small piece of torn white paper sitting in front of me is beginning to feel insignificant.
And there is it, a 1936 R144 Wolverine Strange True Stories Bat Man card. (Got have it). Marty knows hes got me hooked. Finn is telling me there are less Bat Man cards in existence than Wild West Cowboy Outfit cards, and its a rare specimen. At that point, the price is moot. I turn over the piece of paper, think about 2 minutes and pull out a wad of Benjamins for Marty. It was fun meeting Marty, and I like the way he takes care of his customers. I find Marty to be a great guy, and even though hes had too much love already heaped upon him, Its all been well-deserved. I felt like Marty treated me (a previously unknown customer) like family.
And now, Im the owner of a Bat Man card. My good friend Natalie agreed to model the card for me.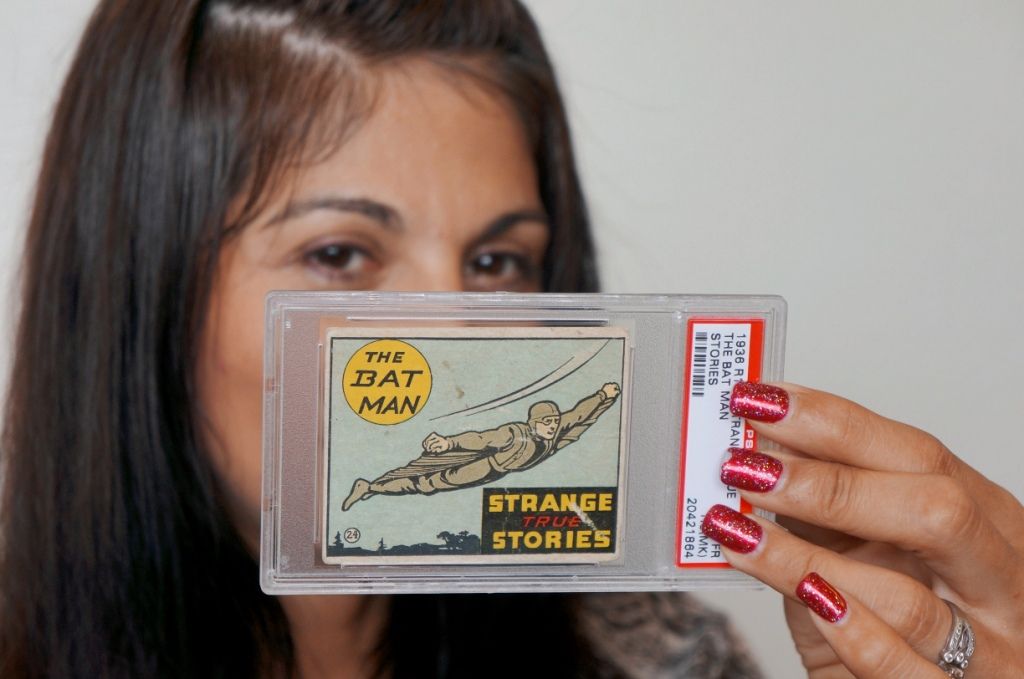 I had also purchased the Heinz Airplane Premiums from the Artists son. And its cool to own the set. The Roscoe Plane Premium is cut and missing some paper, and I plan to have the set restored on linen.
My good friend Linda greed to pose with the Heinz Airplane Premiums.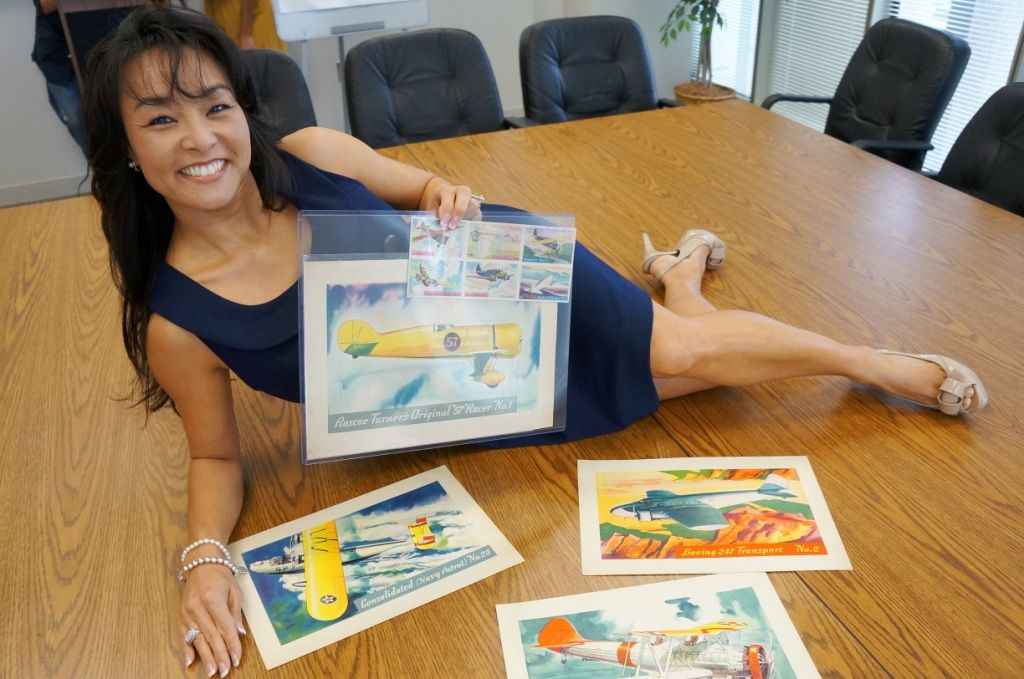 Just for kicks, Linda is shown here holding my Five Rare Aviator cards (aka the Fab five). I dont think there are very many complete sets of Rare Heinz Aviators sitting out there, and PSA has authenticated only one set to date.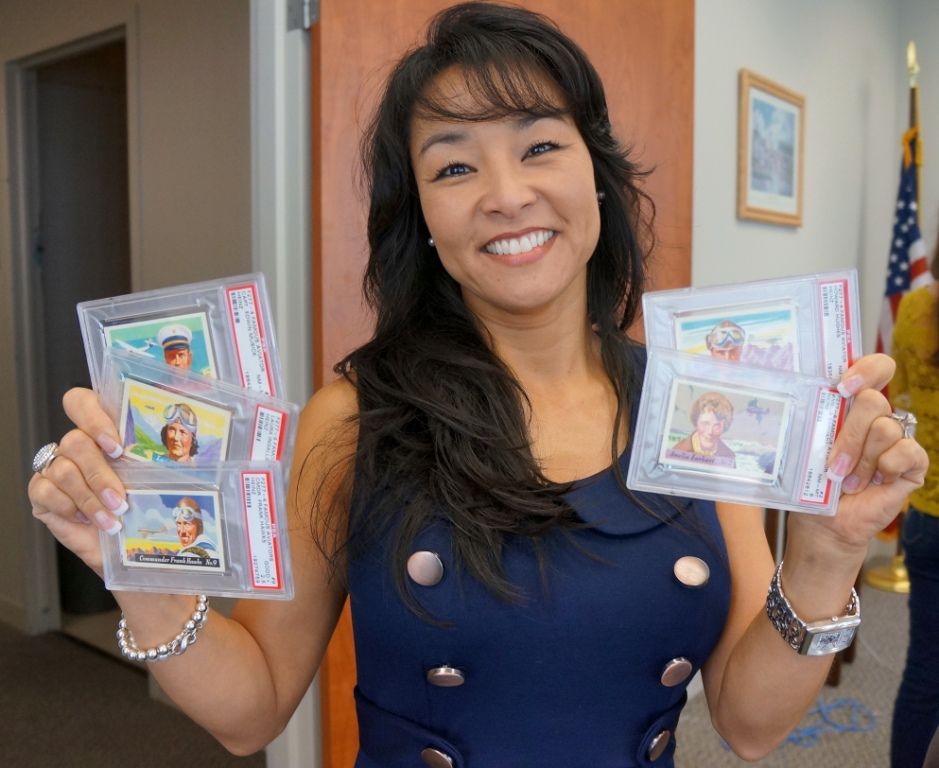 And I do sleep well at night. Pillow in one hand, and my 1936 Wolverine Bat Man card in the other.
allen mchenry postal inspector houston texas
p.s. and Mr. Moses, you were spot-on with how you see my card-collecting enthusiasm
p.s..s. and to the Boys across the Pond, I always have you in mind when I post