This chart uses data from the Bureau of Labor Statistics (BLS) to show the number of jobs gained during each presidential tenure since 1945 as well as the unemployment rate. This chart isn't meant to compare President Obama (who's completed just under one term so far) to President Clinton (who completed two terms.) Rather it is meant to look at how each president did during their tenure. Also, considering that population grows and labor participation varies over time, this data is probably slightly biased in favor of President Obama for both the job numbers and unemployment rate.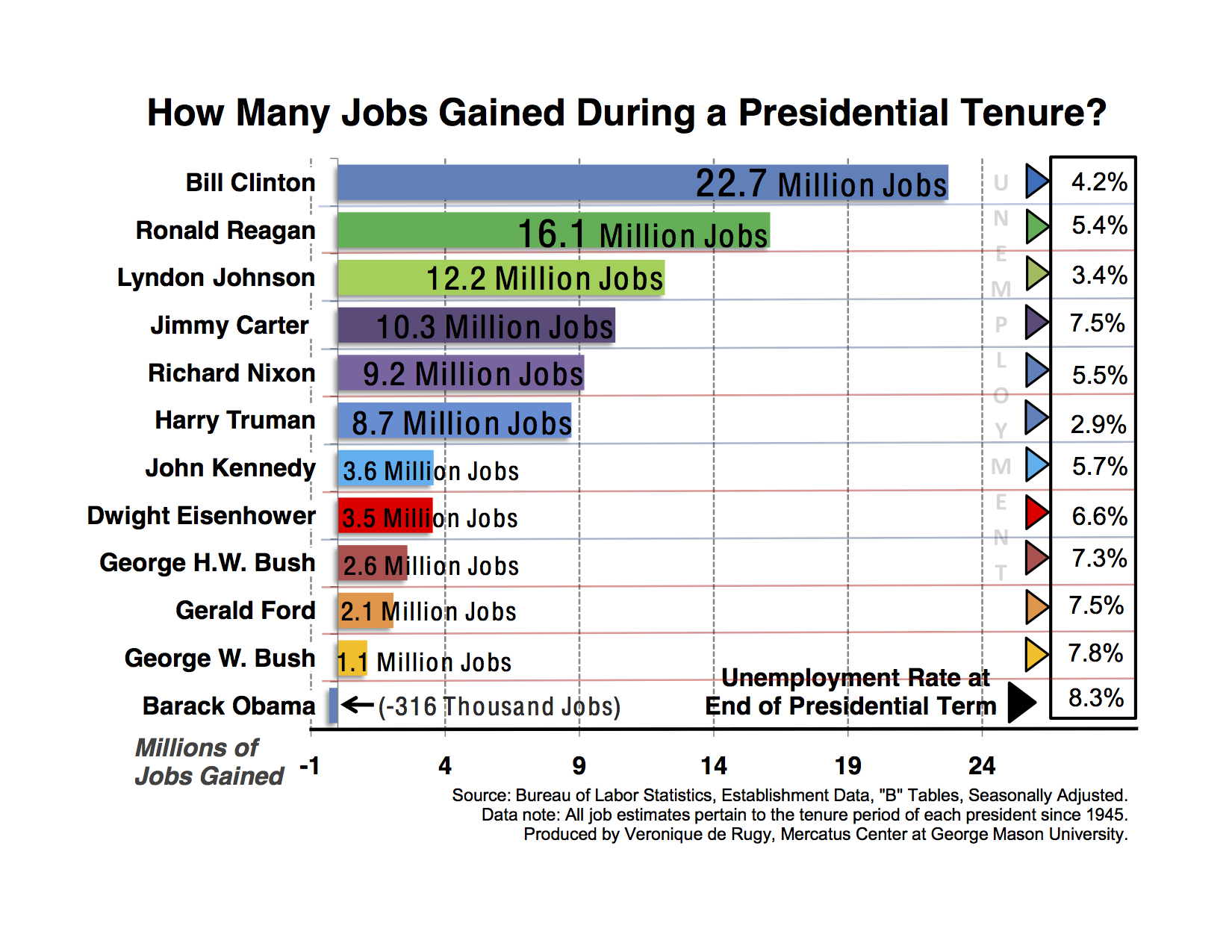 Here is what the data show:
1. Since President Obama took office, fewer jobs were created than were lost. Actually, some 300,000 fewer Americans are employed then when the president took office. That's mainly because a large number of jobs were lost during 2009 and the so-called recovery is the slowest one of all time, with very meek monthly job creation and weak economic growth.
2. It would take Obama roughly 280,000 new jobs per month for every month from now until January 2013 to get him out of last place.
3. While it would be unfair to compare Obama with Clinton, this chart shows that at this point President Obama's job numbers are far worse than Presidents Carter, Kennedy, and Ford, who were in office almost as long or served much shorter periods than he has.
This chart also shows two-term presidents:
1. Presidents Clinton and Reagan saw the highest gains in jobs and maintained some of the lowest unemployment rates during their administrations.
2. President George W. Bush's overall record is underwhelming, especially considering that so many of the jobs created during his term were government jobs.
Here also are a few facts about our labor market.
1. In theory, we are exactly three years into recovery.
2. This is the slowest recovery in history.
3. Wage growth over the last twelve months is the slowest ever.
4. We have the slowest economic growth of any recovery.
5. We have had an important drop in labor-force participation that makes unemployment rates look better than they probably should.
Source: NRO