Col. 1:16 (Textus Receptus 1550/1894)
16οτι εν αυτω εκτισθη τα παντα τα εν τοις ουρανοις και τα επι της γης τα ορατα και τα αορατα ειτε θρονοι ειτε κυριοτητες ειτε αρχαι ειτε εξουσιαι τα παντα δι αυτου και εις αυτον εκτισται.
still it has the same Greek rendition with that of The Apostolic Bible Polygot, Sept 2006 which reads in Col. 1:16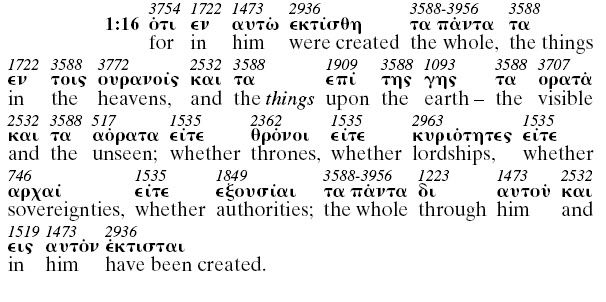 Showing the absolute similarity of the two Greek bible versions will help us point out: in that sense, precisely Jason has lost his mind.
therefore Jason is the one clinging to faulty translations like the bible gateway, etc. and "even" his presumed base translation which is Textus Receptus is clearly states that Jesus is not the creator but the Father.
i don't know how can jason save his face, he is ignorant to the contents of Textus Receptus (TR). hahaha,
Poor Jason crumbles again...tsk, tsk, tsk. how sad