Since this is my last instalment of reports from an amazing weekend, please allow me some words of thanks.
Please take the time to read through this because these are the people who make it happen.
First I'd like to thank Ken & Aurelio for their efforts to insure a successful weekend.
Ken, your creative skills & talent are amazing; thank you for the poster, name tags, and menu design.
Aurelio, thank you for tapping into your expansive network for all the great straps and gifts that we had for the give-aways on Saturday night.
Above all, thank you both for your input and continued support in helping organize this event. This is truly a DREAM TEAM!!!!!!!!!
A special mention and thank you to Marc (Cap) for being my 'consiglieri' throughout the planning and execution of this event, as well as his many other contributions.
To all the contributors who sent in stuff for our event, I send out my sincere thanks for your efforts. Your continued support of our event is a key factor for our success.
There are too many to mention, and for fear of omission, I will refrain from naming anyone in particular, but you know who you are and a big thank you goes out to you!!!!
Thank you to all the attendees over the three day weekend!!!!!!!!!
YOU
made this weekend the most successful F1 GTG (well, we've only had two so far, LOL!!!) with your presence and enthusiasm.
I hope to see all of you return for next year's F1 Montreal 2008 GTG!!!!!!!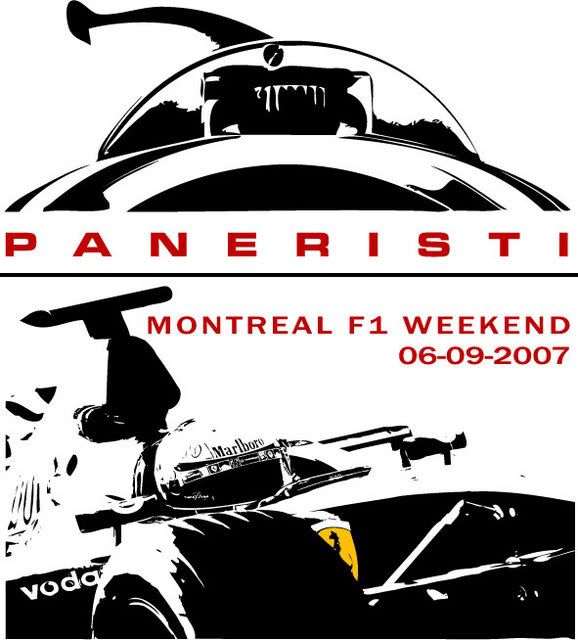 I have so much more to say I don't even know where to start, LOL!!!!!!!!!!!!
.
.
.
.
OK, I'll start here…………
Last but never the least; I want to thank my beautiful wife for all her support, help, and patience.
I hope that her experience at the GTG this weekend finally validates my passion for watches.
A big THANK YOU kiss!!!!!!!!!!!!!!!
Here she is helping sort out the straps we received for give-aways. Give her a martini, some wrapping paper & ribbon, and she can work magic, LOL!!!!!!!!!!!!!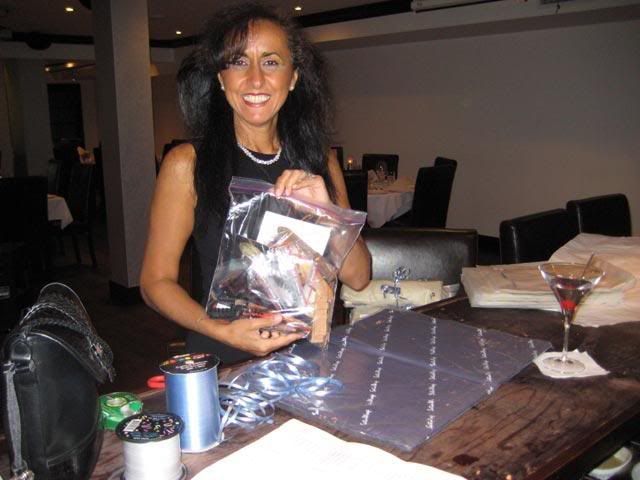 The 'loot bag' table:
A very special watch box. More about that later in the post:
The restaurant where we had our dinner also hosted one of the local Montreal Ferrari Clubs.
The Ferraris were parked on both sides of the street and we had all the security we needed.
They occupied the main level restaurant and we had the downstairs banquet hall: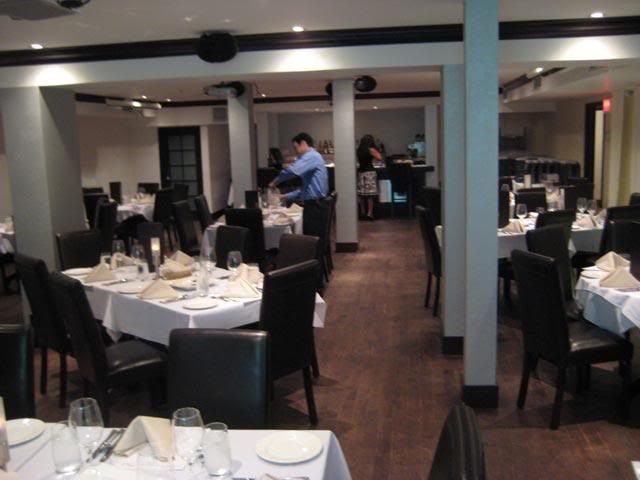 Cocktails were outdoors and in the hall:
Doug, John, & Brian:
Serge and Melanie (on the right) with their friends Nic & Karine:
Carlo, his friend Marlin, me, and John (aka Atomic):
Some of the cars:
A wrist shot with John & myself:
Yummy appetizers, right Val?????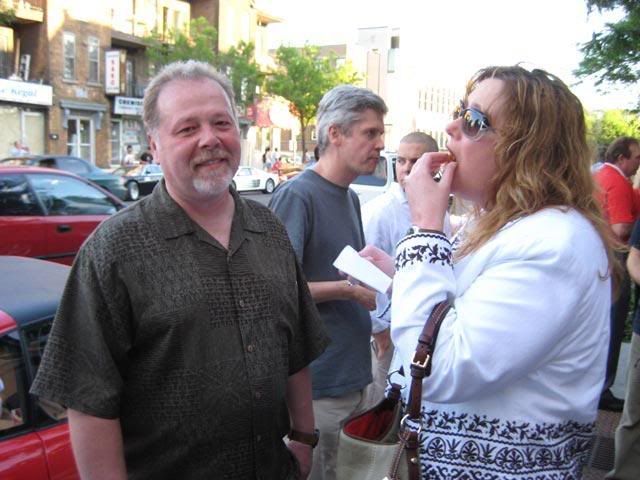 There's Doug, Allan, Angelo P & is wife Lisa: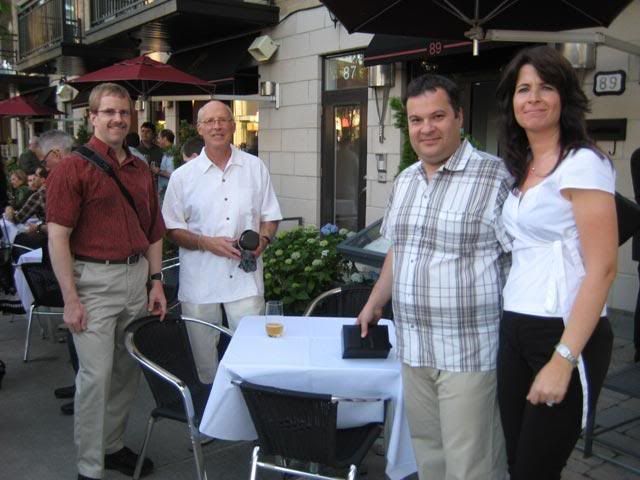 More appetizers inside:
Brian, Aurelio, Houda, & Serge:
AdiranNJ, George, and Adrian's wife, Violeta:
Chandler, Doug (another one, LOL), & Tony. Most of you should remember Tony as last year's recipient of the PAM112 that was so graciously donated by Jon V.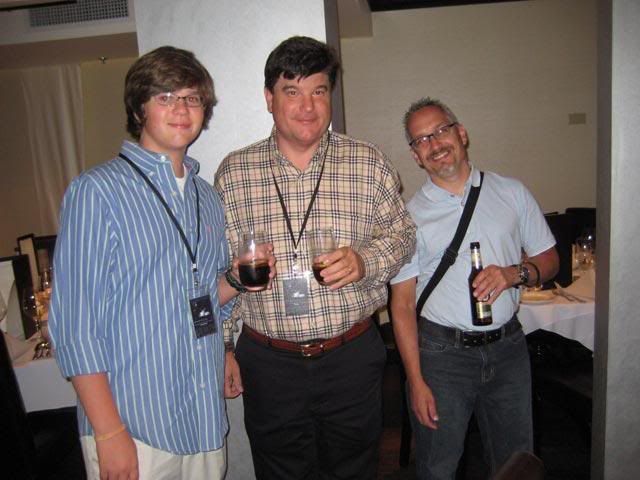 Me & Clif:
The official F1 Montreal 2207 poster: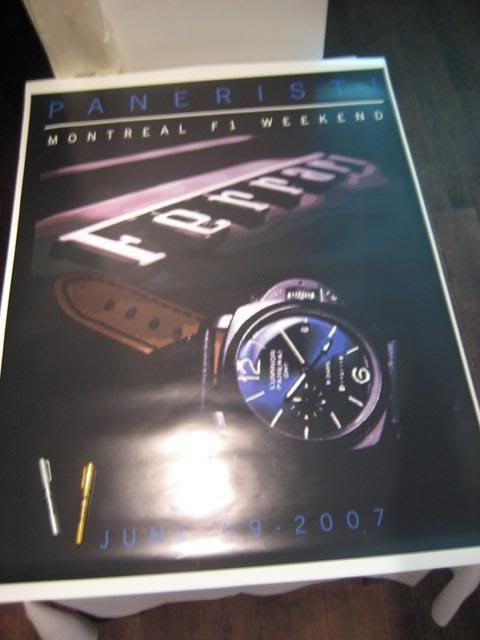 We have something very special planned for it: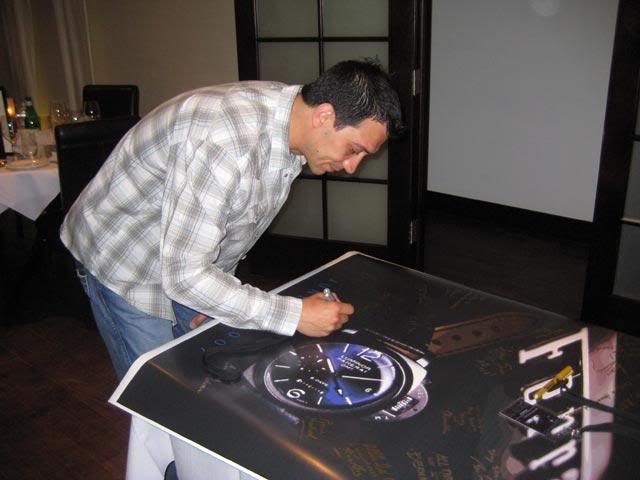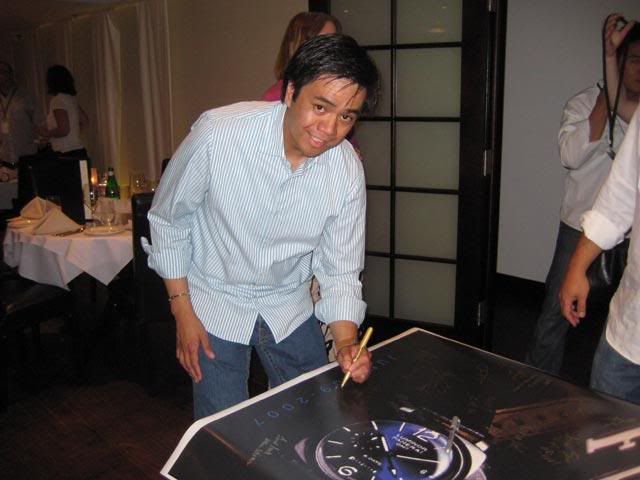 Here are some random photos from the evening: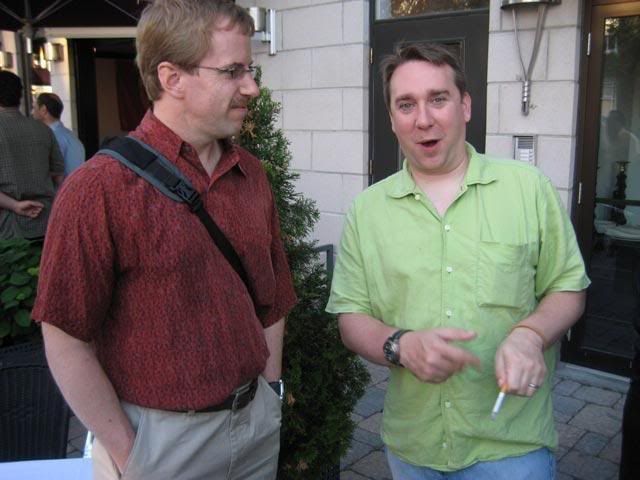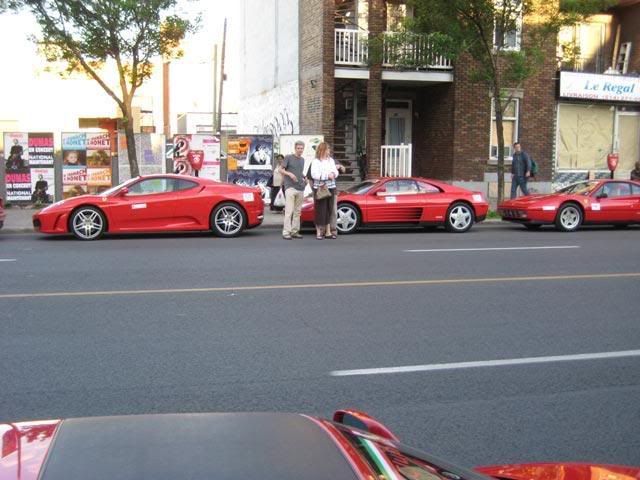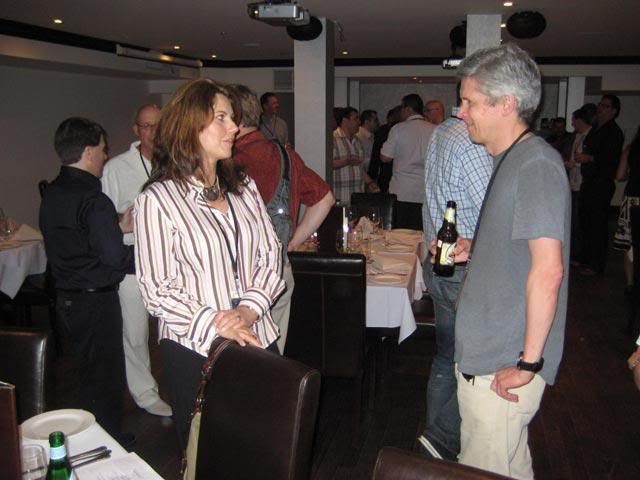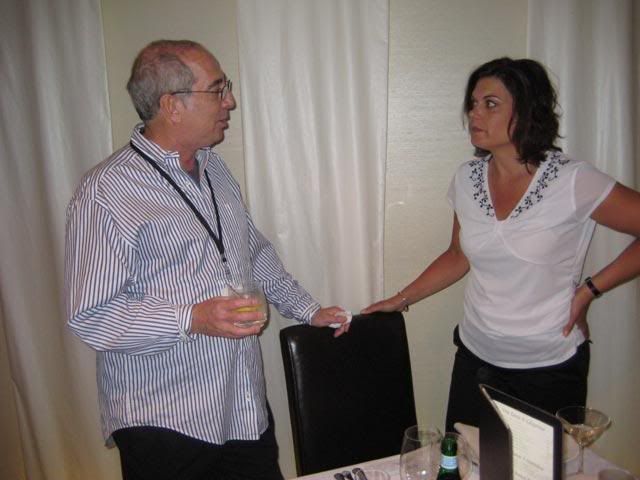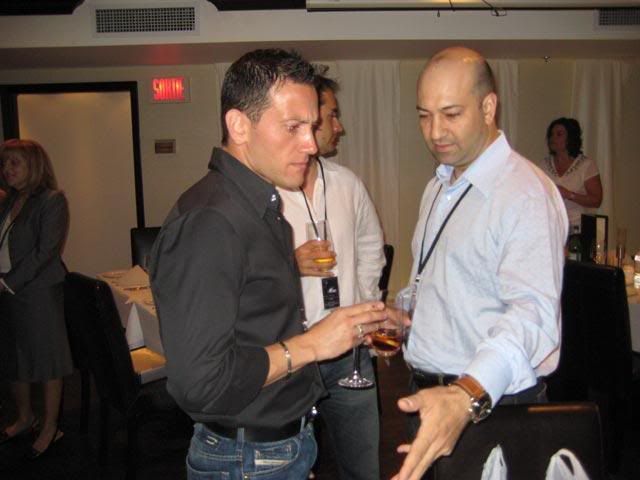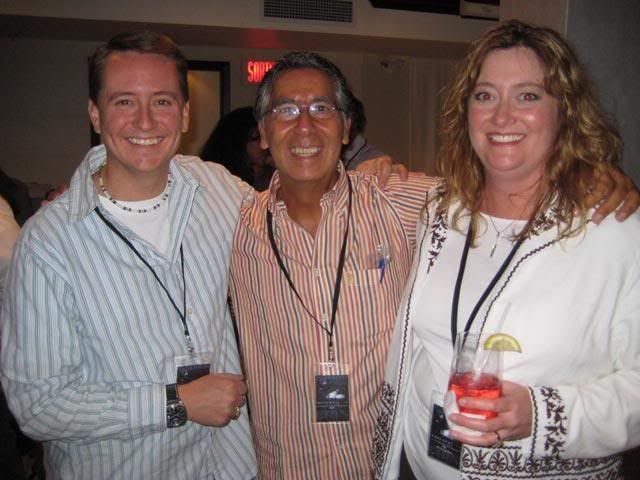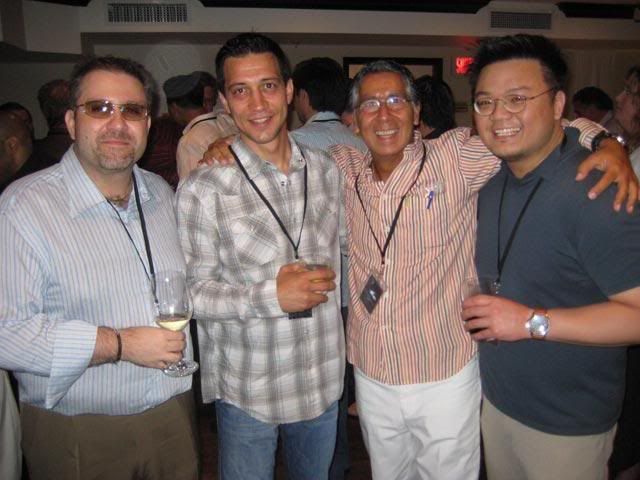 Bobb & I taking photos of each other!!!!!
Neil, Davie, & Nick:
I finally received my own Montreal 2007 strap and immediately swapped it on the 249:
Beside Doug's new Bell & Ross: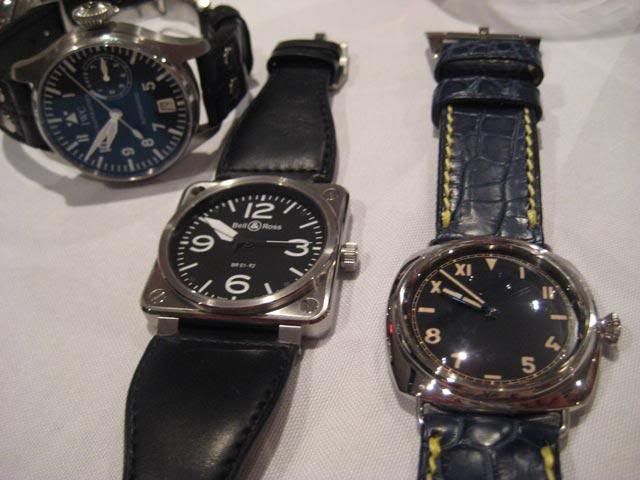 I couldn't resist a wrist shot with this puppy:
OK OK, here's the classic Nad Shot with the shirt sleeve, LOL!!!!!!!!!!!!!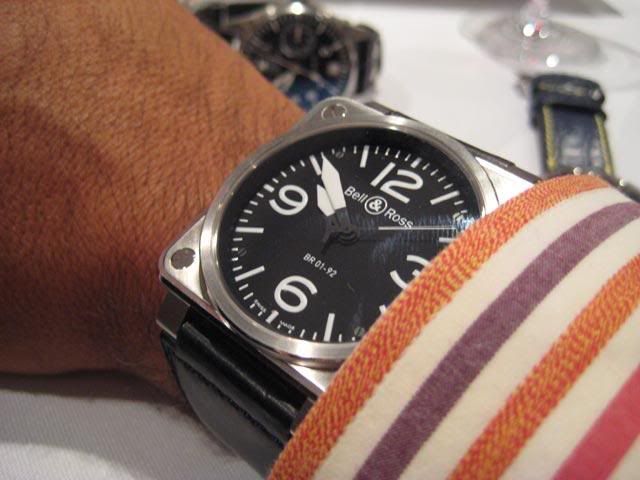 ARE YOU READY FOR MORE???????????????????????????????????????
Remember the box with the Ferrari? Well, we had a live auction for the box and the proceeds are all going to PROJECT WALK!!!!!!!!!!!
The bidding was fierce and ended with two bidders, Clif & Davie, fighting it out to the end, LOL
To the victor go the spoils and Davie is congratulating Clif on the winning bid…….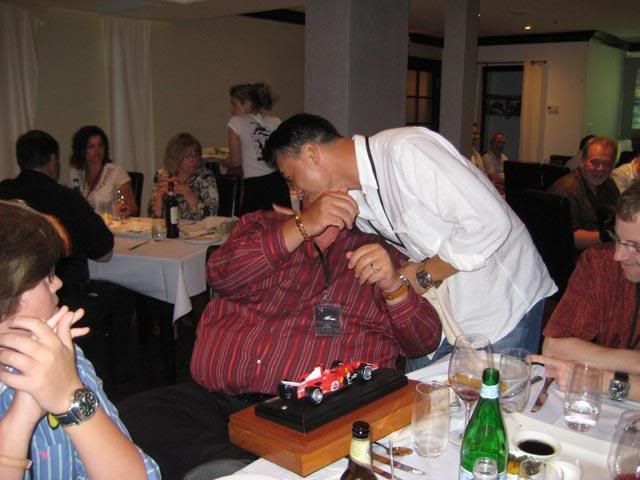 The winning bid towards PROJECT WALK was a whopping $1,200.00!!!!!!!!!!!!!!!!!!!!
Thank you Cliffy
Since we gave away a watch last year, Aurelio & Ken wanted to keep the tradition alive again this year.
They decided to do something special for me:
I'm trying to get the package opened: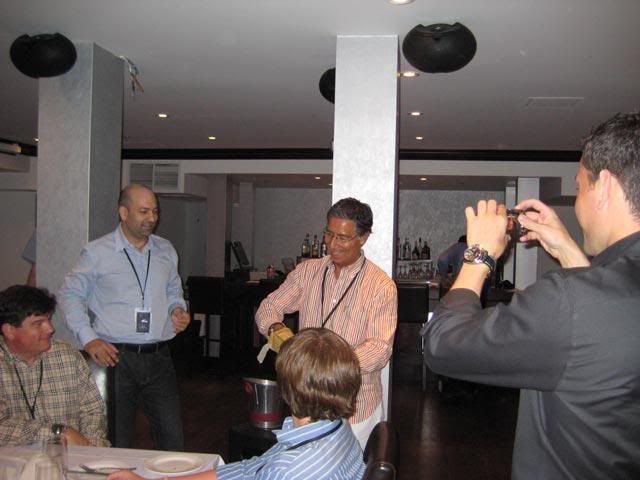 My new watch: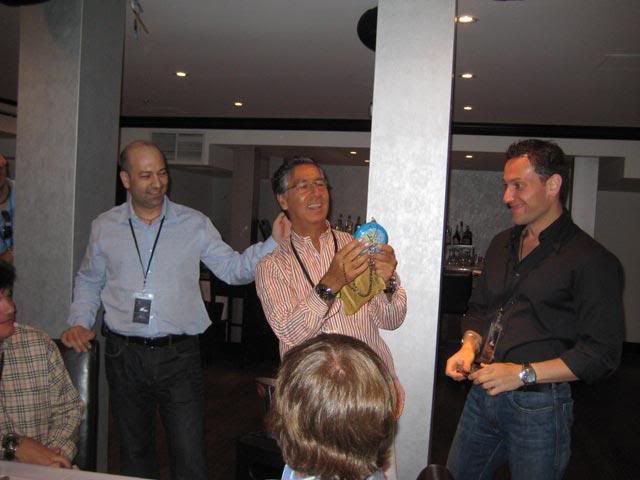 A very Limited Edition 1/1!!!!!!!!!!!!!!!!!!!!!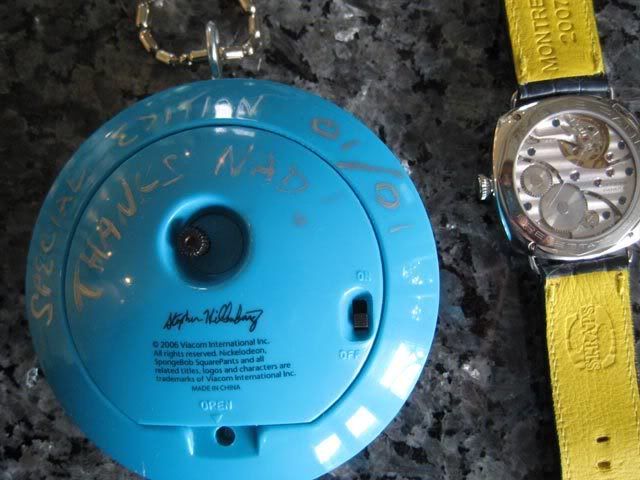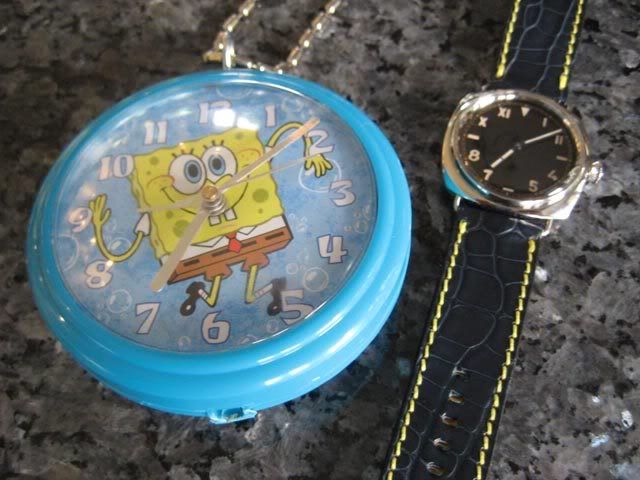 Here is a group photo that was taken with my tiny digital. Adrian took the same photo with his monster SLR and should be posting a better photo soon:
No respectable GTG is complete with out the traditional 'table shot'…..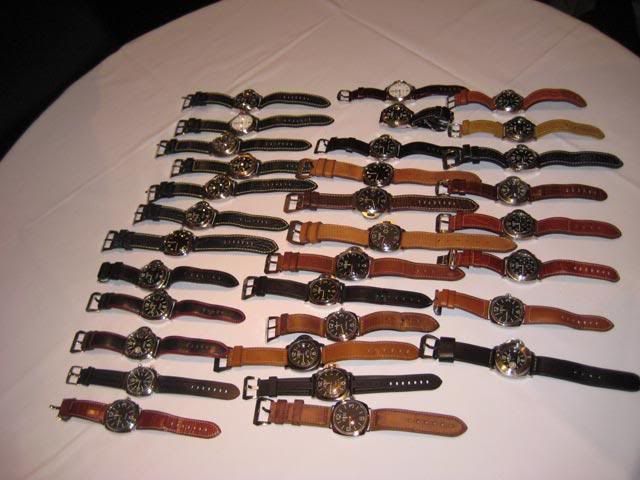 The "F1 Montreal Collection" – 2006 & 2007 straps:
Everyone's camera was ready: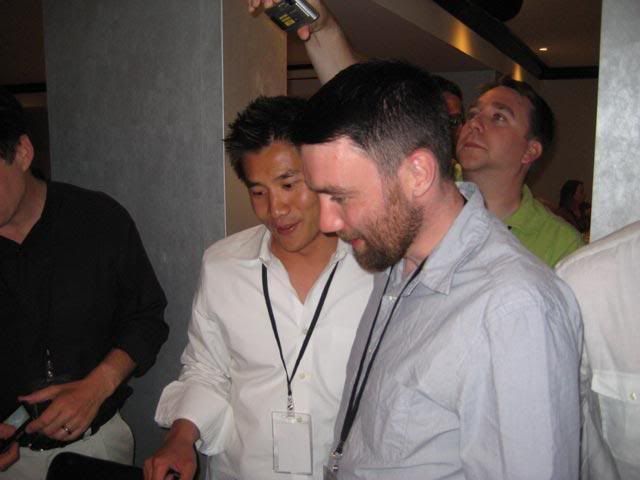 Andrew & I:
After everyone had left, Andrew & Dave sent their ladies back to the hotel in a taxi, & we 'chilled' on the patio into the wee hours of the night:
I love Marc's caption
"..be there or read about it for months
Don't just read about it, but start making plans to join us at next year's F1 Montreal 2008 GTG!!!!!!!!!!!!!!!!!
See you next year, y'all LOL

Montreal, Canada