I have never seen these in person, but a fellow told me about them, I don't know what they are called. If you do barrel work, you need to dial in the bore, not the outside of the barrel, because the bore may not be centered. But bores differ in size even within one caliber, so you need several size fixtures to cover all the bases. Here they are, the numbers on the back are the o.d. of the smaller diameter;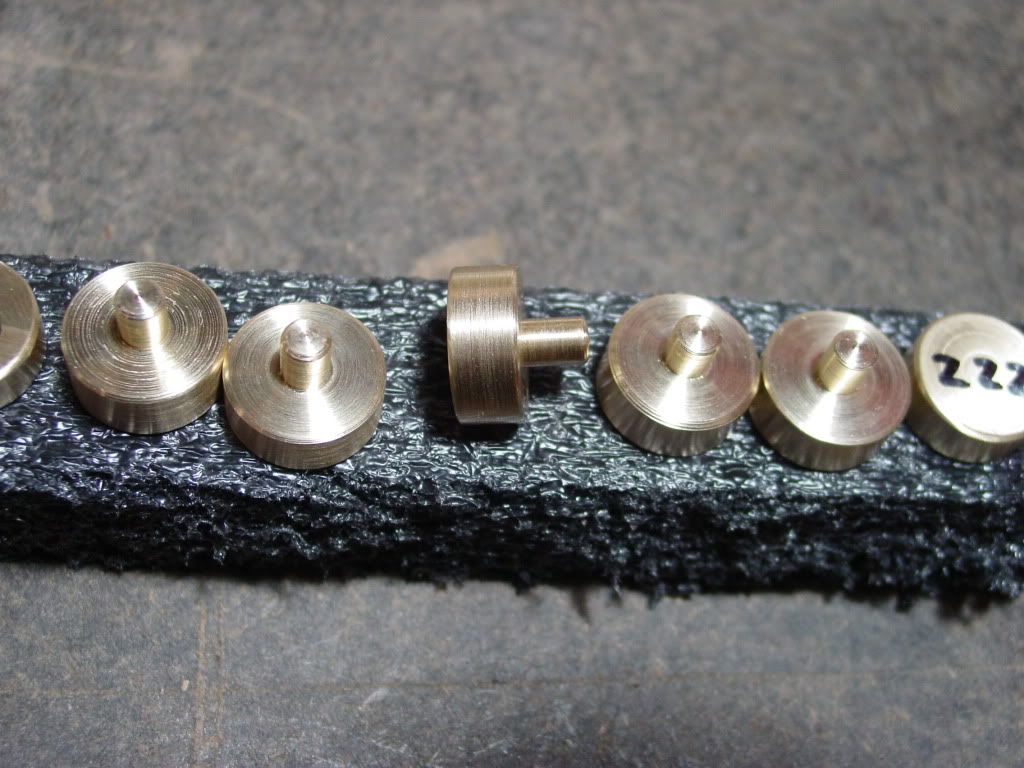 Basically, you find the size that fits your bore, put the barrel in your chuck, then dial in on the o.d. of the big part. That insures that the bore is centered and you can do whatever work you want on it.
Mine are for a 22 cal. barrel. What I did was turn the small portion that goes into the bore, figuring that 1/4" or so extension would be enough to pick up the lands, and then take off about 0.025" on the big part so the two steps would be concentric. I had originally planned for the small step to run from 0.217" to 0.221" in 0.001" increments. But the thing is, its hard to hit those exactly, so I ended up with a couple extra. The first few were pretty easy, since any number you hit between 0.217 and 0.221 is a good one. After you get most of those, it gets harder, e.g., it's tough to hit 0.218" exactly. I had to sneak up on the last one, at 0.219", using 600 grit sandpaper and some crokus cloth. I ended up a little off, like 0.2192", but I figure that is close enough. Better to stop fiddling with it before I ruin the part.
As kind of a long term project, I have been planning out making a go/no-go guage for measuring the head size of my pellets. I think its the head size that counts, as long as the tail is not defective. Really just something to measure those few the I might use in competition, from like 0.218 or so to 0.221, if it fits in the hole, thats the size of the head. But it is hard to accurately measure holes that small, and that differ by only 0.001". So these things might also provide a way to check my hole size in the guage. If I ever get around to making it.
I used the foamy stuff that Pyramid Air packs your pellets in for shipping to protect the pieces while storing.
Anyway, here in NorCal, it seems to rain whenever I plan to do yardwork, even in June. So the upside is some time in the shop and one project mostly completed.