In the past year I have acquired both the PRT-40 and the PAG-40. By dumb luck I had had received the PAG-40 as a contest prize right after I had bought the PRT-40. I initially was going to sell the PRT, but I instead gave it to my father. He used the watch earlier this year only to find that it was too complicated for him so I took the watch back and gave him my Timex Expedition. That one is much easier for him to use.
Backstory. I have spent alot of time outdoors in my life either hunting, hiking, camping or fishing. Growing up one thing that was always drilled into my head was to be prepared. So, when I take to the woods, known area or otherwise, I always take the essentials. Included in my gear are navigational aids. I always carry a lensatic compass and a topo map when I can obtain one for the area that I'm going to be in. Recently I started using a gps and even more recently I started using a digital compass(as a quick reference guide and not my primary navigational aid). The watch I was carrying was a Timex Expedition Digital Compass, inexpensive and quite accurate. This year I was able to use my Casios and compare how they stack up against each other. Being that I had used my Pathfinder a couple of times earlier this year on day hikes I was more familiar with the features of this watch and it's shortcomings. I figured that being that both watches are evenly equipped it was going to be a fair fight.
Fast-forward to the comparison.
Both watches are triple sensor watches capable of barometric pressure readings as well as temperature. Digital compass and altimeter. One advantage the PAG-40 has over the older model PRT-40 is a larger digital readout. You guys with either hyperopia or presbyopia know where I'm coming from here. The other advantage that the PAG-40 has over the PRT-40 is the styling. The PAG-40 is much more appealing to the eyes(but this is not a factor here).
On to the Field Test.
The first watch up was the Casio Pathfinder PAG-40. I used this one first because I had used it more often than the PRT-40.
[IMG]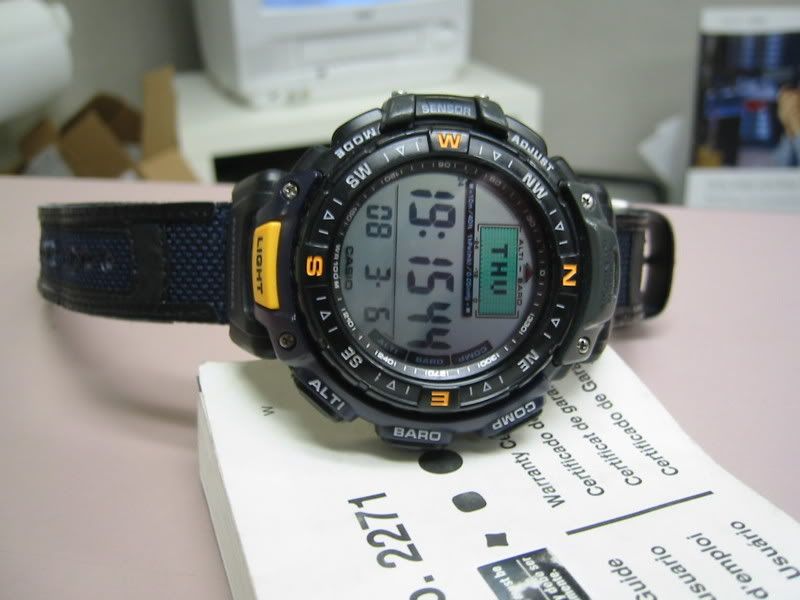 [/IMG]
Scenario #1. Monday November 24,2008 06:30. Opening day of Pennsylvania Black Bear season. Northeast Pennsylvania, Pocono Mountains. 12 degrees f light snow flurries, which turned into freezing drizzle as the day wore on and steady wind. The gear in my arsenal: Lensatic Compass, gps, Browning mod. 92 .44 Rem. Mag., Seiko SKX 033 on my right wrist(Primary timepiece), and my Casio Pathfinder PAG-40 on my left worn outside my jacket cuff. Initially before leaving the truck I took a gps reading and also backed that reading up with the Pathfinder. I found a difference in the elevation between the two. The Pathfinder was reading 1000 feet different than the gps(not a big deal I adjusted for the difference), I figured there would be a difference because these devices calculate elevation/altitude differently. The Pathfinder roughly guesses at the altitude/elevation using atmospheric pressure and the gps uses satellite triangulation to calculate elevation/altitude, much more accurate. After calculating the difference in altitude/elevation I found that there was no real deviation between the devices. I had taken a compass reading before venturing out and as compared to the gps and my compass the watch was within 5 degrees. As the day went on the weather conditions deteriorated, confirmed by the barometer feature, it was dropping all day there was a storm front moving into the area. I found that the altimeter and the barometer were quite accurate, however, the thermometer was not so. Also in the extreme environment I was in the digital compass did not live up to my expectations. It would not read bearings when the watch was left exposed for long periods of time, the receiver was too cold to calculate this. Overall, despite these shortcomings the watch performed quite well.
It was now the Casio Protrek PRT-40's turn at the plate.
[IMG]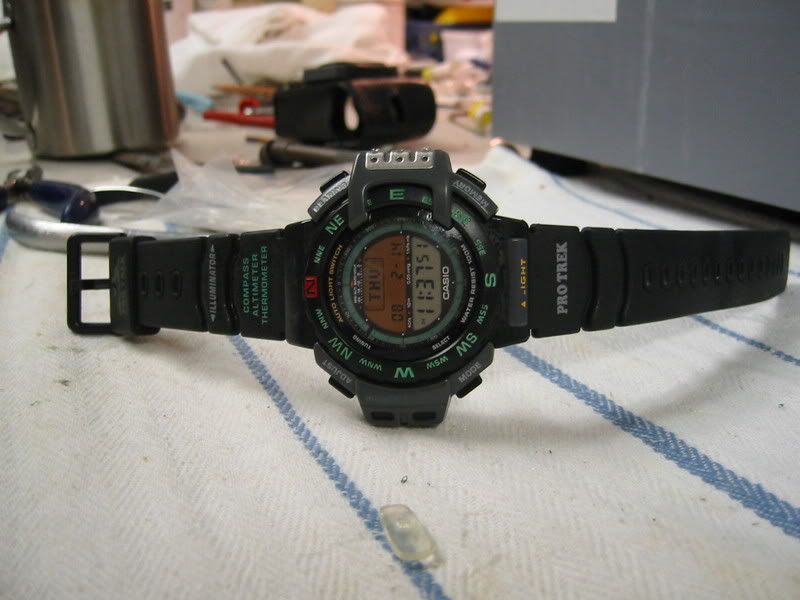 [/IMG]
Scenario #2. Monday December 1,2008 06:30. Opening day of Pennsylvania Whitetail deer season. Same area nearly identical conditions with the exception of stronger winds and more precipitation. It was however, about 5 degrees warmer. The gear in my arsenal on this excursion: Lensatic compass, gps, Browning mod. 81 BLR .308 win., my Seiko SKX 033 again and my Casio Protrek PRT-40. As I did the week before, prior to leaving the truck I took my readings. I found the same elevation/altitude deviation between my gps and my Protrek, so I calculated the difference. I then took my bearing reading before heading out and no surprise, spot on. Much like the week before the weather got worse as the day progressed, only worse, more wind and more precipitation. I left the watch exposed all day and much to my surprise I encountered no problems. Every function of the watch worked flawlessly. Even the thermometer worked accurately(once I factored in an approx. 10-15 deviation in temperature due to radiant body heat). My opinion here is the only shortcoming I could find with this watch was the fact that the digital readout is quite small and when you are hyperopic this can pose a problem.
Overall report.
Even thought the PRT-40 seemed to out perform the PAG-40 does not mean that it is not a good watch. Both are very good watches and I'm glad to own them. Now I did use the PAG-40 on day hikes as I mentioned earlier in this post and I must say that the watch did live up to every expectation on those hikes with the exception of the thermometer. On the Pathfinder I find that that sensor is too sensitive and picks up too much radiant body heat. That being said both watches are winners. I would definitely have no issues taking my Pathfinder on day hikes in less harsh conditions, but when the conditions are harsh, it's gonna be my Protrek PRT-40.
Thank you for reading. One thing I must add, this comparison was based on my own experiences and opinions. Others may draw different conclusions if comparing the same watches.
Cheers!
Mike
"I may discount bungee jump, but I'll never smoke weed with Willie again"