Several months ago I happened to mention to mike martin that I was interested in getting my hands on a Destro style Marina Militare. for those who don't know Destro is Italian for right handed, which in this case means a watch with the crown at 9. Anyhoot he remembered and one day he sent me a link to a sale on the forum for this watch: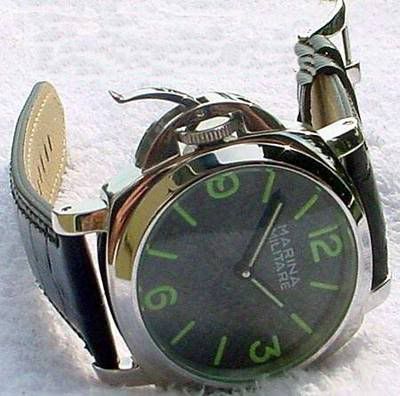 The watch was a Marina Militare with a chinese made Unitas 6497 clone, with the second hand complication removed. I knew I hated the blingy finihs and the dial, so I set about modding the watch. I sourced a sterile sandwich dial from a seller in hong kong and had it adapted it to the case. Here is a picture of the watch with the new dial in: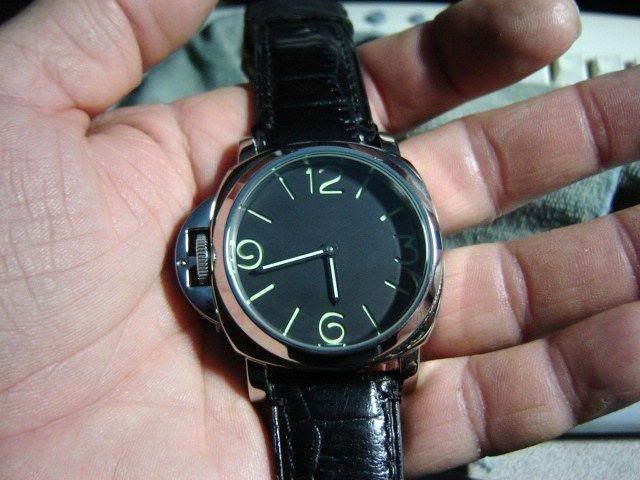 Then Mike took a stab at the case. I had an idea of what I wanted to do and started talking to mike about what could or could not be done. A while back I had seen this picture of stallone wearing an all black Panerai on his latest Rambo movie.
I liked to color mix and sought to do something similar, but Destro style, sterile and without any second hand. Mike blasted the case and coated it in a beautiful flat charcoal grey ceramic.
Ernie Romers (the owner of WUS) was kind enough to let me have an awesome thick leather strap from his shop that matched the watch and mike replace the screw-bars to make the strap fit better. One last bit of adjustment and here is what 5 months of work produced, a sterile charcoal cased destro pam homage: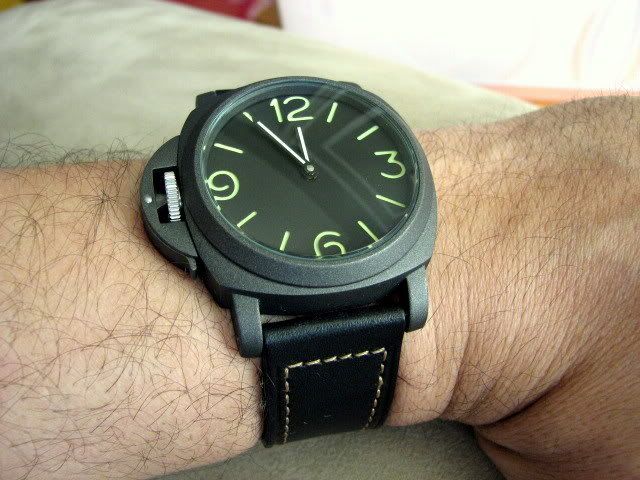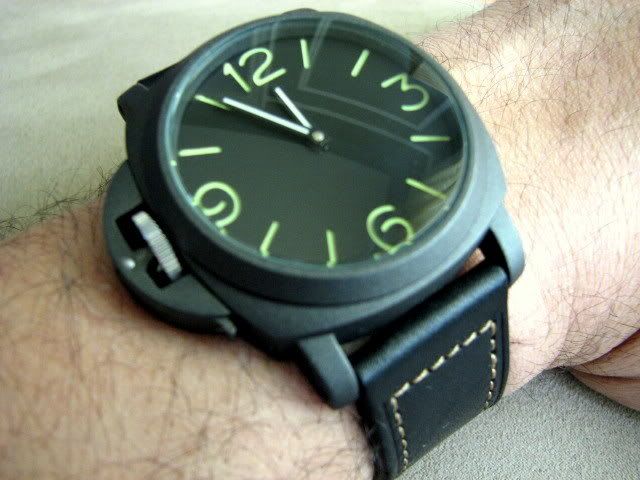 I love the Unitas movement and highly recommend it (even if mine is a clone). they are big, solid and have a super long power reserve. I also like it that they are hand wind only. If I could recommend something, I would say go for the sterile dial. anything signed just looks silly if it is not a Panerai (mainly because it is such a distinctive looking case). Don't be afraid to experiment, you might end up with something you really like.
_______________________________________________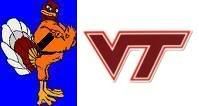 GO HOKIES