I don't know what wrapping ones self in the flag has to do with anything. As I see it, the election was more a result of frustration with the economy and the inability of any administration to be able to turn the problems around and return the country back to it's free wheeling ways. As I see it, regardless of which party was in office, under these conditions, a rebuke would have been expected. all this talk implying that just because someone is a democrat he is a social and economic liberal is pure nonsene. Democrats, as well as republicans come in all types and represent all manner of different people. I consider myself to be a progressive democrat (read just left of center on most social issue on definitely right or right of center in economic issues). I think the democratic party is currently suffering from an ill informed populace and short voter memories. Let's not forget that it was a largely republican controlled government that spent 8 years raping the economy canceling services left and right and creating a finacial clusterfunk of such epic proportions that collapsed the economies of several countries and almost bankrupted our own.
That is what this president and this administration inherited and have had to work to solve over the past year. Economists the world over are having a hell of a time modeling possible solutions and no one has come up with a quick turnaround. This time there is are no quick financial patches left (like the real estate industry was in the early part of the decade), and the government is having to make do with a very bad financial situation.
Convenient memories can forget or label those who are not extreme right wingers wrapped in the flag and the bible as liberals or Rino's, but that will not in any way change the financial realities on the ground, and the truth is that neither party would be able to do much more to cushion the blow than already is being done.
_______________________________________________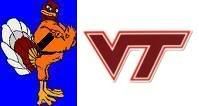 GO HOKIES