Here is Carlton's response to my bronze. I really appreciate his time and expertise even though it didn't turn out like I'd hoped. Great guy!
Hello Bert,
Thank you for writing to SportsAntiques.com. Your bronze is a very interesting subject as there are only a handful of 19th century baseball bronze statues extant.
To begin with, I'll clarify I know of no documentation referencing that work in bronze. My knowledge of it is based on my twenty years collecting and observing antique sports sculpture, as it is my favorite areas of collecting.
Your bronze is modeled after a Parian statue of the same subject sculpted by Isaac Broome (pronounced: Vroom) in 1875-76. Isaac Broome came from Canada to Philadelphia about 1850, where he studied art. Parian was a type of white porcelain that was invented in England around 1840, and migrated to the United States, where production blossomed in and around the New York and New Jersey area in the latter 19th century.
The story of where your bronze originated, or at least the original figure, begins with the 1876 Centennial in Philadelphia. The Ott and Brewer pottery company, also called the Etruria company, of Trenton New Jersey sought a work to exhibit at the Centennial, and one of the principles of the company John Hart Brewer commissioned Issac Broome, who worked as a sculptor for the company, to design something special related to baseball. What Broome came up with was a matching pair of 38 ¾" tall parian urns, each encircled by three statues of baseball players; a batter, pitcher and catcher. Your bronze is modeled after the catcher. It is said Isaac Broome's only son, Roebling Ericson Broome, was the model for all three of the baseball players.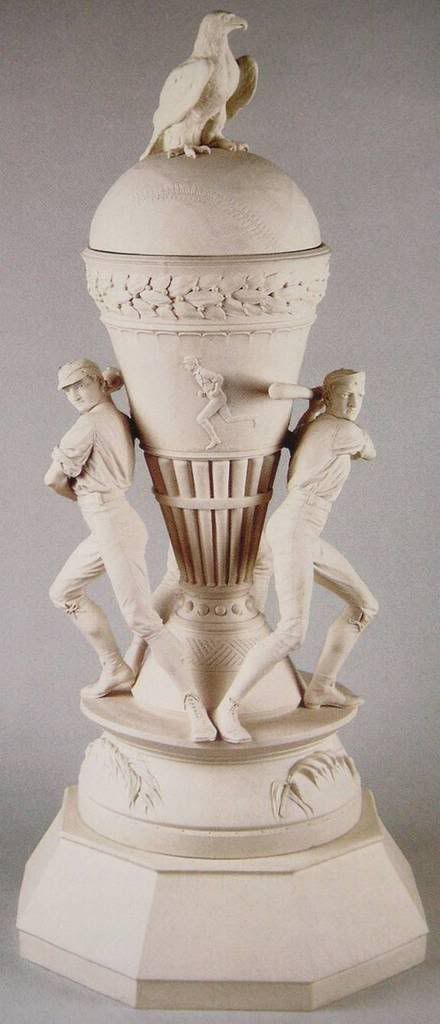 I've stated this in the past; don't waste too much time looking for the world's greatest baseball art work. Save your energy, just go to either the New Jersey State Museum or the Detroit Historical Museum, each has one example of the urn.
The urn was the first stage of origination of your bronze. The next were individually cast, free standing parian statues of all three of the baseball players that surround the urn. The parian catcher measures 14 7/8" tall.
Ott and Brewer displayed the free standing statues at the Centennial as well. The New Jersey State Museum has all three examples today. In 1989 they were the only known examples. However, renowned baseball collector Mark Rucker had the pitcher, and offered it in an auction of his collection in 1995,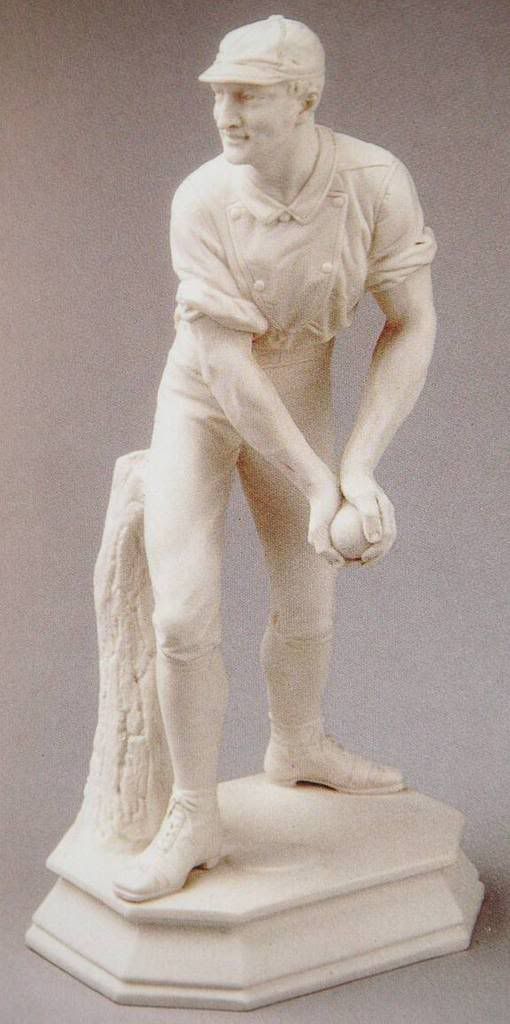 which was auctioned thru Dan Knoll's and Bill Mastro's auction concern, Best of Yesterday. The statue was lot 1, with a $25,000.00 minimum. It didn't sell, and Mark later offered to me for $25,000.00, but I couldn't afford it. Years later Mark told me he did sell it.
So where does your bronze come into the picture? I have no certain answer, but I speculate someone produced them in the 1970's or 80's. Probably they observed and copied the one in the New Jersey State Museum. Over the years I've had two examples, and sold both. I recall I unscrewed the marble base on one and there were bold felt tip pen markings inside the cavity. Further as I recollect, the casting of one had a little better definition than the other. Once I tried to sell one to San Francisco bronze dealer Chuck Morganstein. He looked at it and immediately pooh poohed it and passed. He quickly pointed out the poor casting details. It was my first lesson in what to look for in a bronze.
When Mark Rucker offered me his statue I told him about my bronze rendition of the catcher. He asked me to send it to him so he could compare it to his parian pitcher . He returned it and essentially said there was no comparison, and it was very weak in detail.
I see them offered for sale now and then, once in a while on eBay, and friend of mine recently sold one he had. You can read a little more about the Isaac Broome baseball statue and urn, in an article I wrote quite a while ago. That would be in the fourth paragraph on the page link below, to my website SportsAntiques.com. There you can also see links to photos of the Rucker auction catalog.
http://www.sportsantiques.com/and_more.htm
I hope this helps you understand your bronze statue better, and that you are not disappointed I don't believe it an original old antique. Nevertheless, I feel they're a good starter piece for someone just starting out collecting antique sports statues. Actually it's exactly where I started!
Kind Regards,
Carlton Hendricks
Editor Publisher SportsAntiques.com
_______________________________________________________________________________________________________________