Pretty well listed, she's all over the net. The one Indian scene I found looks outstanding. Sounds like the the city was Manteca Calif. How about a photo? For some better opinions of value...otherwise without seeing it, its hard to say...maybe $350.00-$400.00 ? in good condition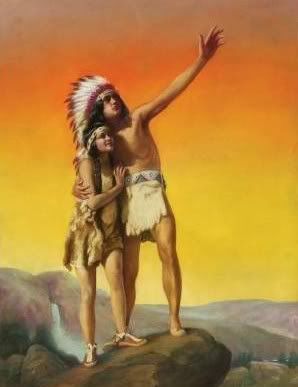 http://popular.ebay.com/ns/Misc+A-B/Adelaide+Hiebel.html
Adelaide Hiebel was the finest and highly paid, self-styled, female artist of her time. Born in 1879 at New Hope, Wisconsin, she joined the Art Institute of Chicago because she was not satisfied with her artistic abilities. It was at this art school that she met her special teacher, Zula Kenyon, who later became her mentor. Adelaide taught in the art department of Ohskosh College until 1916, before coming to Joliet to join the Gerlach-Barklow factory on Zula Kenyon's recommendation. She lived at John Street until 1930, which is now listed as one of the historic homes of Joliet.
Hiebel was famous for her realist and representational styles of paintings. Her medium of painting were pastels that primarily featured human figures, illustrating various moods and depicting humans in various activities. Her famous works include "Sewing Our Flag", the famous pastel of Joliet's own Lois Delander, and "Miss America," in her bathing suit.
Hiebel was paid as much as $10,000 for each of her paintings, and was well-respected among the art fraternity of her times. She used to throw lavish parties and could attract leading artists to her studio for her annual artist's Open House and social gatherings. She has more than 400 signed works to her credit that she completed for the Gerlach-Barklow factory. She brought back many of her own favorite works from the company when she decided to move to California in 1955. After retiring from an eventful career, she died in Santa Ana, California, in 1965, leaving behind her great works of art. Although, some of Adelaide Hiebel works are missing, the rare originals that are available are sold at a premium.
Huge 1948 Calendar by Adelaide Hiebel, "The Shortstop"
December 29 2007 at 11:50 PM
Patrick McMenemy (Login vintagecatcher)
--------------------------------------------------------------------------------
I'm curious if anyone has an idea of value for a huge calendar with an illustration by Adelaide Hiebel. The size is approximately 2' wide by 3' tall. The illustration is entitled, "The Shortstop." The calender was used to advertise Clarence L. Hughes Insurance, 226 West Yosemite Ave., Manieca, California. Any help would be appreciated.
Thanks in advance,
Patrick