Le Mans cars are my favorite, especially from the 70's and they must have big and fats all around in order to be a proper model. There is just no cheating in a view like this...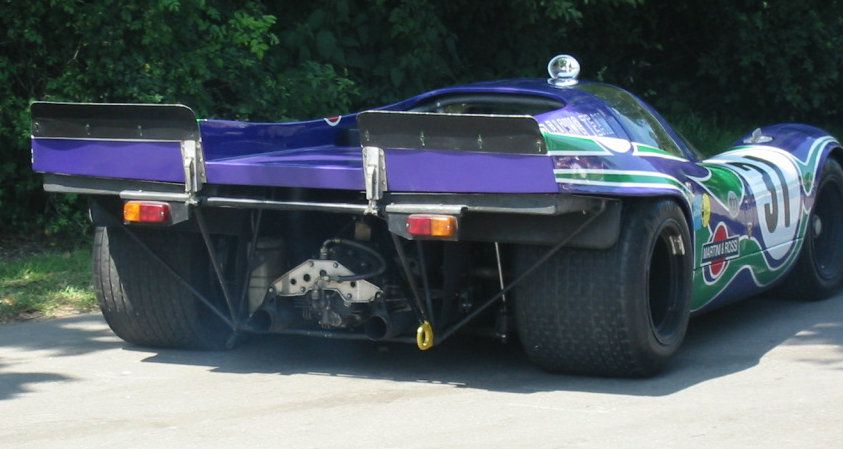 I found some good masters to cast but the fronts were too large so I cut a chunk out and re-glued them down to the proper diameter. I cut and glued a disc inside so the casting material will not meet in the middle. I then glued a post on.
I glued them to a .040thou. piece of sheet styrene.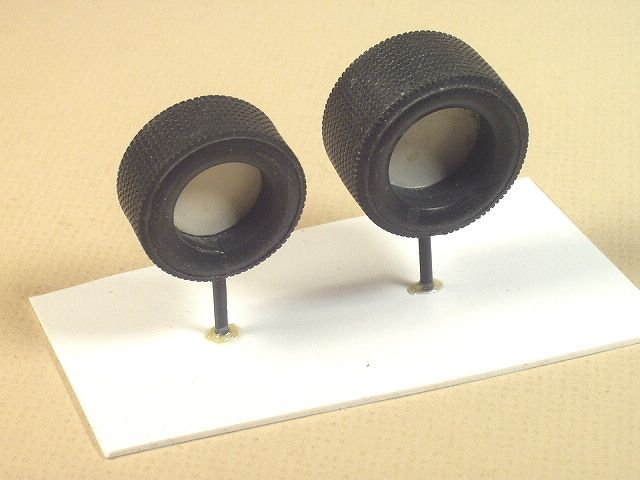 I then boxed in the tires making sure I would have no leaks and poured in the silicone. Try and tease out the air bubbles from inside the rim. No biggy if you miss one, it will just be a resin bead to cut off when you cast the resin.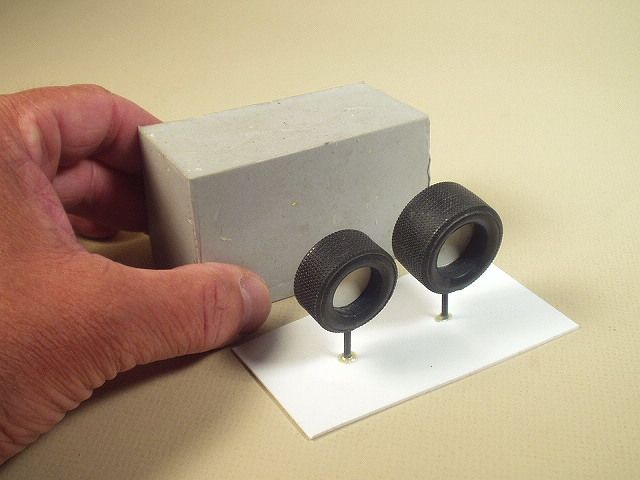 When the silicone is cured, break away the sides and snap off your tire posts from the bottom. Find those little posts and cut down to the middle of the tire. Make an irregular cut so the two halves will "key" together. Remove the master and posts. Enlarge where your post was and this is your pouring slot. Near where the pouring slot is, I cut an air shaft for the air to escape while pouring in your casting resin.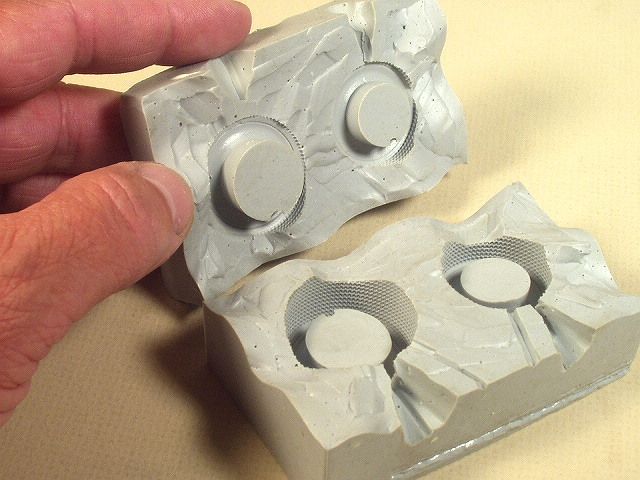 Sheet plastic and rubber bands hold the halves together while pouring resin. Not too tight or the silicone will deform. Two pours from the same mold gives me one set of tires. I flat spot tires for a weighted effect, I do it were the pour sprue was.
I have Colotti and ZF gear boxes, Halibrands and cross-flow intake manifolds and tons of other neat stuff. All you need do is find one good one or make it your self...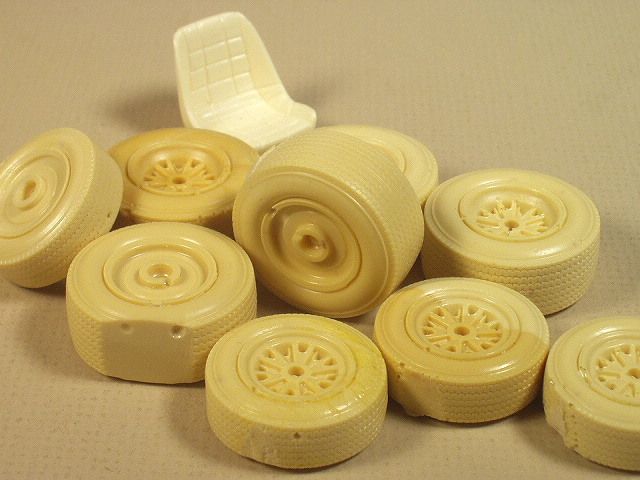 The molds are good for about 100 "pulls" or copies. Some of these molds are almost 20 years old and I could use them...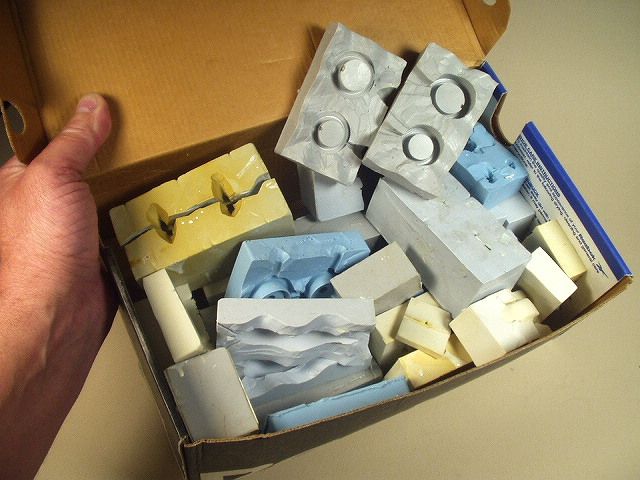 Pilots, engines, cockpits, propellers and on and on. Have a blast. Make sure you only use them for yourself and not re-sale, copyright infringement and all.
Yet another aspect of the hobby to make it even more fun than it already is.
Thanks,
Allan
Youth, talent, hard work, and enthusiasm are no match for old age and treachery.
Multiple Mosquito Build, 1/72:
Intro
Part 1
Part 1.5
Part 2
Part 3
Part 4
Part 5
Part 6
Part 7
Part 8
Fini
Fathers Day A6M2:
Intro
Part 1
Part 2
Part 3
Part 4
Part 5
Part 6
Finish
Airfix Stuka 1/72:
Part 1
Part 2
Part 3
Part 4
Part 5
Part 6
Part 7
Finish
Airfix Hurricane 1/72:
Part 1
Part 2
Part 3
Part 4
Part 5
Part 6
Part 7
Part 8
Finish
Airfix Orion III:
Build Tutorial
Finish