Hello everybody
12 hours late - I wanted to post earlier but some late "rats" moments slowed me down
Anyway, my 3 Flying Sharks are finished
From front to back : Airfix, Trumpeter, AML and Novo/Frog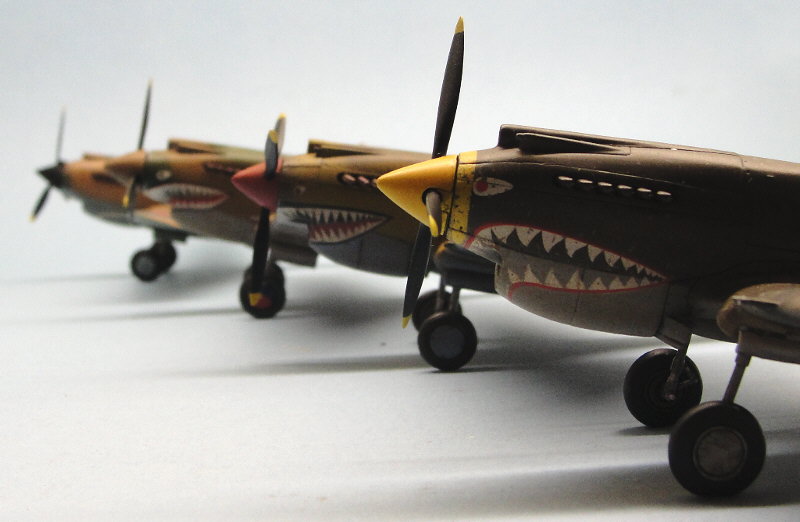 Last time my Airfix kit was ready for decals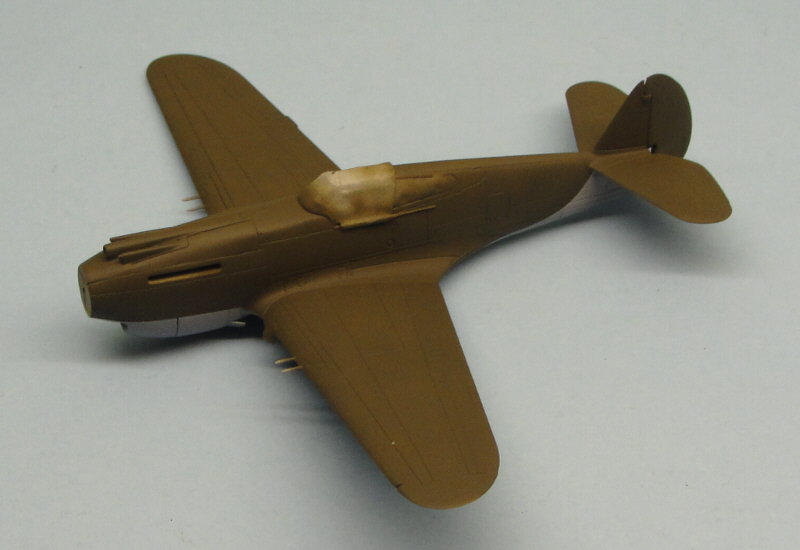 What better choice then this : the box art markings of one of the AML kits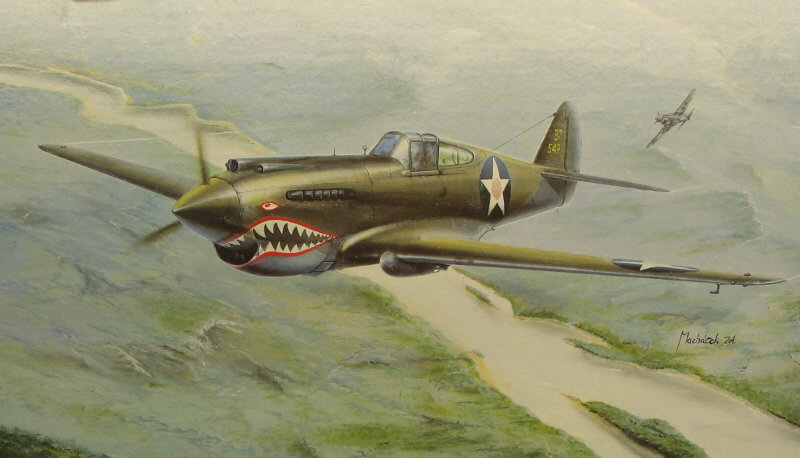 54 Pursuit Group, USAAC, 1942 - the one with the shark mouth
Note the decal sheet has red centres, but the profile doesn't show them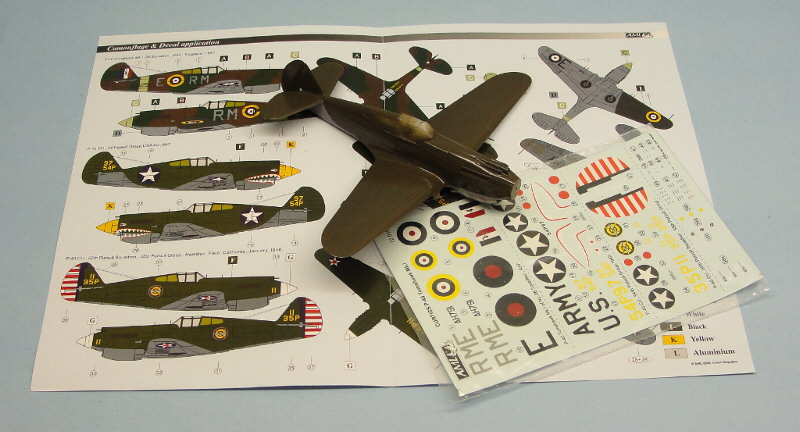 Decals were great, very thin and not translucent (as I was afraid for this with yellow markings)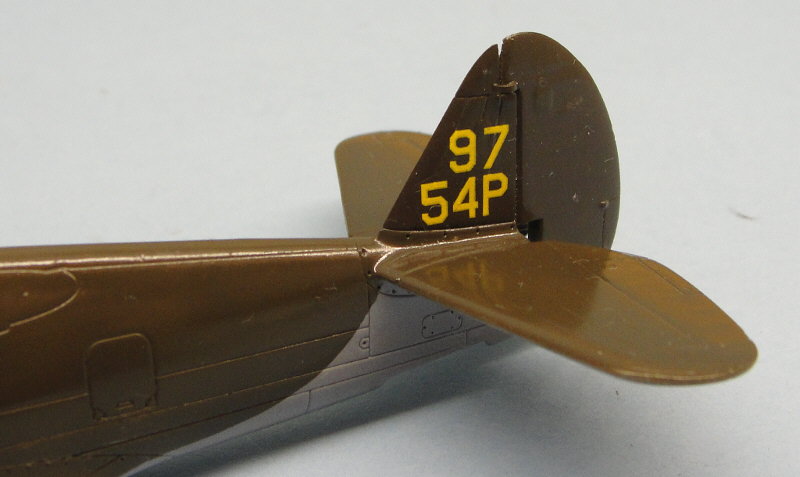 The shark mouth was almost a good fit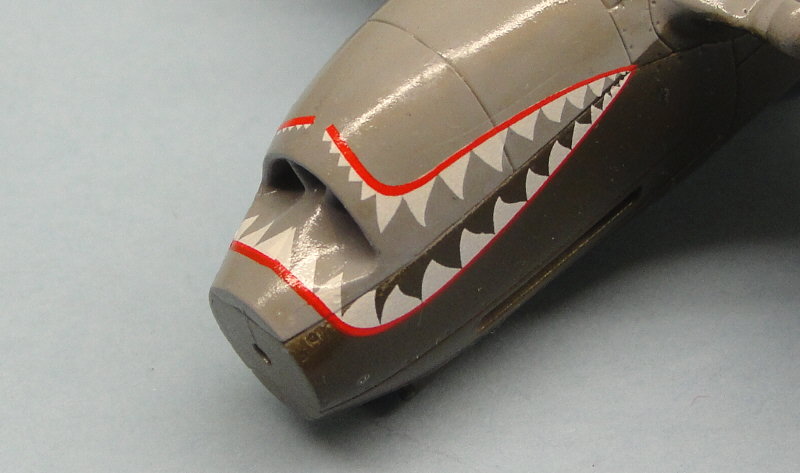 Done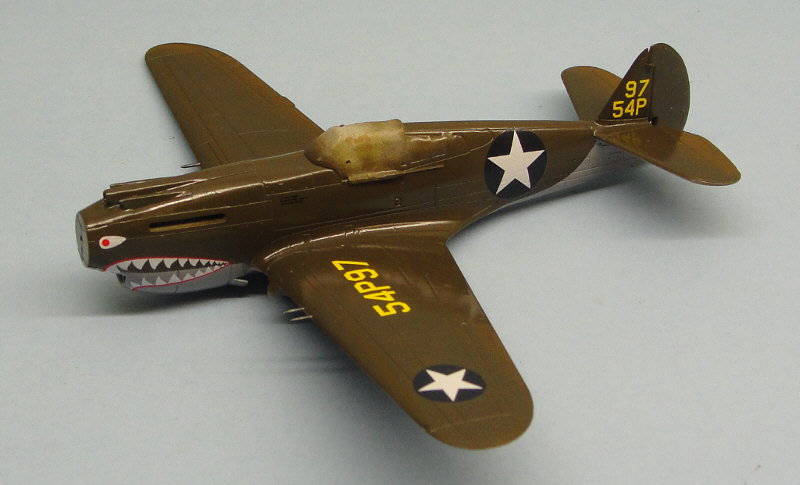 Some problem areas, decal film covering partially the hole for the landing light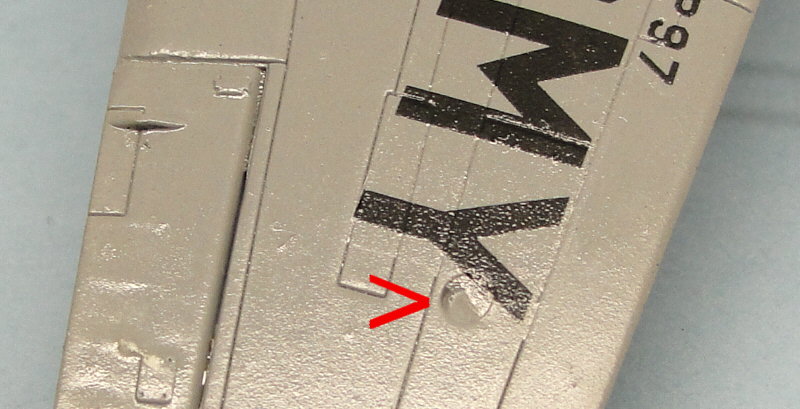 That's why we have Tamiya Extra Thin (and also for gluing of course!)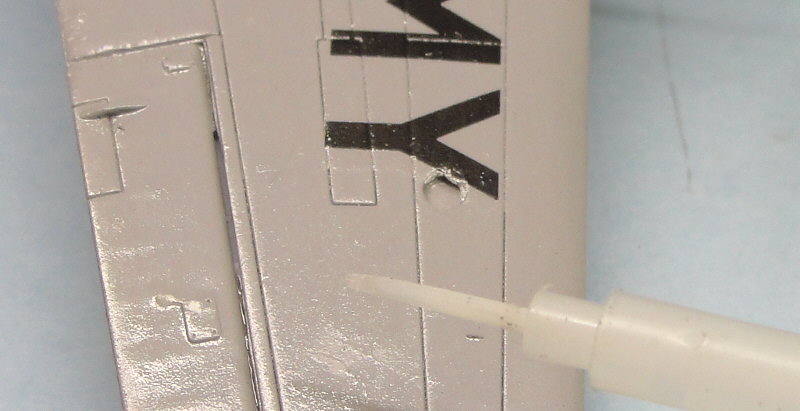 Its powers can melt decal film
Just put a little glue on the brush, and touch with it the decal film - it will melt away (it works well on thin decals, less or not at all on thick decals)
Hope this helps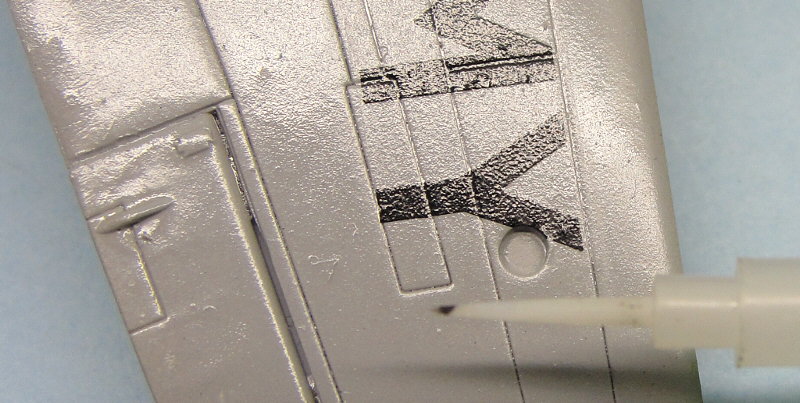 Vallejo Satin varnish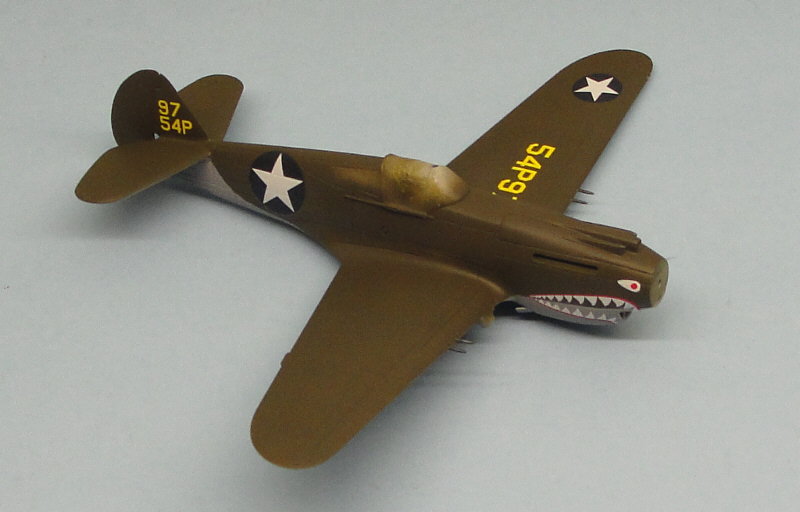 Rats - part I
The yellow of the spinner extended over to the front fuselage - I hadn't noticed this earlier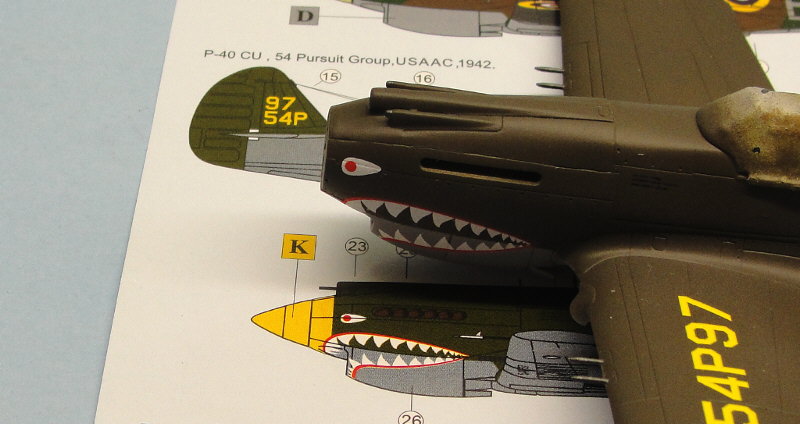 Light grey to give the yellow colour a better background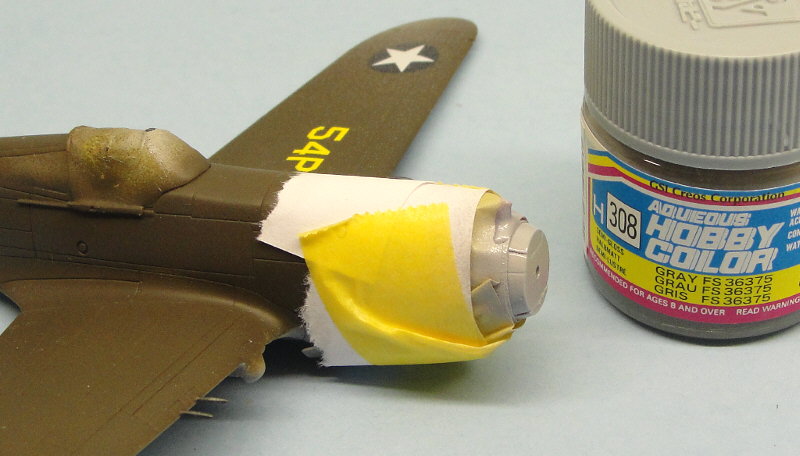 Rats - part II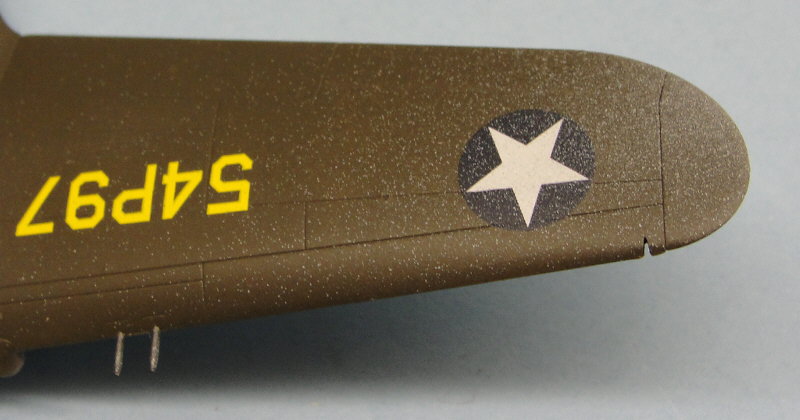 I could rub off most off the overspray with Vallejo Airbrush Cleaner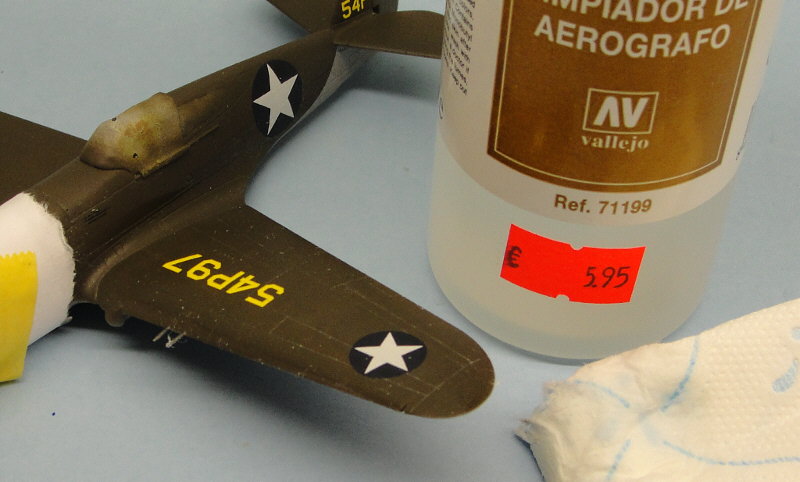 More careful now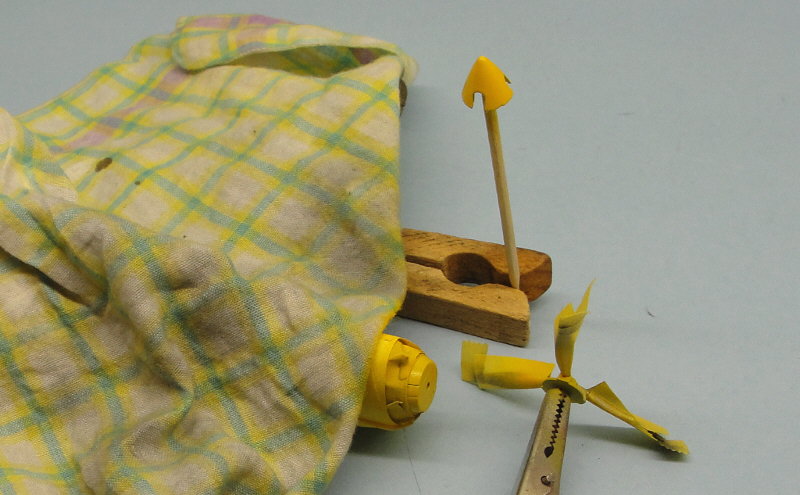 Of course my decal eyes were too close to the front now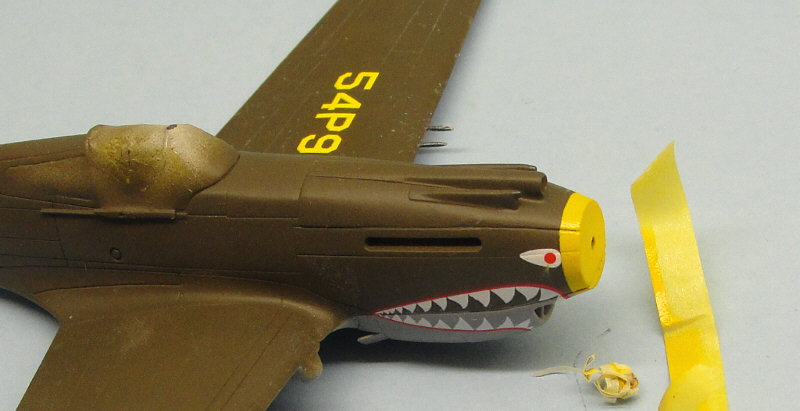 The masking lifted of only one little piece of white, breaking up one teeth
And I fixed the broken underline with orange as all my reds were too dark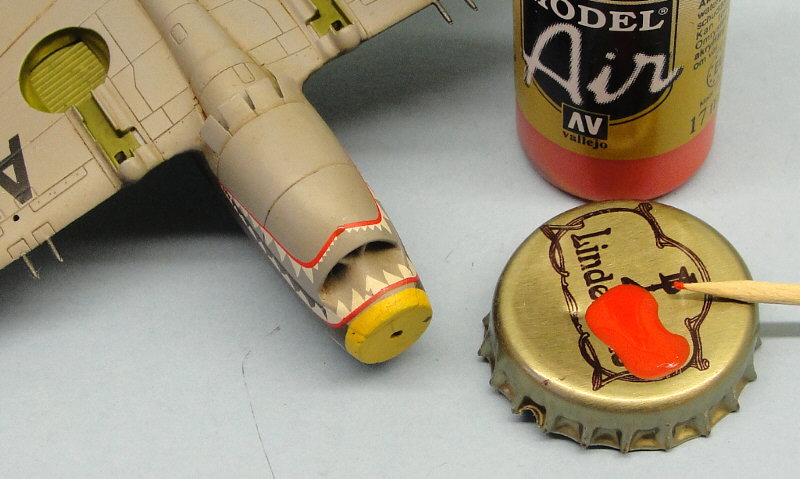 Panel line wash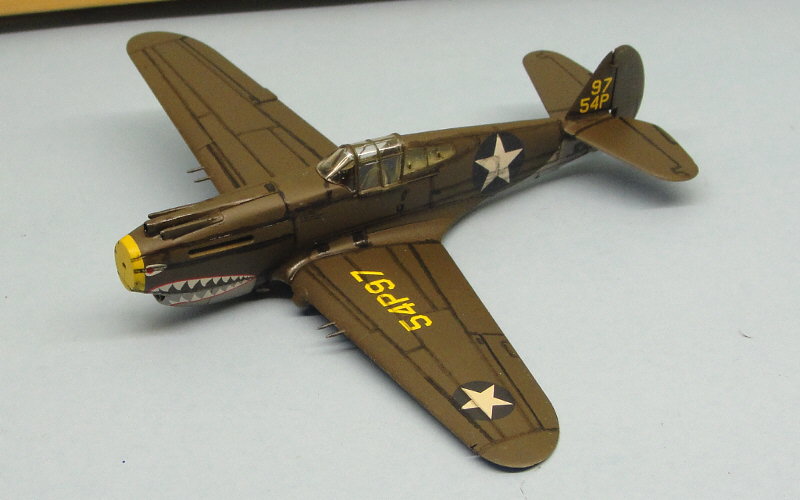 Let it set for one hour, then remove excess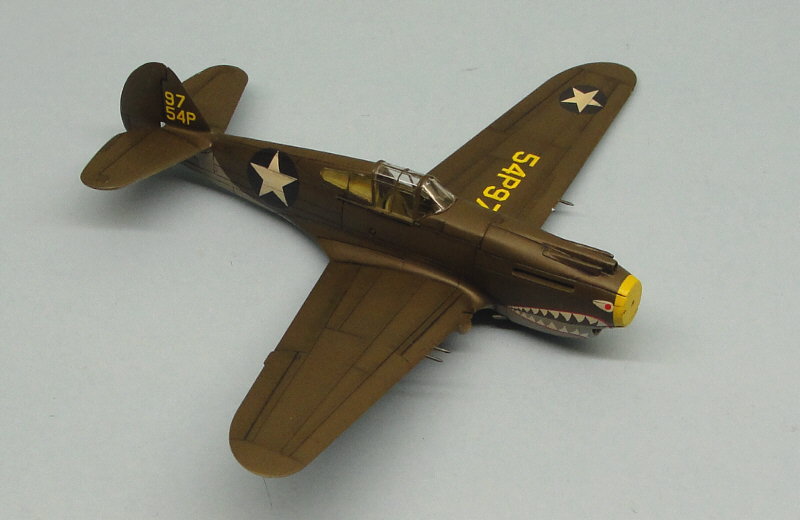 Dry brushing and paint shipping
I had fun but I overdid it, since this was (probably) a training unit, I don't think their aircraft would look so worn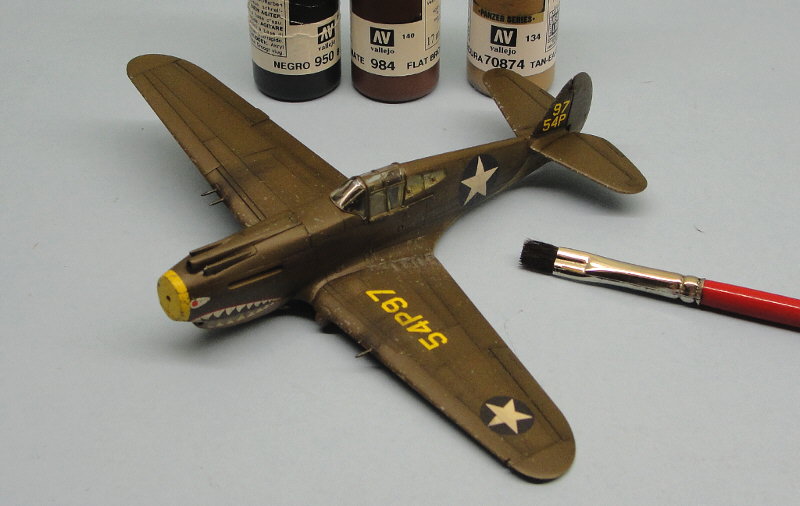 The little stuff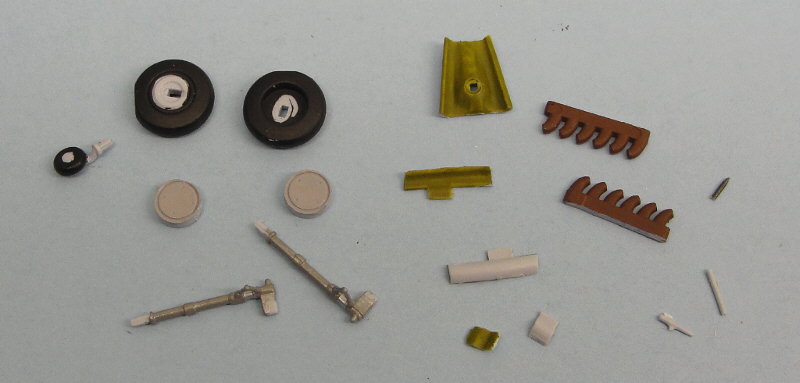 Rats - part III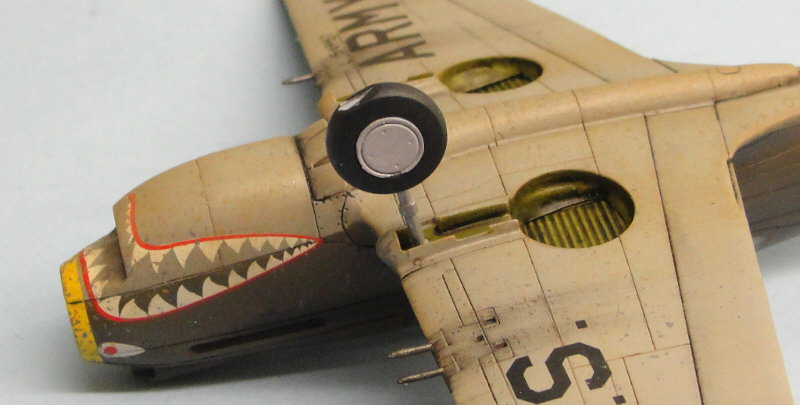 I had glued the wrong wheel on the wrong leg - and with the flattened tires, this mattered !
And because of the rectangle type slot - I could not turn the wheel into the right position - and I had to remove the wheels... what was an ugly business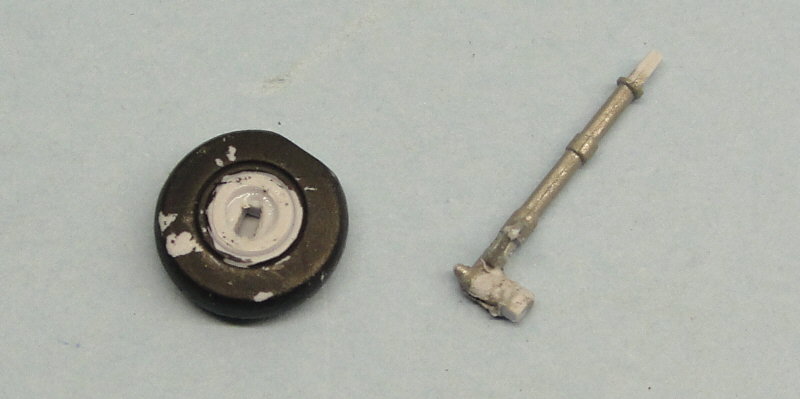 Looking better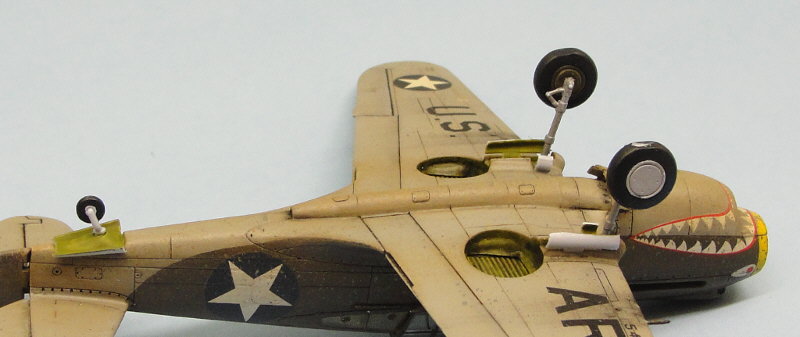 Really ?
Rats - part IV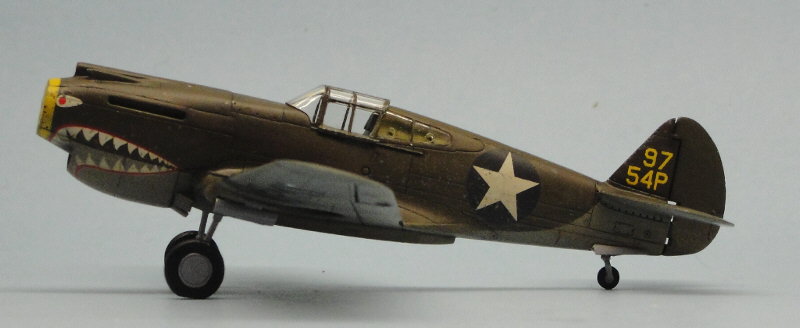 I had to insert little pieces of plastic to prevent the undercarriage angling too much to the front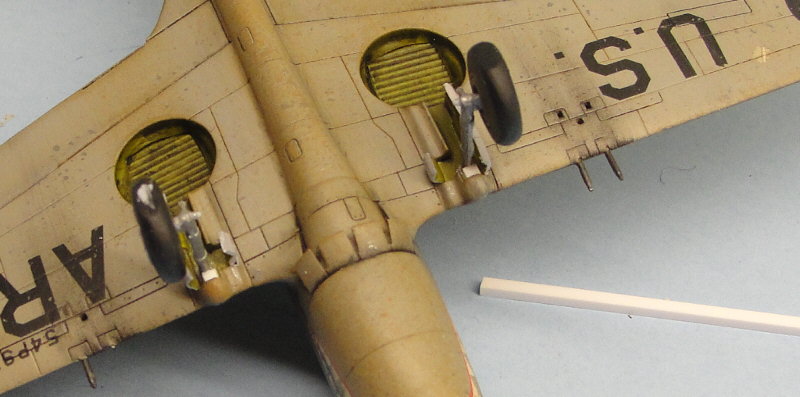 Much better
And finished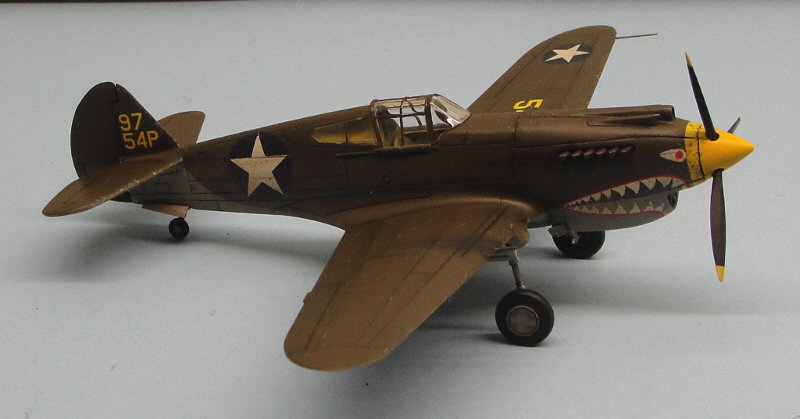 Though my olive drab looks WAY too dark
I used Aqueous Hobby Color H78 Olive Drab... which as it turns out now, is for tanks
Rats - part V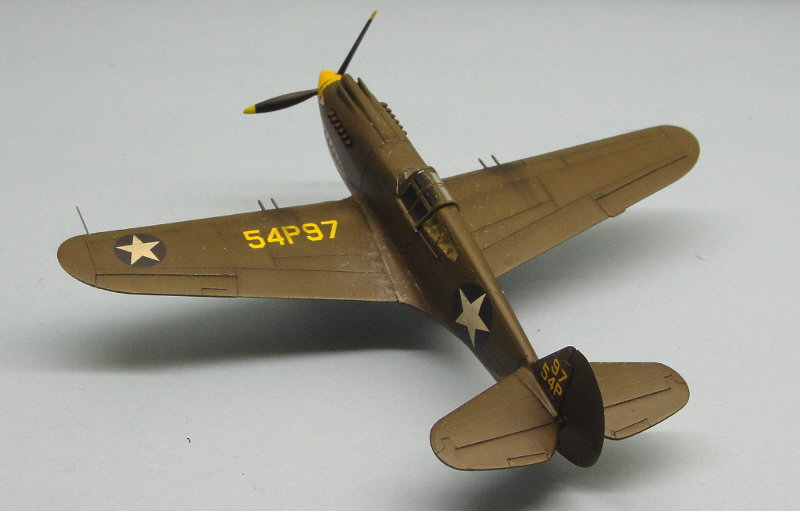 And I still have to remove the outer or inner wing guns since the P-40CU only had one wing gun in each wing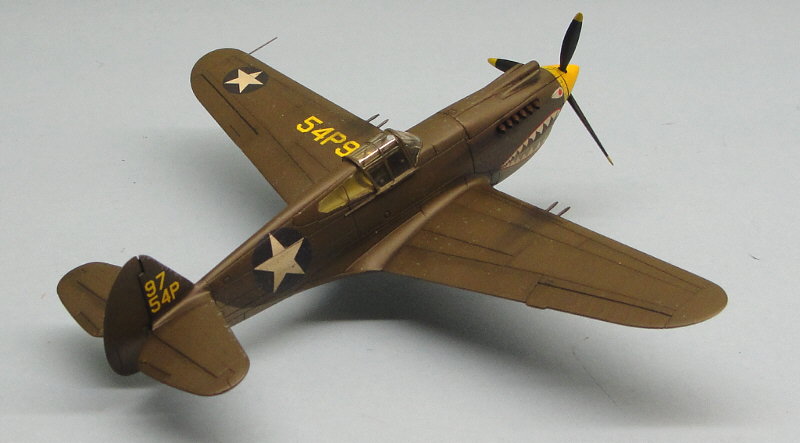 But from this angle I like it
With it's shiny new spinner (forgot to weather it)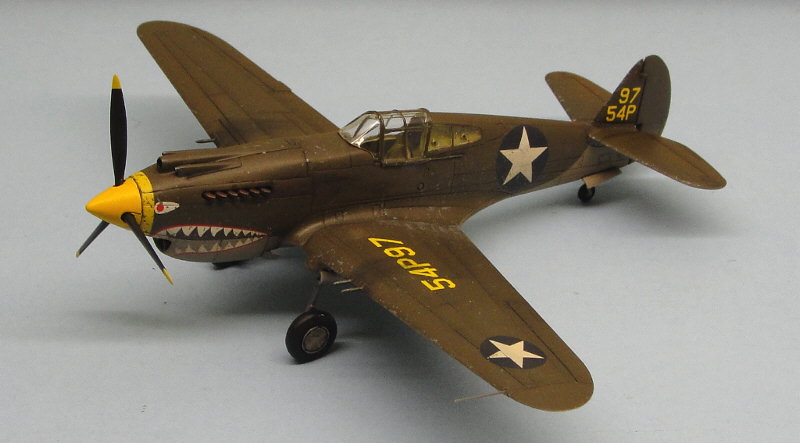 Rats - part VI
I can not remove wing guns since I dry brushed smoke traces (or whatever you call them) for both guns
!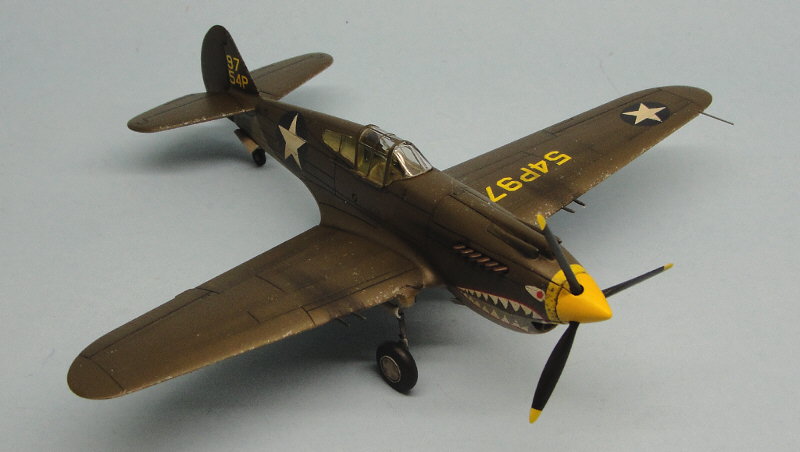 And my bulged wheels are not completely touching the ground
I think this is a gadget Airfix should not pursue anymore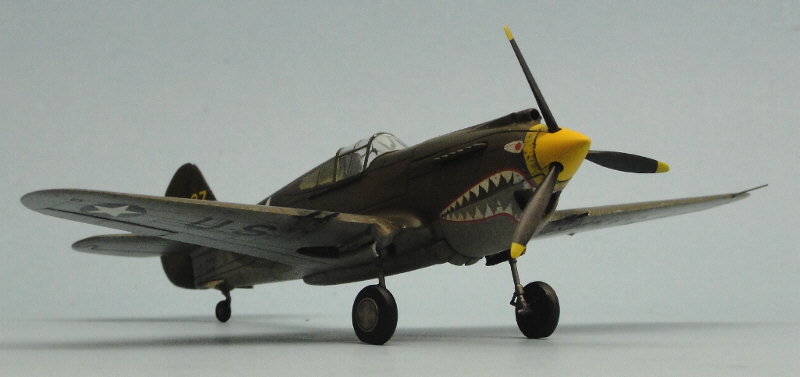 And the canopy sits too high - just like on most other kits (ironically except the Frog/Novo)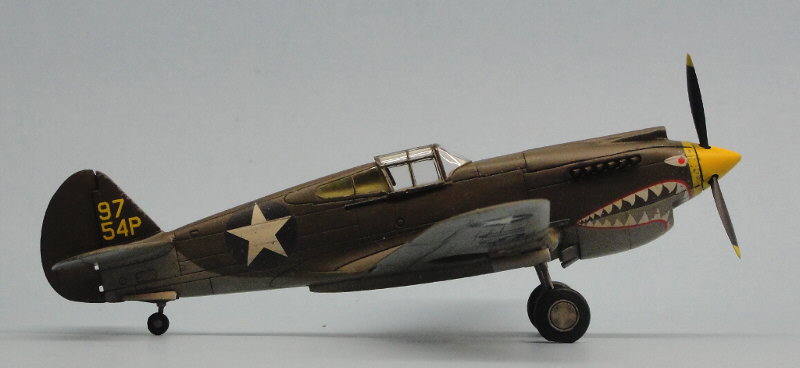 In the end I think I prefer the Airfix kit, despite its difficult under carriage, but it has a slightly more refined feel then the Trumpeter kit while this kit has nicer panel lines and a very easy going under carriage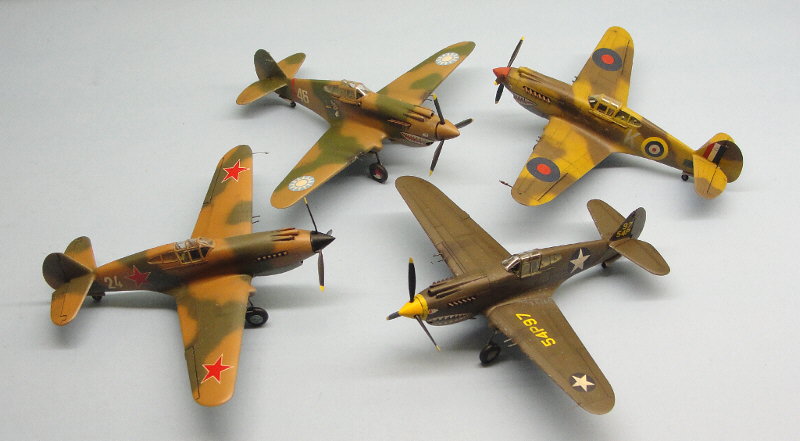 I'm glad I finally finished this shark adventure, after two months it began to stretch my attention span - I think it will be a while before I add the Academy P-40 in Turkish markings and the Hobby Boss P-40 in Egyptian markings, to complete the operators / kit manufacturers collection
But I will build another Airfix Hawk next year - I think I know now how to build one
Thank you all for your support and attention
Bless you Airfix critters !
* * *
William De Coster / Belgium
/ previous builds on HS :
Plastic Stories
1/72 -
Airfix
,
Trumpeter
and
AML
-
Curtiss Hawk 81
:
Part I
-
Part II
-
Part III
-
Part IV
-
Part V
-
Part VI
-
Part VII
-
Part VIII
-
Part IX

1/72 -
Frog/Novo
-
Curtiss Tomahawk
:
Part I
-
Part II
-
Part III
/End
1/72 -
AGA
-
Polikarpov I-3
:
Part I
-
Part II
-
Part III
-
Part IV
-
Part V
Just like the perfect woman doesn't exist, I will never build a perfect model.
Puts me on a par with God