My editorial notes on the preceding posting:
1.
The Marmon-Herrington armored cars of World War II, hardly the best of the breed that fought in that war, nonetheless remain fascinating vehicles. Using a drive train purchased from the American automobile firm of that name and chassis imported from Ford Canada, South Africa produced a self-defense vehicle that would see wider use, not only by British Commonwealth forces---in the Western Desert, Middle East, and Malaya-Singapore---but also by the KNIL in the Netherlands East Indies. Despite my including images of two "typical" Marmon-Herrington armored cars, there really did not exist a typical vehicle. There were several marks produced and used, and their armament varied enormously. Although initially armed with machine guns of different types and the Boys .55-cal (14mm) AT rifle, Marmon-Herrington armored cars were later equipped with the British 2-pounder and captured weapons as well, including the Italian Breda 20mm and German 2.8- and 3.7cm guns, often with the cars' turret removed. The two images that follow show Vickers and Bren .303-inch MGs and a Boys AT rifle aboard, likely similar to those cars serving in Malaya-Singapore.
2.
Brigadier Ian MacAlister Stewart commanded 2nd Battalion, Argyll and Sutherland Highlanders, at both the beginning and the end of the 1941-42 campaign for Malaya-Singapore, taking command of 12th Indian Infantry Brigade in between. Due to his foresight (some claimed eccentricity), his troops were better trained than most in jungle warfare, and as a result, tended to be shoved into the breach whenever....frequently....critical situations arose, and thus suffered terribly high casualties during the two-months' battle, particularly during the debacle at Slim River. Because of his knowledge and tactical successes, Stewart was evacuated to India and did not share the PoW experiences of his surviving men. He retired in 1947, wrote the book about his battalion, and died in 1987, aged 91. His book seems to exist with slightly different titles and subtitles. I found this dust jacket: I. MacA. Stewart [1947],
The History of the 2nd Argylls, Malayan Campaign 1941-42
, with no mention of "The Thin Red Line", at least on the dust cover. See
http://singaporeevacuation1942.blogspot.com/2012_08_01_archive.html
3.
3rd Indian Cavalry was equipped with Marmon-Herrington and Lanchester armoured cars, wheeled troop carriers of the Indian pattern, and almost certainly Universal or Bren carriers as well. 100th Indian Independent Light Tank Squadron was attached to the cavalry regiment, both units seeing initial duty in guarding the airfields on Singapore Island. There exists no real agreement on what vehicles were issued to the light tank squadron. Some sources claim its Indian pattern light tanks---with little agreement on which precise marks the unit had manned back in India---accompanied the unit personnel arriving at Singapore on
Empire Star
in late January 1942. The transport reportedly brought along "16 tanks of an obsolescent type". Other sources claim that nine Carden-Loyd tankettes or MG carriers, transported to Singapore after seeing long and hard service in the Middle East, and having no maintenance beforehand, were given to the squadron after its arrival. Bren carriers were of course plentiful as well. Whatever, it seems neither the squadron nor its vehicles had much of a role in the battle for Singapore. Here are two images of earlier Carden-Loyd tankettes, the first type in Polish hands, the second one having the hinged armored domes to protect the driver and gunner. I have no idea if what the 100th Indian Independent Light Tank Squadron was equipped with was remotely similar to either of these Carden-Loyd types.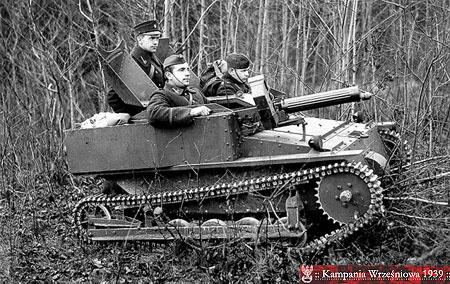 According to a 2012 posting elsewhere,
http://ww2talk.com/forums/topic/44245-100th-indian-indep-lt-tk-sqn-singapore/
Jim Broshot has contributed information on 100th Indian Independent Light Tank Squadron in the past. Just maybe he has picked up even more info in the last few years.
4.
> MOON OVER MALAYA contains a couple of useful photos of Lanchesters. On the front cover there is one showing licence plate W[WD arrow]468 and a large letter B or figure 8 on a light coloured circle on the right mudguard....In addition, the Argylls' history states that the cars "bore the names of the castles of Scotland on their turrets....identified as Stirling Castle, Dumbarton Castle, Glamis Castle, Inverness Castle and Blair Castle." (MOON, page 24). Blair Castle seems to have been the car never returned to the Battalion and so presumably fought with 3 Indian Cavalry Regt. >
The photo described may be one of the three I used in my posting at the beginning of this thread. The number 8---
not
the letter B---appears on the right mudguard (fender in American), and I'm thinking its license tag reads 465 rather than 468, but I concede the series of three photos I used could show two different Lanchester armoured cars (the second and third images do show the same armored car, with the number 8 on its right front fender). Anyhow, the vehicle with tag W[arrow] 465 has "Blair Castle" painted on the right side of its hull, rather than on the side of the turret.
5.
According to the Tomforce website, 18 Recce Regiment was re-equipped with the rarely thereafter seen lightly armored troop carriers, Indian Pattern Mark II. I know virtually nothing about them, but here is one of the 4-wheeled vehicles:
Nelson