Beginning not so arbitrarily in the late 1890s, the U.S. Navy and/or Marine Corps used in chronological succession—although their use overlapped—five standard models of 3-inch naval field and landing guns (the same thing, really, with the designation as one or the other based on muzzle velocity alone):
• Mark I 3-inch/21cal field gun on Mark I field carriage*
• Mark I mod 1 3-inch/21cal field gun on Mark II field carriage
• Mark IV 3-inch/23.5cal landing gun on Mark IV field carriage (Bethlehem Steel design)
• Mark VII 3-inch/23cal landing gun on Mark V field carriage (Rheinische Metallwaaren design; subcontracted to American & British Mfr. Co., Bridgeport, CT, because of the government requirement for domestic procurement only). Due to weight considerations, all 50 guns were transferred to the USMC and did
not
see Fleet service.
• Mark XI 3-inch/23.5cal landing gun on Mark VI field carriage
*Numerous and serious problems were encountered with the odd wrap-around-the-barrel recoil sleeve on the Mark I field gun. In the equally numerous and not totally successful efforts to rectify the problems, designations such as Mark I mod 1 and Mark I mod 2 crop up that may refer to the modified recoil cylinder only or to the modified gun carriage or both.
NOT included in the preceding list of USN/USMC 3-inch field and landing guns: (i) Guns of other calibers, such as 1-pounders (37mm), that not infrequently were landed in support of bluejackets ashore. (ii) Nearly three dozen heavy carriages designed to mount various 3-inch/50cal
shipboard
guns; these carriages were concentrated at two places, Norfolk Navy Yard on the east coast and the Philippines in the Pacific. After dismounting the shipboard guns, getting them ashore, and coupling them with their field carriages, such heavy pieces required horse drayage, were anathema to the quick in-and-out of landing parties, and thus saw little to no use. (iii) Mark XII 3-inch/15cal mountain gun on Mark VII mountain carriage (Bethlehem Steel design): four were purchased and saw experimental use by the marines in the mountains of Central America.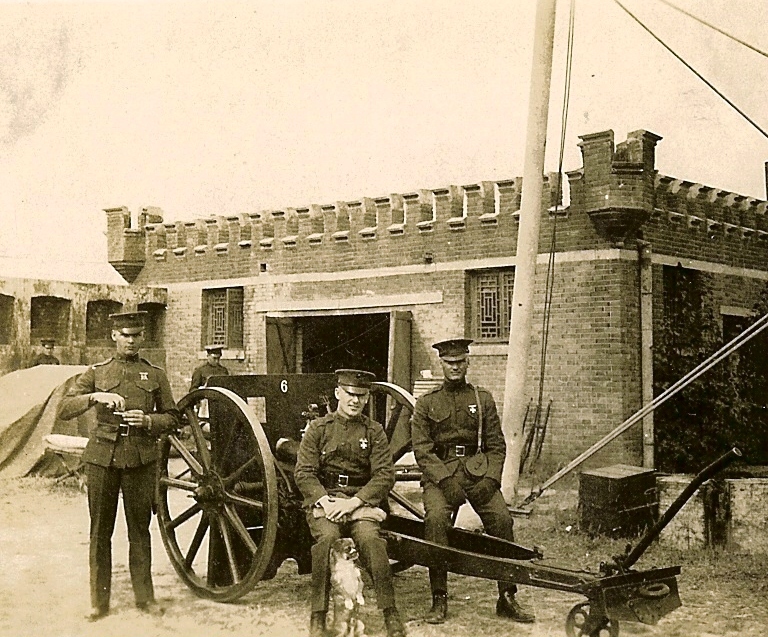 Above is a photo of one of several Mark VII 3-inch landing guns remaining in the hands of the marine garrison in Peking (these were the final such guns in use by the marines; stateside the USMC had converted to superior field artillery pieces). Unlike those arriving in Australia in early WWII, such guns are seen to be still configured as landing guns, with wooden spoked wheels, a steel trail wheel, etc. Between Peking or Shanghai and the Philippines, until late in the game there were ten to a dozen Mk VII 3-inch landing guns in Asiatic outposts. What became their fate?
The questions remain precisely WHO high-speeded the Mark VII landing guns now in Australia with the Martin Parry gear and WHEN. Done by the Americans as a condition set by the Dutch purchasers in the NEI? If so, when diverted to Australia, the pieces had already been high-speeded by the Yanks. If not, the Aussies could have purchased conversion kits from Martin Parry in the States (the company made such high-speed kits for a variety of guns, domestic and foreign). Although a representative was frequently provided to ensure proper conversion, an experienced and intuitive ordnanceman could have readily done the conversions with the tools provided. In matériel-poor Oz, such pieces would have been useful in training, not to mention valuable as beach defense guns, so the third question of HOW MANY arises. Surely
someone
Down Under must know more of their history there.
Nelson