Have been scratching my head, trying to puzzle out the information provided in your previous post, specifically the basis for your claiming the model vehicle represents use by the Kiwis (presumably New Zealand army forces). I'll gladly post what little I know about such use of Marmon Herrington armoured cars. In all cases I'll use illustrations of modeled vehicles—pretty nice ones at that—because that's how we got here. First, to clarify the matter for others who may consider this chat rather esoteric.
The first pair of images show the typical Marmon Herrington Mark II armoured car in a mini-diorama, from the cherry red sidecaps appearing to be in the hands of the 3rd (King's Own) Hussars. The armament consists of coaxial Bren and Boys in the turret, as well as a .303cal Vickers MG with muzzle booster mounted atop the turret. In the upper photo, the right headlamp shows in the front bay. A sand ramp/unditching board is carried on brackets outside of the rear wheel well. In the lower photo, note the characteristic beveled slope of the rear armor plate, with its pair of bulkhead-style doors. The top of the spare tire shows on the right side of the vehicle. Okay, all of that seems nicely typical in this model of the Marmon Herrington armoured car.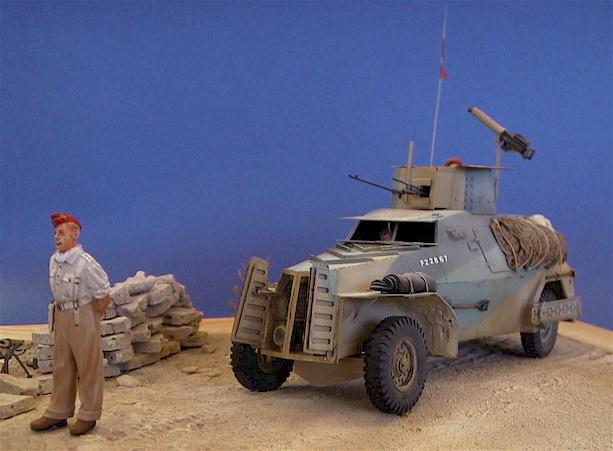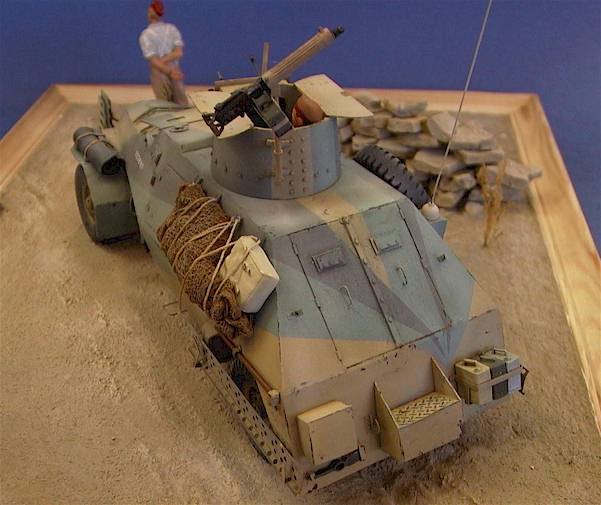 The second pair of images show rather much the same details, except as you've pointed out, the lack of unditching boards outside of
both
rear wheel wells, including their carrying brackets. Thus the clever modeler is
not
implying the loss of such gear in battle or from a road accident. So, I think you're right that such gear was not considered necessary where the car and its mates were (being) assigned.
I have determined that a handful of secondhand (even cast-off) Marmon Herrington Mark I armoured cars went to Greece before or early in the campaign there. Later, Marmon Herrington Mark III cars were supplied to Greece. I have no record of Mark II cars going there, although that hardly means they did not. Do note that the unditching boards appear to be standard equipment wherever the Marmon Herrington armoured cars saw service elsewhere: in the Western Desert, Central Africa, Middle East, Malaya-Singapore, and Java. Thus I have no idea what the modeler is conveying in his omission of unditching gear, unless as time went by, such equipment was perceived to be more hindrance than help.
More thoughts on the Marmon Herrington Mark III armoured car next posting.
Nelson