Why? well I built the GN chop for epic touring, the super long forks were for carrying extra luggage, which they did really well, the riding position was great for hours and hours in the saddle and the unusual handling made riding an absolute joy.
But the downside was that for off roading it made the bike worse than useless, particularly annoying at the german rally where i usually spend hour after hour riding around the quarry shitface hammered, there was none of that on the chop
So as we're taking a direct route this year I won't need the extra luggage capacity, I'll be glad to shed the extra weight and have i bike i can blat endlessly around the quarry like a drunken retard this year. Don't get me wrong i'm not attempting to build some off-road demon, why bother when even a CG 125 can out perform my off road 'skills'.
As per usual I set out with a quater of a quater of a half arsed idea and just sort of see what happens.
The plan was to make myself a GN powered CD185. Thinking that with some very subtle alterations I could have myself a nice little tax exempt touring bike.
But as I got more and more into it I realised that it would require massive work. Long story short, the nasty pressed steel seat rails would need to be replaced (a nightmare job), the downtube and top tube would need to be cut, raked and extended for the much taller gn lump and if I wanted to use the gn swingarm the entire vertical section of the engine cradle would have to be binned and replaced with a dual tube setup. All whilst trying to make it look 'unmodified' to the untrained eye.
F#ck that, I'll come back to it some other time, or maybe not.
Pity really I had great visions of a weird super retro looking bike, a look I can't really forsee with the GN's stressed-engine half cradle frame. The other massive advantage of full-cradle of course being that it protects the sump from getting a beating.
Anyway onward and upward, time to start pulling the GN apart.
Sure is weird being able to see the shed floor, and i found a whole lot of stuff I's completely forgotten i had (and no doubt soon to be forgotten once again).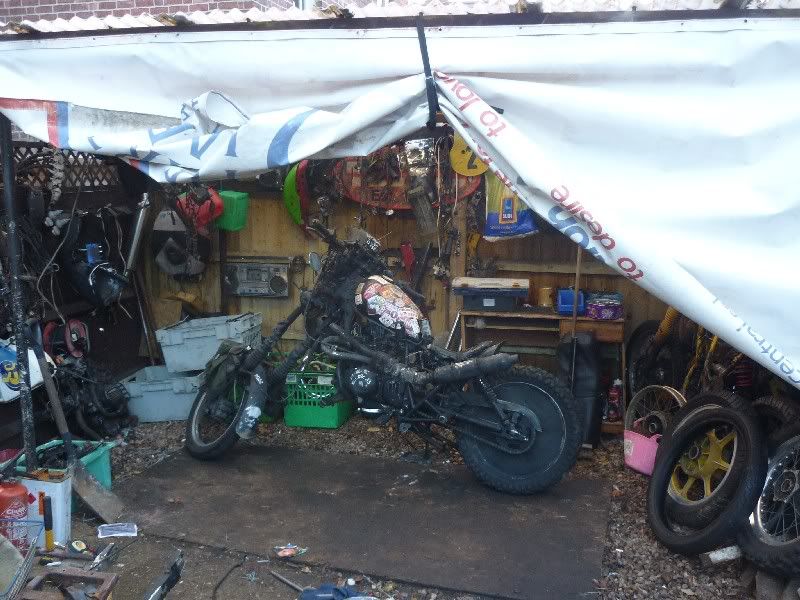 First was to get it up on blocks and bung a sandbag on the arse end so I can get the forks out.
After about an hour of pulling, twisting, hammering and swearing they finally came out. I was quite supprised just how long they are, never really stood next to'em before: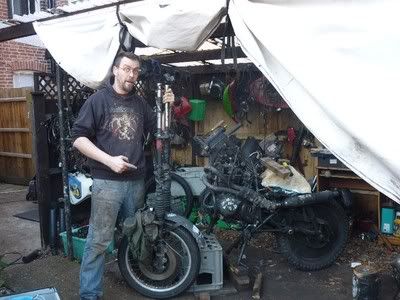 Forks out I took (as i always do) the chance to strip and re-grease the head bearings, which were still in great condition.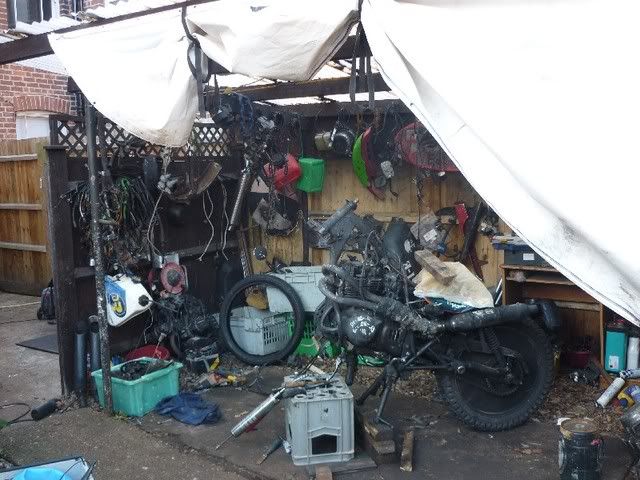 More weight shedding, off with the extra headlight, it weighed a ton, cained the battery and was piss dim.
Then in with the new forks, they're pretty f#cked but better than the others i've got. They're also much shorter than I expected, the GN has a pretty raked headstock as standard so I'm guessing it's gonna be pretty damn low.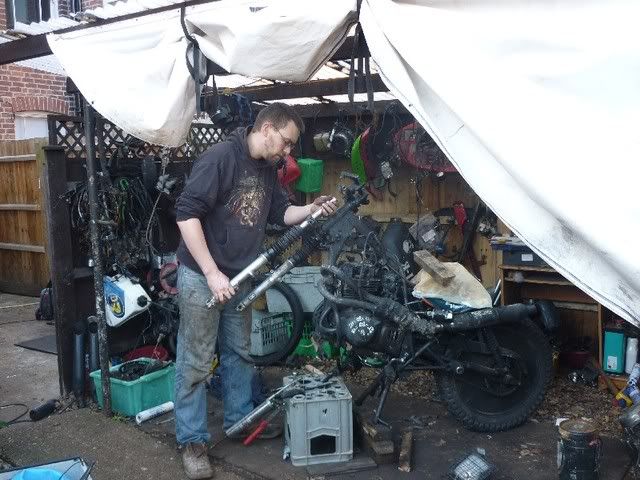 No idea what this wheel is off, but I really fancy running a 21" for a change as I've not run one before.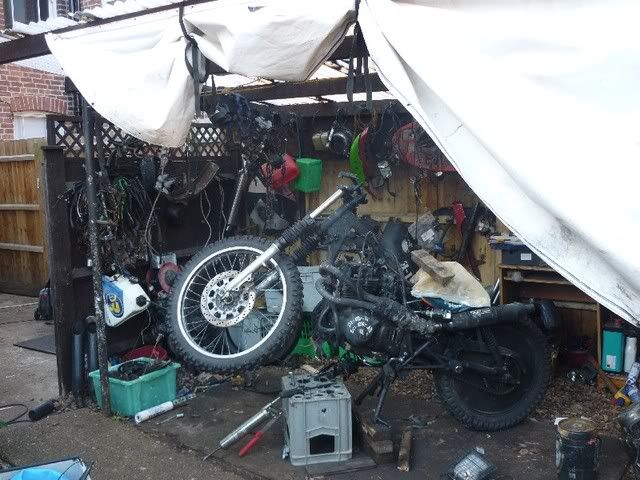 Damn that is indeed low, quite a bit more than expected. The extended swingarm also makes it sit lower now the frame's not at such an angle. I did contemplate slamming it, but I think it would be just too impracticle and not to mention useless offroad.
F#cks sake I really can't get a break with bearings lately. Just finished changing the tyre on that 21" wheel to a road tyre (hour long b#stard sh#t of a job) when i noticed that it runs f#cking odd bearings. One side being the correct 15mm ID and the other side 17mm. So i'd need to replace it with a 15x40x13 bearing........and guess what size they don't f#cking make. And then as a final slap in the balls i noticed the brake disc is also f#cked. Back to running a b#stard 18 then :/
With that decided I chucked some bars on it and the cool honda tank (i need the tank right hand chrome panel if anyone has one) and set about the controls. At this point I decided that I want to do away with as much crap as possible from the handlebars. I found two stand-alone levers (not levers with switchs for lights and shit built in) and a stand alone throttle caseing, which after a couple of hours trial and error I managed to bodge a GPZ throttle-grip into, which after more trial and error operates the carb slide as it should.
This setup has really cleaned up the bars, but I really need some help with suggestions regarding switches. I need an easily accessable horn and starter button, possibly bar mounted if I have to, and some suggestion for light switches which could be mounted more out of the way.
Anyway that was about it for today, got zero motivation so things are moving kinda slow.
----------------------------------------------------------------------------------------
HOW TO FILL IN YOUR WHEELS:
http://youtu.be/DSH65_7wVQo
FORK DIAMATER LIST:
http://www.customfighters.com/forums/showthread.php?t=17555
The RATMAP (fixed by FatChris):
http://maps.google.co.uk/maps/ms?hl=en&gl=uk&ptab=2&ie=UTF8&oe=UTF8&msa=0&msid=113266916181249522070.000481725dd77e20112bd
MOT REGULATIONS:
http://www.motuk.co.uk/manual/mc_contents.htm
BEARING COMPARISON CHARTS:
http://www.bikebearingshop.co.uk/C4.htm
HEADSTOCK BEARING COMPARISON (props to big mick):
http://scandalon.com/2009/06/motorcycle-steering-stem-bearing-size-chart/