Really got into it today, didn't achieve a great deal but the whole day felt about 10 mins long.
First up I centred the front wheel and bodged the axle so it fits these forks. Centering it was a right bastard due to the old style way the axle is retained. This meant as each additional specer was added the whole thing had to be completely taken apart and re-assembled. Time consuming to say the least.
But with it centered and tightened up I could crack on with the brake. this was a pain as I had looked at it prevouusly and thought it would need only minimal adjustements to make the caliper fit the forks. However it was not the case and an adaptor needed making from a peice of scrap steel.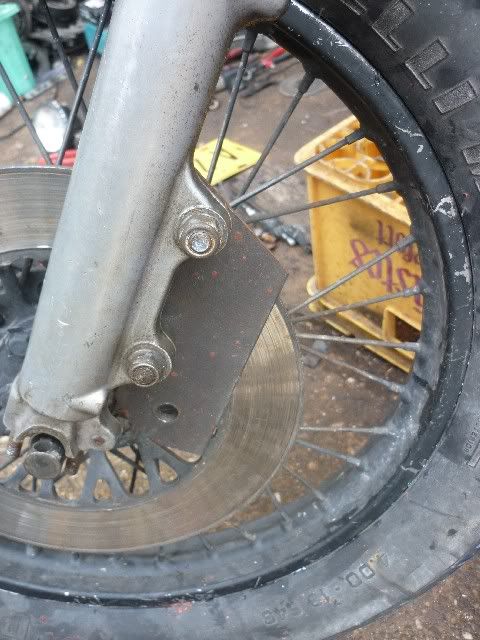 Easy enough just drill and mark 4 holes in a peice of thickish plate. This time I went to the extra effort of de-burring it and shaping it a bit.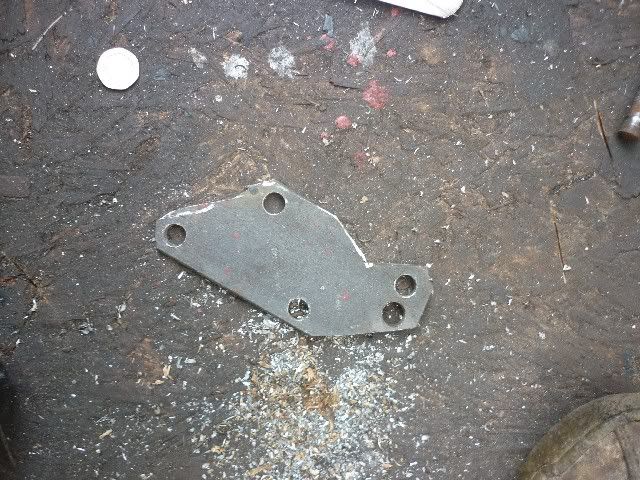 Also made an attempt to cut a 20mm hole in it, but decided i need to use rolands pillar drill for that.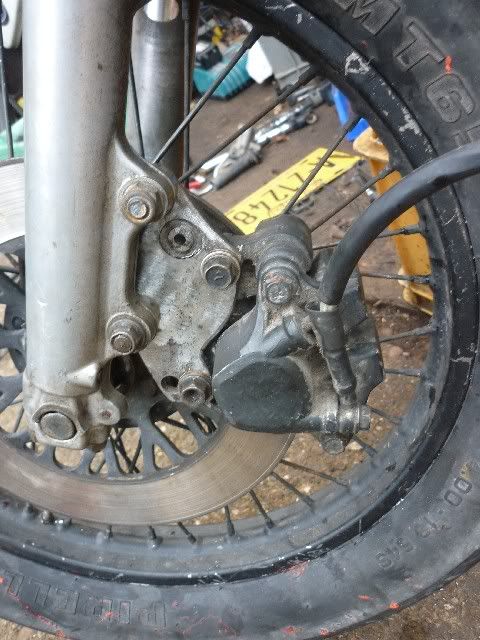 To my supprise one of the switches I ordered yesterday arrived. It's actually the switch for the lights but it will allow me to make a mounting plate for the start/horn.
I asked for an ON-ON switch but the thick bastards sent a NO-NO switch instead.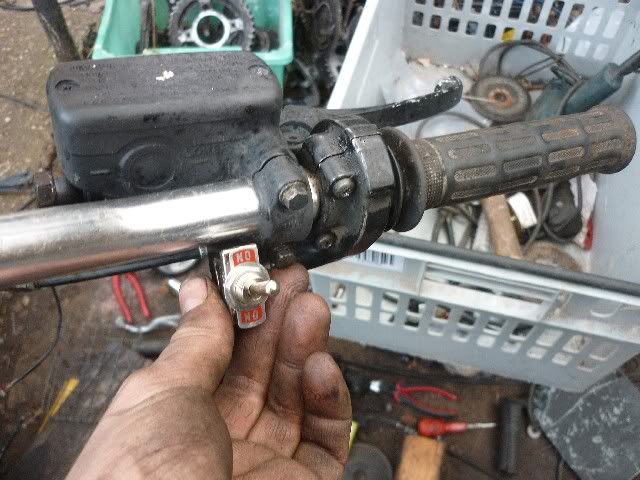 Took about an hour to find the scrap ally and about 10 mins to drill 3 holes in it. Really like the look of it, and the minimal look of the bars.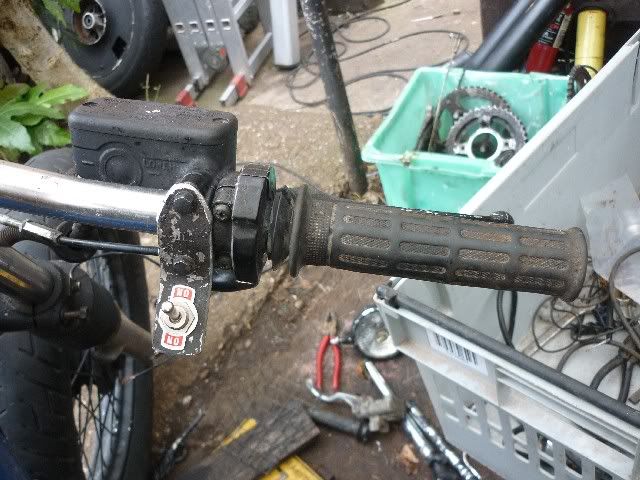 Time for a headlight. About the lightest one I've got is this mini bates. It's a bottom-mount version which is a real headache to fit. First off I was going to just bung a bracket on the headstock, but that means the light doesn't always point where you're going. After about an hour of coffee drinking and chin scratching I suddenly realised I can just turn the lens 45 degrees and use a single side mount :D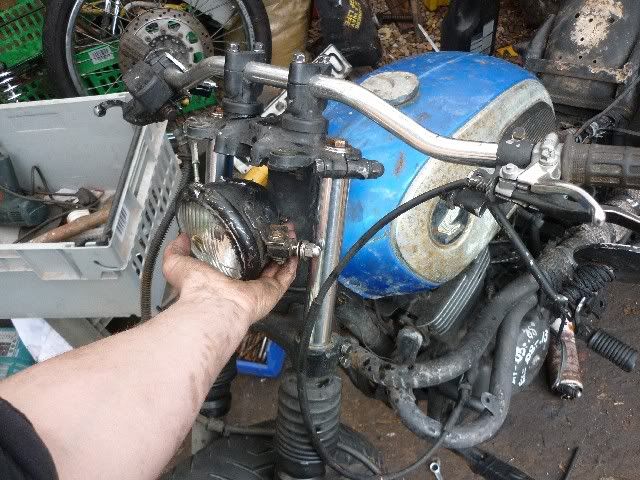 Bracket made:
Light fitted, job done:
And lastly was just some tinkering with the highway bars. Since i fitted them they've always been a bit shit, mostly because they were a bit bendy and had no actual grip area so me feet kept sliding off.
To stiffen'em up a bit i added some bolts, they're still not great but it helped a lot.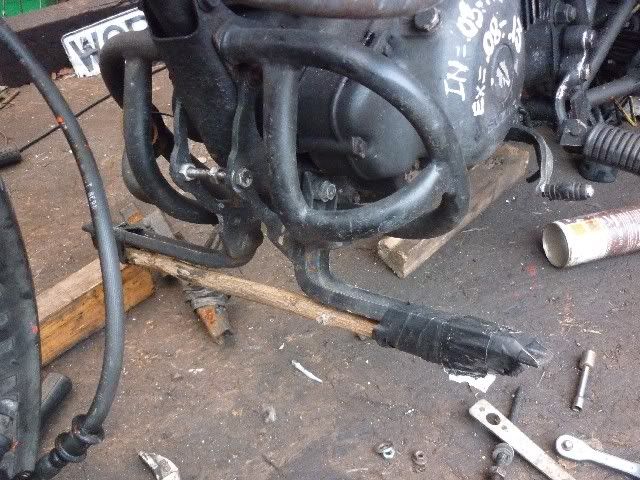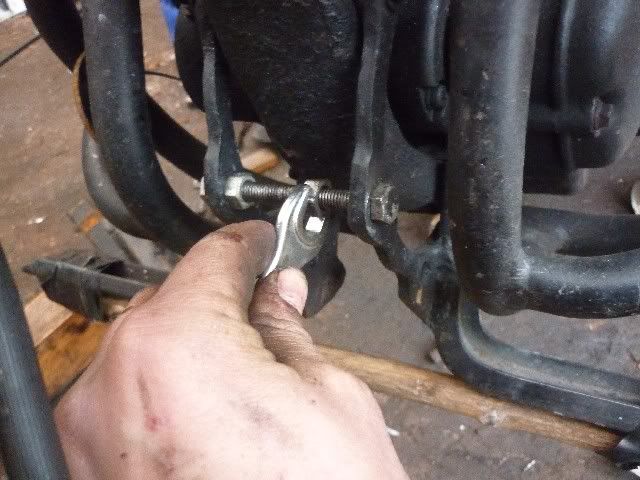 Then as I was rummaging for some rubber grips to tape on I found these beauties, 2 rear footpegs complete with bolt holes. AND to my supprise the holes lined up perfectly with the existing ones in the highway bars. Win! Just bolted'em on.
And that was about it for today, time flew and I enjoyed every minute.
----------------------------------------------------------------------------------------
HOW TO FILL IN YOUR WHEELS:
http://youtu.be/DSH65_7wVQo
FORK DIAMATER LIST:
http://www.customfighters.com/forums/showthread.php?t=17555
The RATMAP (fixed by FatChris):
http://maps.google.co.uk/maps/ms?hl=en&gl=uk&ptab=2&ie=UTF8&oe=UTF8&msa=0&msid=113266916181249522070.000481725dd77e20112bd
MOT REGULATIONS:
http://www.motuk.co.uk/manual/mc_contents.htm
BEARING COMPARISON CHARTS:
http://www.bikebearingshop.co.uk/C4.htm
HEADSTOCK BEARING COMPARISON (props to big mick):
http://scandalon.com/2009/06/motorcycle-steering-stem-bearing-size-chart/