The good, IT LIVES!,it sounds nice and smooth and there's no epic sh#te cloud of burnt oil like the GN....which is nice.
Starter's as noisey as fook though, proper loose camchain sound about it, they meant to sound like that?
Took off that Y-pipe, as suspected cracked to holy feck on the outside but ok on the inside. Covered it in silicone and re wrapped it with tape.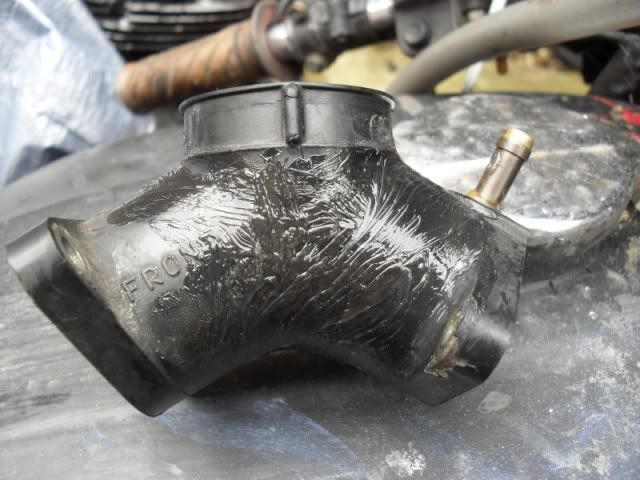 The ugly:
Next pain was the tank, nothing will fit, so I too the one that was nearest and prized it apart with a car jack.
The bad:
With it running, and with a tank that fits it was time to check the alignment.
The tyre should be sitting dead central between these two bits of wood.
Right:
Left:
And this bubble (attached to the front brake disc) shoud be in the middle of those two marks:
Gonna have to do a major straightening job tomorrow :/
Unless anyone knows of a cheap virago frame for sale as the only cheap one on shitbay is in east germany, about 350kms from anyone i know :S
----------------------------------------------------------------------------------------
UPCOMING LOCAL RALLIES (UPDATED CONSTANTLY)
http://www.cernunnos-mcc.org/whatson/
HOW TO FILL IN YOUR WHEELS:
http://youtu.be/DSH65_7wVQo
MOT REGULATIONS:
http://www.motuk.co.uk/manual/mc_contents.htm
FORK DIAMATER LIST:
http://www.customfighters.com/forums/showthread.php?t=17555
BEARING COMPARISON CHARTS:
http://www.bikebearingshop.co.uk/C4.htm
HEADSTOCK BEARING COMPARISON (props to big mick):
http://scandalon.com/2009/06/motorcycle-steering-stem-bearing-size-chart/
£6 PRESCRIPTION GLASSES (FREE COATINGS + £3.50 DELIVERY)
http://www.selectspecs.com/cheap-glasses/