Thanks for the kind words - due to the speed of the build (9 days and counting) its pretty rough up close but all together the whole is starting to look greater than the sum of the parts with any luck. Getting some colour on it is going to be a big job in its own right now.
Yeah for the largest AFV fielded in combat during WW2 it would still have been very cramped inside when the shooting started especially all buttoned up with 6 men wedged in there. Jon's Brit eval report mentions at full traverse the one of the loaders would probably have had to crawl under the breech guard for both be on the same open side as the saftey rail reached right into each corner in this position leaving him no room at all. So despite its seeming cavernous size it was still very cosy to say the least.
FWIW they also mention c.13.5 seconds would be the expected rate of fire for a well trained crew to get a new 2 piece round off, so the deafening boom coupled with presumbably mushroom clouds of cordite trying to be sucked out by the tiny roof fan and 4 foot shell cases rolling around under foot must have been some experience alright...
As to paint I'm still a bit unconvinced about the blanket green late war base coat even on APG's 331;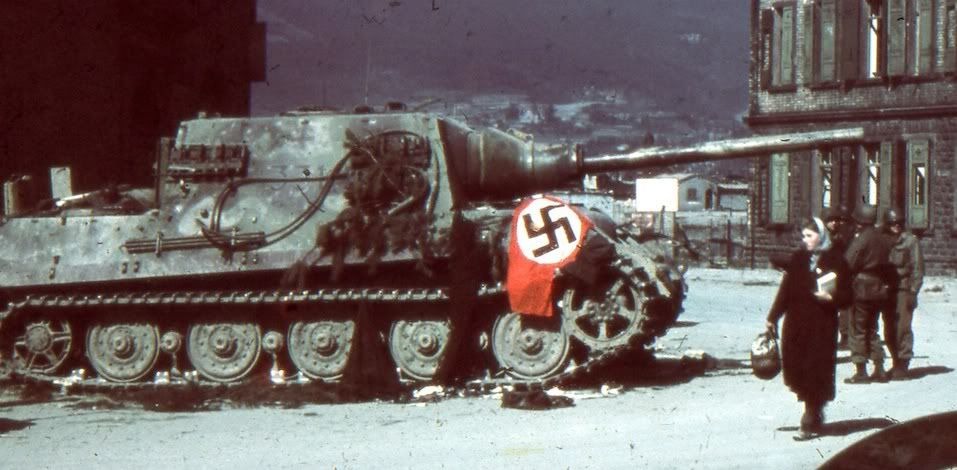 To me the red primer sub-fender line is pretty clear especially in this colour pic as it is on the b&w pics of the 1.512 vehicles of Albert Ernst seen in Iserlohn (and most other ones I can think of too). So I reckon for me red primer base with a lot of green and a little bit of yellow...but always happy to be proven wrong