Thanks Mirko - certainly not the most precise build I've ever done, but its fun again to throw a quick one together and make the hobby enjoyable before we got too bogged down in 100% accuracy grinding us to a standstill...
Appreciate the 2 pics of Kubinka's Final Production version too showing the pintle and the ribbed fenders both of which I definitely plan to incorporate on this one which was from the same batch.
Thanks also for the info on that bridge incident though its hard to tell whether that one is my vehicle of another as they had quite a few bridge problems I gather.
Mine - "Sonny Boy" was commanded by Flwbl. Golinski (also part of the mixed SS/WH 4 JT KG as per Ray's one) and on May 1, 1945 along the the St.Polten-Linz road near Amstetten where it apparently according to KHM's 653 book says it just "broke down at the bridge crossing the Ybbs and had to remain behind. The crew climbed aboard the other tank destroyers. Despite a roadblock in Amstetten, we succeeded in bypassing the marketplace, which was already occupied by Americans and Russians. The march continued to Strengberg." From that I imply it was a mechanical break down not being physically wedged or jammed? He says many JTs were destroyed in Rosenheim and Bad Aibling due to "mechanical problems". Those that soldeiered on made in to Lake Amm near Eterschlagg and destroyed the remainder there.
So I think your account is perhaps another one as 2 days later he mentions a JT has a thrown track and blocks a bridge again across the Ybbs near Weidhoffen which sounds much more like what you are describing?
There is also this one too - the lead vehicle from 2.653 commanded by Lt. Rudolf Braun, which on April 30 or May 1 fell through a rail bridge over the Werks Canal at Mangfall/Kolbermoor on the way to Rosenheim and remained there until the Americans dragged it out a few months later and it was cut up for scrap by locals in Mangfall 1-2 years later. Amazingly no one was injured as all the crew except the driver were riding outside it and jumped clear somehow? Would love to know where to and how and how cold and wet they got...?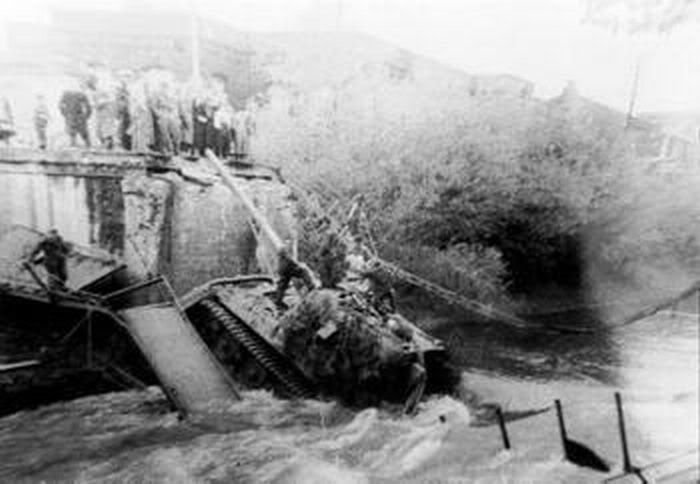 I'd definitely love have a go at this great scene one day if I could just master how to do fast flowing water like that convincingly...