Am pretty much calling the build done I think. I'll let the dust settle for a day or so and will work on the other one a bit now, in case I have any last minute brainwaves of things to do to this one after its pretty frantic 2 week build...so appreciate any feedback now if I've missed anything or there are any glaring errors that need attention before the paint hits it...
Mirko and Per have told me about the centre tow pin being on the wrong side but its sadly too glued to change it now. Per also mentioned offline that the shorter travel lock clamp handle I copied from Kubinka's was a Post-war addition they made after breaking the normal one - but again too glued to change. But let me know what else just in case it can still be corrected without too much grief.
Now I've deliberately not put the rear-most tiedowns on, nor puttied up the middle side interlock joins below them, as the rear plate is still unglued. This to allow me to spray it primer separately (ie. without over-spraying the already painted interior through the doors) then close the doors first before gluing it on. This will then hopefully give the plate a logical red primer door outline under the doors when open after the camo is on over the top?
FWIW a quick summary of what kit bits and After-Market were used;
* DML 9036 Late Jagdtiger base kit
* Verlinden VP1045 resin Tiger II Engine Bay
* Tamiya JT spare rubber band tracks & Side Fenders not used on first build
* Fruili ATL-16 Tracks for Spares
* Adlers Nest ANM-35017 Tiger II Track Pins
* Old Anvil Mins resin Mantlet I mastered up many years ago
* Passion Models P35-035 Turned Barrel
* Armorscale K35-007 Ball Mount MG Barrel w.Armoured Sleeve
* Armorscale A35-027 128mm Ammo
* Aber 35A93 Tool Clamp Handles
* Nordland 35056 Tow Cable Eyes w.Eureka Cable
* Karaya TCR02 Track Changing Cable & Eyes
* RB Models 35A02 Turned Aerial
* K59 C009 MG-42 w.Andrea Ammo Belt
* Adlers Nest ANM-35011 Spent 7.92mm MG Cases (for rear deck after paint)
* Plus Models 152 P-E Bucket
* Slaters 1101 1.5mm Styrene Casing No.s
* Royal Models 494 P-E brass small casting No.s
* 40 link/inch model railroad chain (for tow pin)
* Aber 35A16 P-E fine chain (for starter crank guide)
* Model Kasten SK-16 Skirt Mount Lugs from Spare Link Set
* Great Wall L3514 & Tamiya 35186 Jerrycans
* Hudson & Allen 9505 Pine Boughs to weave into the cam net
Anyway here are some pics - RHS (Side fenders only blu-tacked on);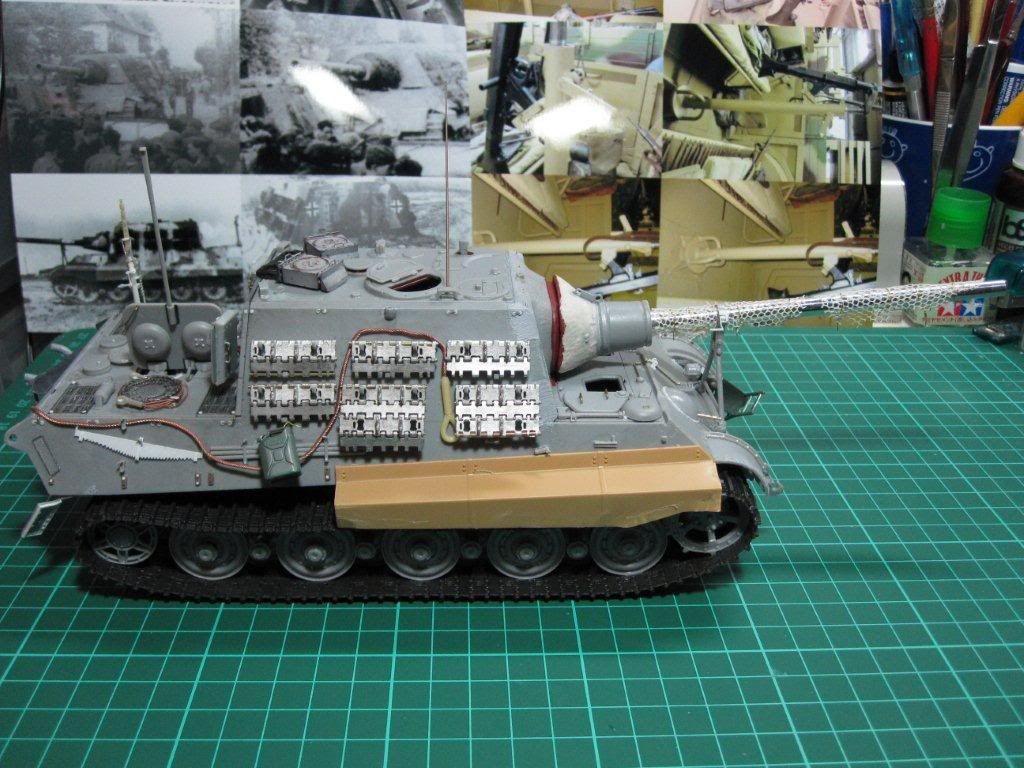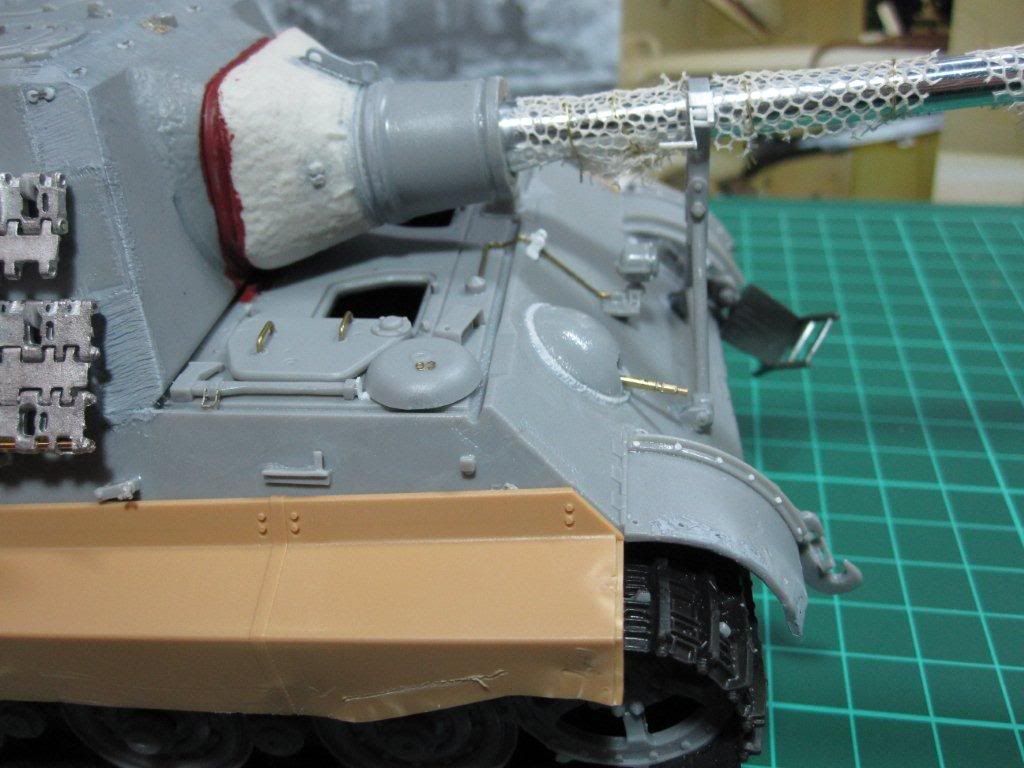 LHS: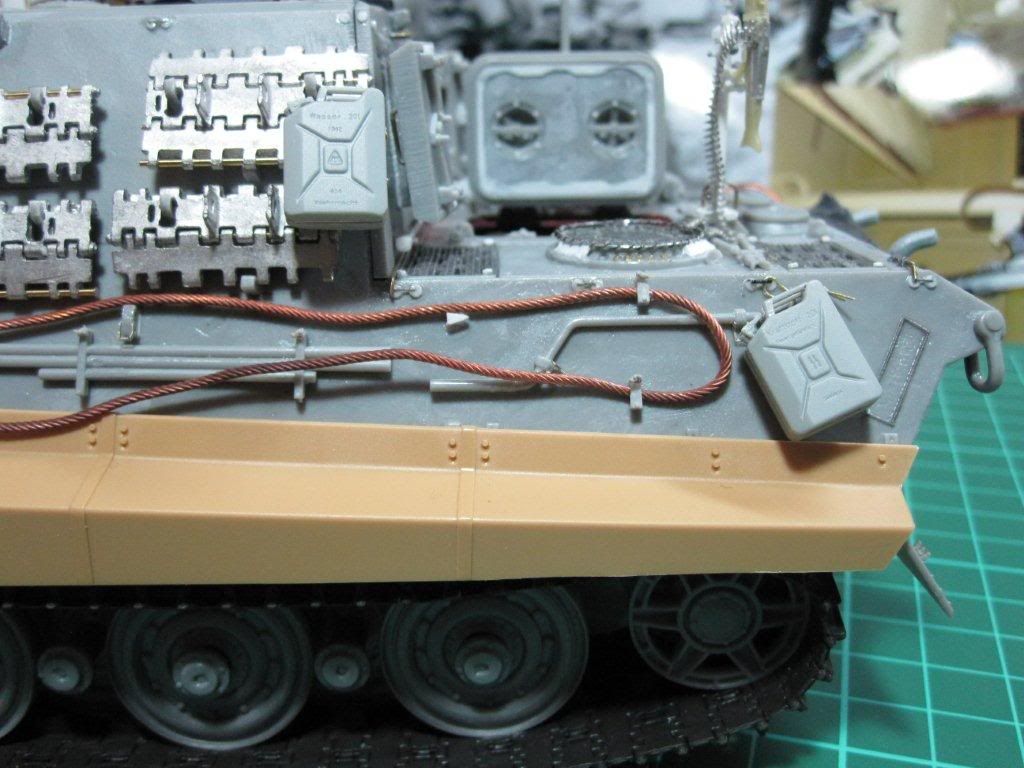 Above;
Misc Details;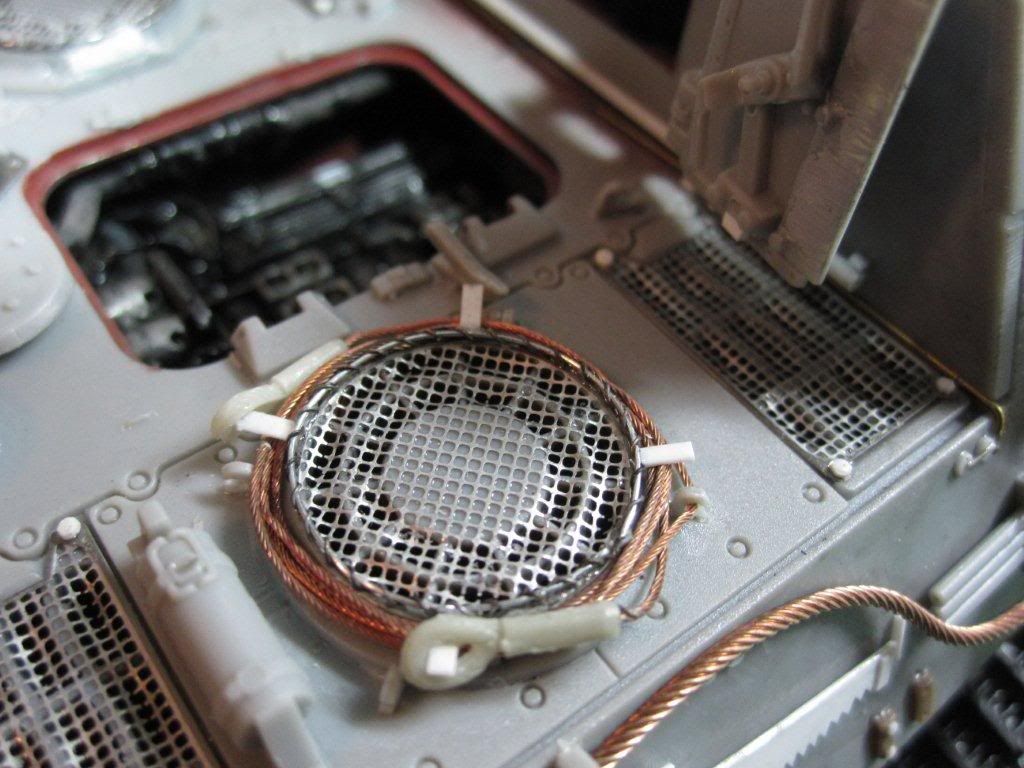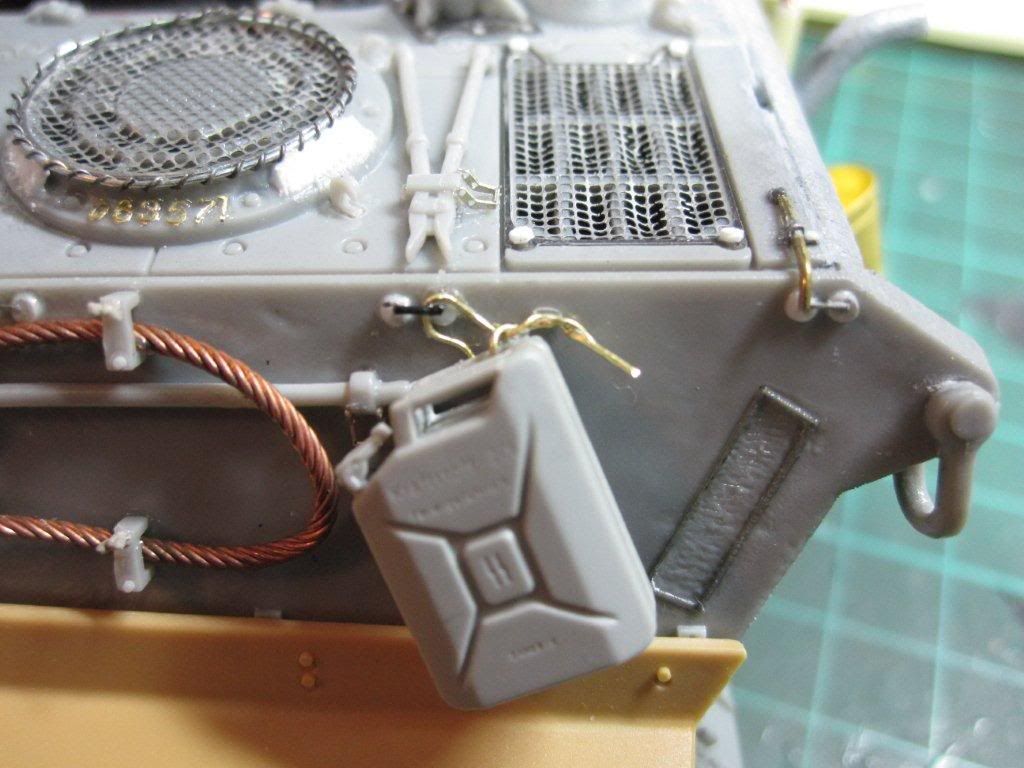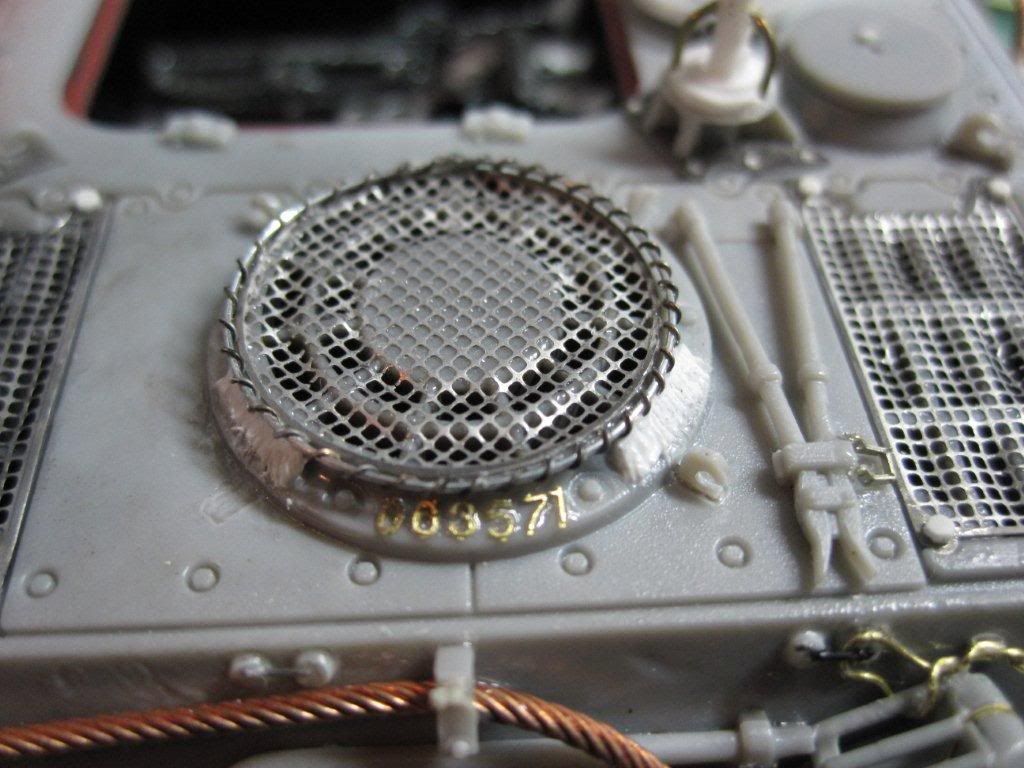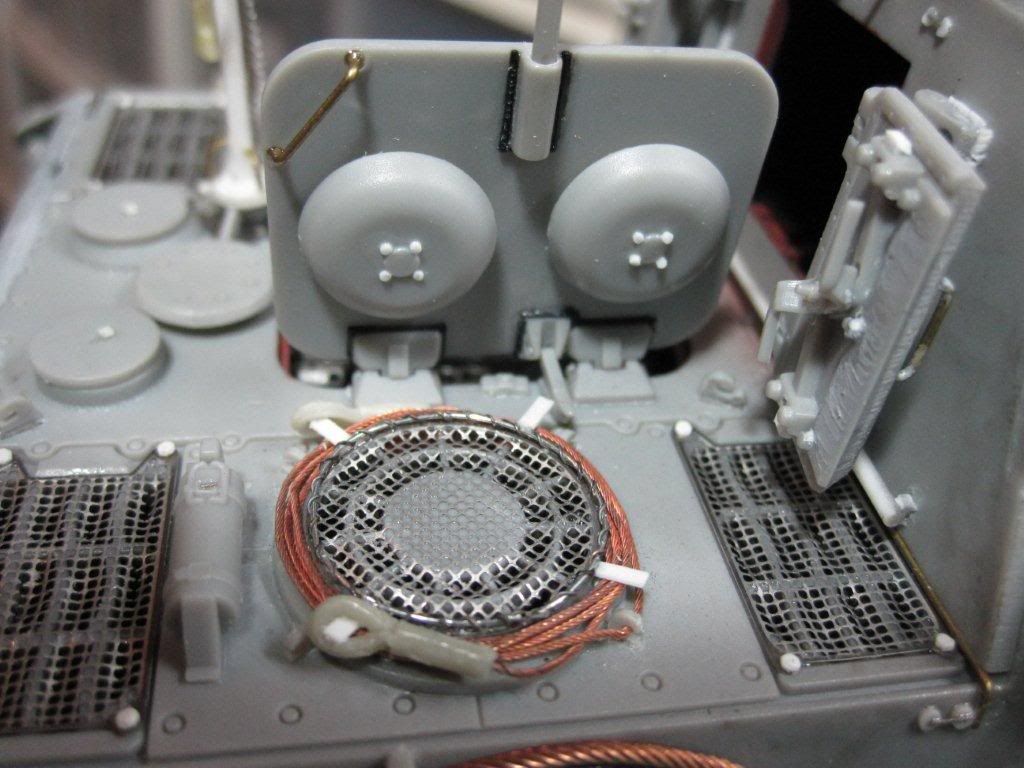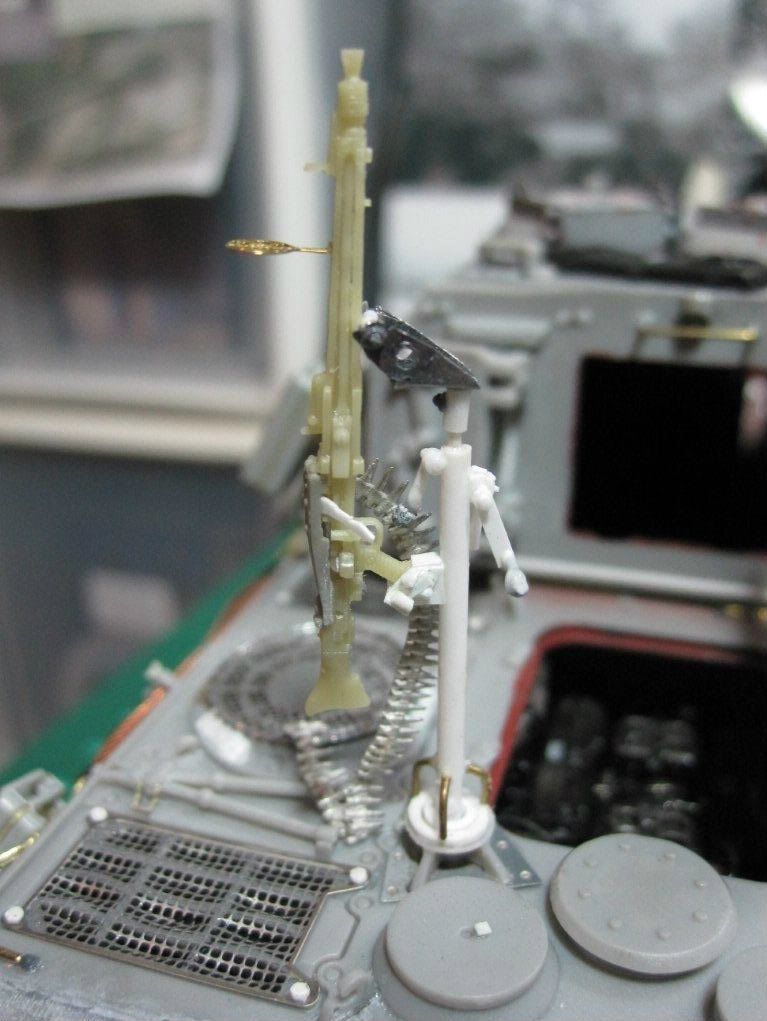 Might have to go a bit lighter with the cam net now not to bury too much of it...