Using the 25j variant of the 60M movement running @ 18,000bph, both of the pictured watches are "ultraslim" center-second watches. For more detail, see my posting of the 609000 model Goldfeather.
The model #s have significance - the 1st 2 digits indicate the diameter of the watch. In this case, the 15xxx indicates the watch is more than 35mm diameter [14xxx would indicate 34-35mm, for example].
The 1st watch, 15008 shows one unusual feature of certain early/mid '60s hi-end Seiko dials. The markers are ENGRAVED into the surface of the dial. The early batch of the 1st Generation cal. 3180 Grand Seiko had engraved text on it's dial, but it proved too costly and error prone to continue the practice. Engraved markers or text can be found on certain Cronos, Crown, and Lord Marvel models as well: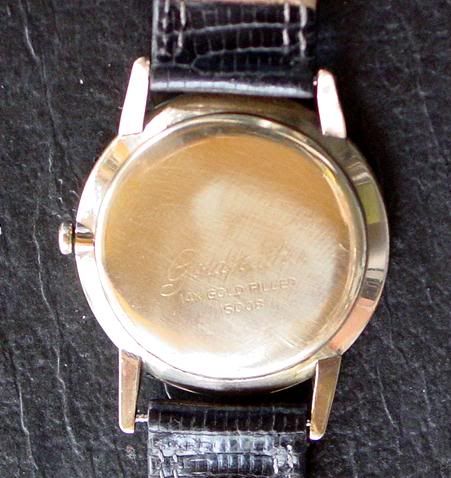 The crown appears to be a replacement, a common sight on these old gold filled Goldfeathers.
The model 15005, shown below, has a painted dial [all markers painted on, no applique]. In this case, the dial has been refinished, but is quite faithful to the original, except for lack of dial codes @ bottom: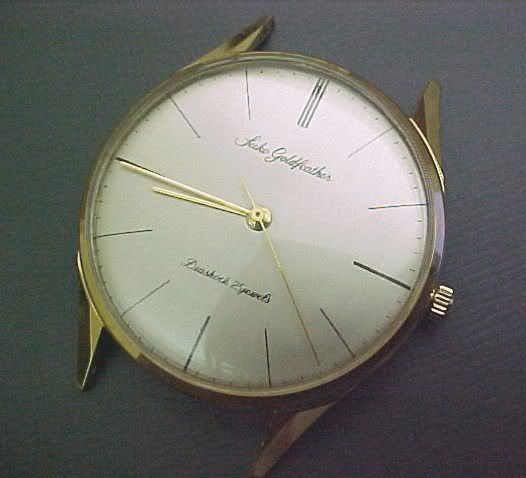 Inside caseback shows another interesting feature, the "crane" [bird] logo seen on earlier Seikos: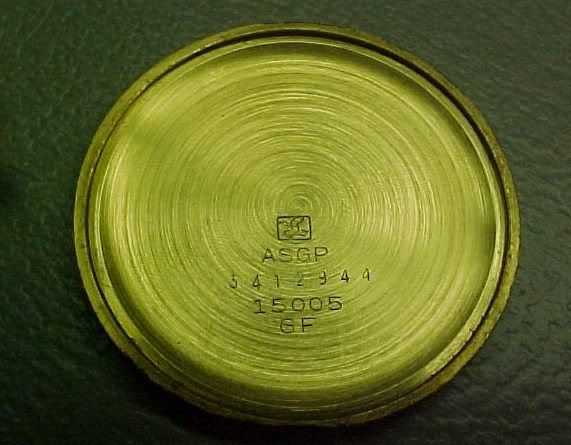 The movement in the Goldfeather underwent a small evolution over time dealing with the "click" on the ratchet wheel. The early production: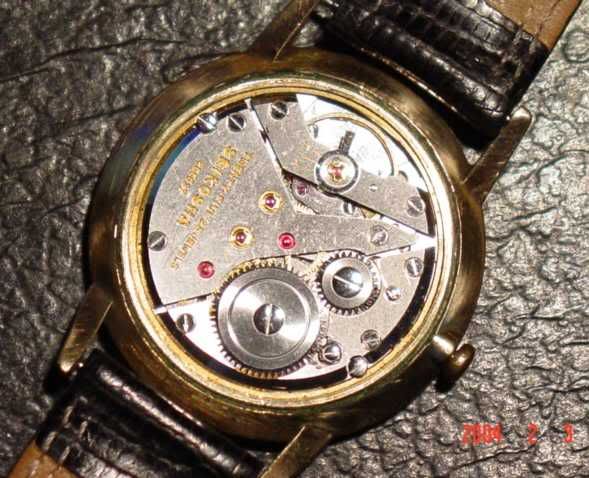 Later production. According to Kohei "Later version with new click for ratchet wheel. The wheel has an additional ratchet with click to compenste backrush, acting as a
stabilizer.":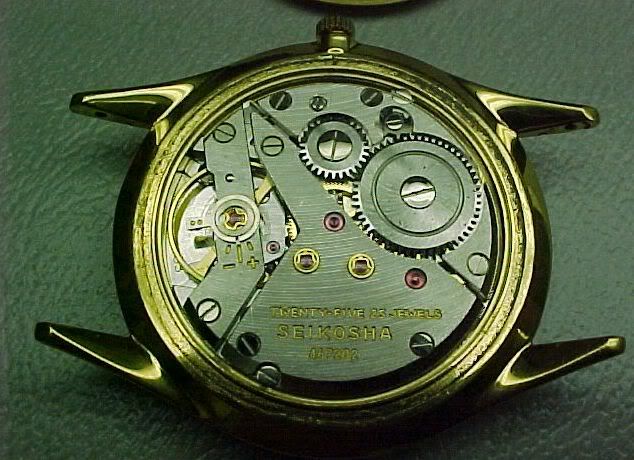 An easy way (to me, anyway) to tell the difference - the later production has a round cutout on the plate which tightly follows the contour of the ratchet wheel, while the early production plate has a cutout which shows a wide "flange" leading away from that wheel on the "right" side [side nearest the outside edge of the movement].
===============================================
Seiko Matsuda
The Patron Saint of Seiko Collectors