Not the vintage sliderule everyone usually thinks of [6138-7000]. Instead, it's a Flyback "chronostop" from the 701x series made by Daini. It has the sliderule implemented under the crystal in 2 outer dial chapters with one rotating through the crown. The outer bezel is a tach track instead of the sliderule: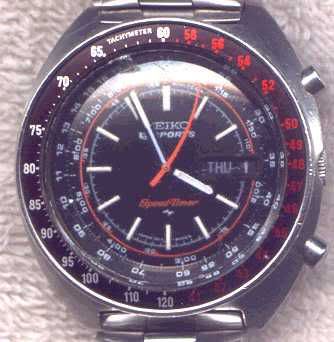 The original bracelet clasp:
There are 2 other models similar to this:
1. 7017-6020 - same except for a waterproof indicator on the dial
2. 7015-7010 - same basic idea, except it uses the 7015 movement instead of 7017 and the color scheme is different.
===============================================
Seiko Matsuda
The Patron Saint of Seiko Collectors