The wind was light today so I decided to take my QB79 carbine out shooting. This gun is running on an HPA tank regulated to 950psi. This sends a JSB Exact Heavy downrange at 675fps producing 10.42fpe. I took the muzzle break off to keep it short. Shooting it on Co2 without the muzzle break produced a loud, almost concussive boom. Shooting it without muzzle break on air only made a light crack, not at all as loud as the same gun on Co2. I guess it has to do with the volume of Co2 being expelled. The gun is quieter than my discovery, but definitely not mousefart quiet.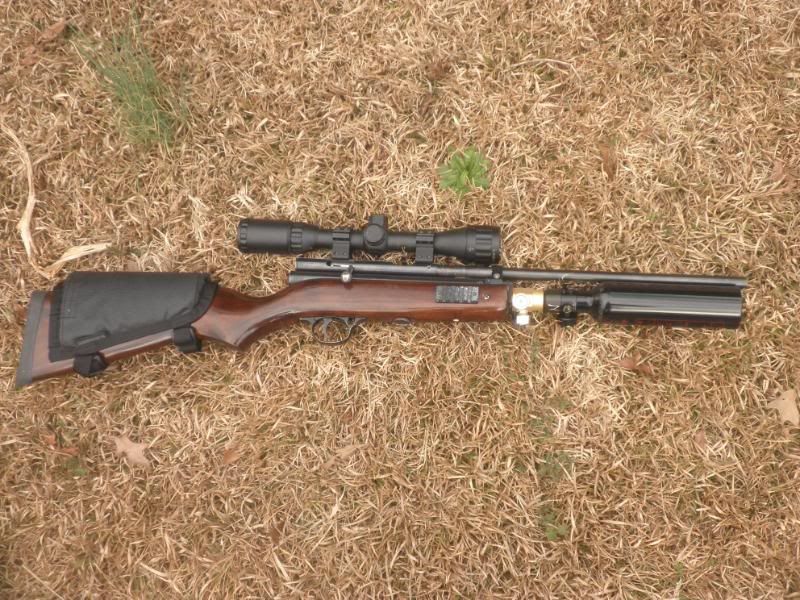 As I walk down to setup my target, I hear a ruckus coming from the woods nearby. I freeze and look in that direction. Sure enough, three squirrels are chasing each other around a tree that overhangs a creek. I stalk towards them and get within 30yards of them when one of the squirrels runs three feet up a tree and pauses. I raise my QB, aim for the head and drop him with a JSB Eact(8.4gr).
The muzzle report didn't even phase the others. As I walk near the downed squirrel another runs across a log thirty yards away. I drop down into a kneeling position and line up the shot. Squirrel #2 pauses on the log and looks at me. I touch off the shot and the pellet whizzes just past his head! He scurries off.
As I'm walking up to the first squirrel, another runs across the ground 35yards from me. I support my rifle on the tree I dropped the first squirrel out of and wait for a clean shot. Squirrel 3 pops his head up and down while feeding. Suddenly, he gets alarmed and sits up straight. I seize the opportunity and send a JSB Exact into his head.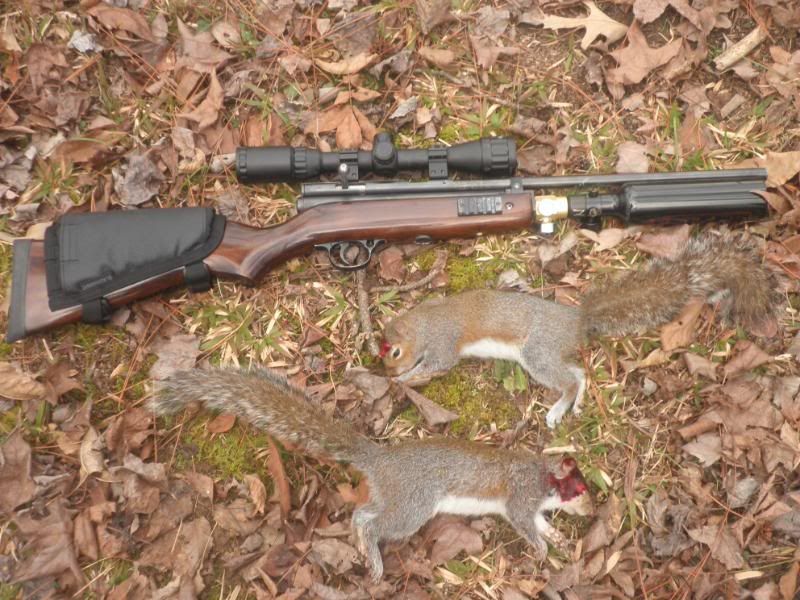 ___________________________________________
So close, yet so far away...
My YouTube Channel:
http://www.youtube.com/user/animalguy05?feature=mhee