Hi Terence (sorry for misspelling your name yesterday),
I'm glad the pictures help. I'll look at my decal sheet and see if there are any duplicates for the VMFA-212 scheme, but I don't think there are. Otherwise I'd send anything extra I have.
I really will build a model of the one that crashed at Barbers Point. I have a very unique "base" to put it on, it is part of the titanium honeycomb stabilizer I recovered from the crash site. It was just big enough to cut into a rectangle for a 1/72 F-4 to fit on.
One thing I noticed between the remaining wreckage of 153830 and in the pictures of VMFA-212 birds at Kaneohe is there are three colors for the fuselage walkways--153830's walkaways were of the standard rough texture, but painted the exact same color as the fuselage (you can see this in the picture of this bird over Kaneohe); some have the dark gray walkways, others are in flat black. There were also two variants of the "VMFA", the earlier type with the "V" angling to the left, the others are a plain text.
If I weren't doing 153830 I'd do the commander's bird, double nuts 00 with the stylized white radome markings curving back to the canopy--this is the only picture I've seen of these markings. I would say it is a good guess that the cheatline next to the white is the squadron color of medium blue, just like on the white tail markings.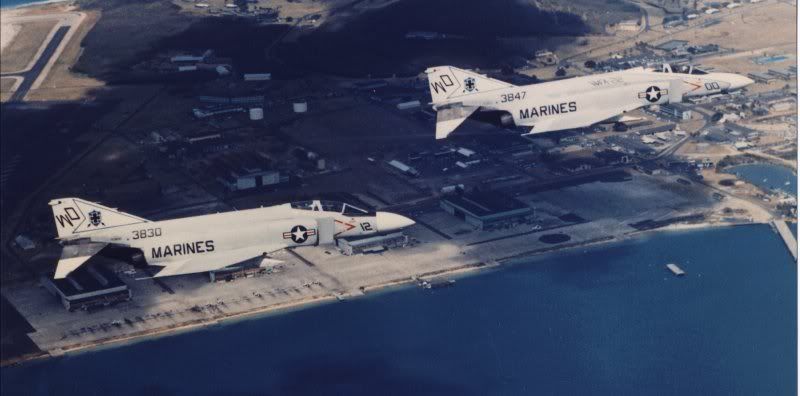 Cheers,
Don