Until today, I was working on the assumption that the Timex system was so similar to the Pellaton as to overlap the design elements protected by Albert Pellaton's 1946 patent. So I figured that Timex had their system designed and prototyped and simply waited until the patent lapsed. A bit like Rolex waiting until Harwood failed to pay his patent fees and then pouncing with a new patent to lock down everybody else. I was wondering also if there was also some influence on the timing of Seiko's introduction of the Magic Lever.
Well it ain't so. The Timex Self-Wind/Automatic was made in Scotland from 1960, so US production could possibly even be earlier. Either IWC saw no benefit in maintaining Pellaton's patent and allowed it to lapse early, or else Swiss patents had no validity in the US or UK. Otherwise there is simply no way that Timex could have built this thing. Apart from switching a lobed cam for one of circular profile, there is simply no geometrical or functional difference with the device so prized by IWC.
Exhibit A: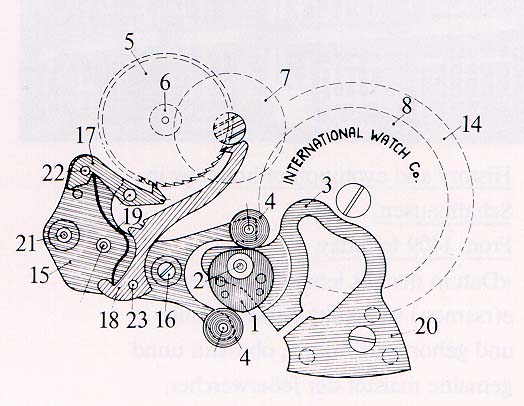 Exhibit B:
Seiko of course did bring something new into the picture by reducing the entire assemblage to a single part, hence their own patent application. And they could argue the case that a crank-type connection to the rotor is substantially different from a cam-type connection.
But Timex had no such argument. As I see it, if Pellaton's patent was maintained for its full duration, then Timex must have been in infringement of it. I can't see them taking that risk. Therefore it seems that IWC did not value their in-house auto-winding system back in the 1950s so much as they do today.