I do watch movies, but to be honest, little has caught my attention in the past few years. I much rather read and watch documentary TV (the geekier the better).
That said there are a handful of regular TV shows that I enjoy:
- Glee (yes That's right I said it!)
- Supernatural (gotta love the rock humor and the dark pop culture references)
- The Walking Dead (Come on, who doesn't love zombies)
- Spartacus (visual candy, no redeeming value whatsoever)
- Jersey Shore and Boardwalk Empire (guilty pleasures and constant reminders of why living in New York is always preferable to living in New jersey).
- Antiques Roadshow (quite possible on of the greatest shows on TV - EVER)
- Sunday morning (My favorite news show - No I don't watch it for the news content, I just love the delivery and the off beat topics)
I also spend a lot of time reading up about computers and open source operating systems and software, and these days spend far more time modifying computers than I do tinkering with watches.
_______________________________________________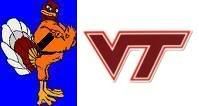 GO HOKIES