which might very well be 100% accurate, but if it isn't, no one who knows is saying. One thing of interest is that several news outlets are reporting that one helicopter went down in the town and apparently the local security forces are keeping locals from the area where the wreckage is supposed to be. At the same time the official line is that there were no US casualties. The question then is, what got shot down and what are the Pakistanis guarding?
Did we shoot one of theirs down? Did one of ours get shot down and no one is talking? is it more internet rumors?
The biggest Joke is the backhanded compliment that General Pervez Musharraf gave the US. On one hand he congratulated us for catching and taking out bin Laden and on the other hand he complained that we violated pakistani sovereignty by engaging in this operation. And this is coming from the former president and head of the military who happens to have a place in this very town and graduated from the very school that is half a mile from Bin Laden's house. Hmmm......
Another interesting tidbit is that this is the same town where they picked up the bomb maker from the Bali bombings a few years ago. They've also picked up other Al Quaeda couriers here before. The whole thing is fishy and the relationship that the Pakistani security forces (or at least part of them) have with these groups should definitely call into question the manner of our official relationship with this country.
_______________________________________________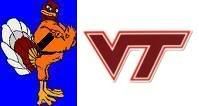 GO HOKIES