The thing is completely cloud based, which IMHO is not conducive to proper computer use. I prefer a mix of online and local applications and storage.
If you're interested, you can try what I did, which is to buy a refurbished computer from one of the big brands (I use Dell's refurbished store). you can buy a pretty good machine for HUGE discounts that way. That or buy a computer from your local craigslist. you'd be surprised what people are selling there for very good prices. The plus is that you will get a computer that is not brand new but you will get it cheaply. this will allow you to experiment without feeling bad about possibly damaging a new rigs install.
If you can, look for something with multiple cores. 64 bit would be ideal, but 32 is fine. find something with ample RAM (linux doesn't need a lot of ram, but as with all computers, the more you have the better your performance will be). and try to find something with an intel board and processor and a decent graphics card from a major manufacturer (Nvidia are a good choice). You should be able to find something really good in the $500 range.
That should be able to run anything from the most basic to the most elaborate linux distros without skipping a beat. We can even help you find some that will ease the transition from windows. if you do a full linux install, you also don't have to worry about partitioning, though it is advisable.
_______________________________________________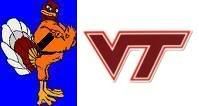 GO HOKIES