and yes René, we do know what we are doing and figured it out long ago.
several days ago we announced that we were going to be doing some upgrades to the site and scheduled them for this past weekend. The updates required taking the site down because they could not be done in a live environment. part of it had to do with security, part of it had to do with spam control, and part of it had to do with improving the site's speed (which had become inconsistent). During the upgrade we had a database crash and part of our back up became corrupted. We had to recover the site using older back ups, which led to losing a couple of weeks worth of new posts. the posts still exists in our other database back ups, but they are corrupted and getting things sorted out there, while possible, is not easy or recommended. We will try to recover what we can, but there is no guarantee that it will be possible.
As for the site itself, yes René we figured it out. We were able to introduce the new updates while at the same time noticeably increase the speed of the site. You should now be able to enjoy a responsive site, with minimal to no troll or spam activity.
_______________________________________________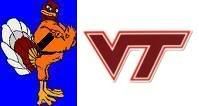 GO HOKIES