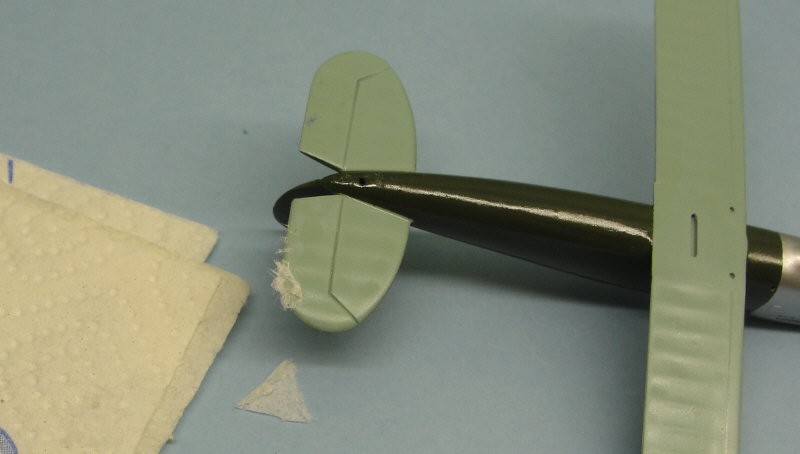 I put 3 coats of Future on the model
Seemingly it was in contact with the paper towel and now I have some paper stuck firmly to the model... and I mean firmly, it is still not removed
Tip : don't put Futured wet models anywhere near paper towel
As for the decals...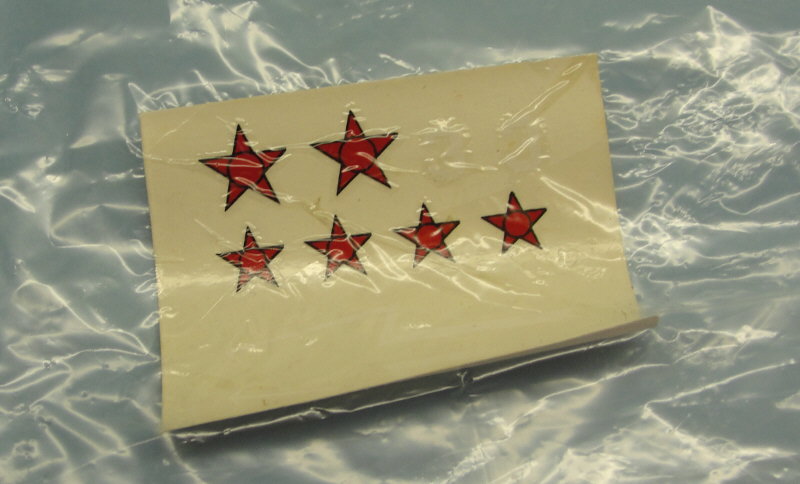 I managed to release the decals from the plastic bag without any problems - hurrah !
But they looked very iffy, with thick traces of decal film smeared over the sheet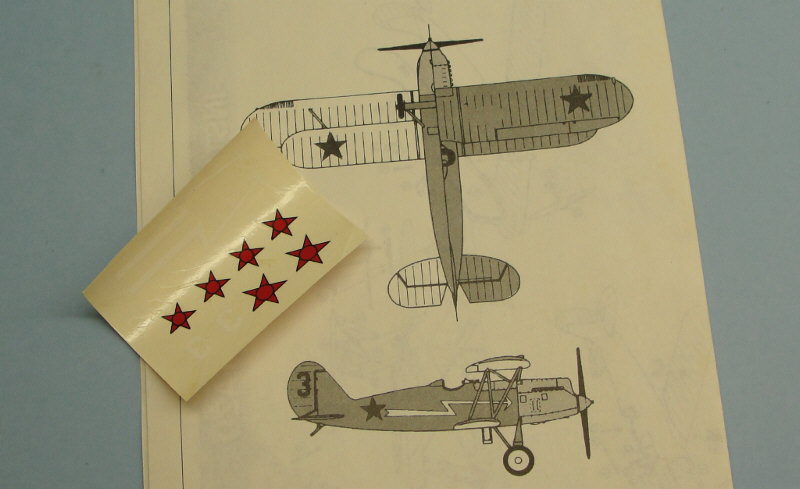 From experience I know it is best to start with the most "common" decal somewhere on the under surfaces - out of view
That's how I learned these decals curl up very quickly, more quickly then usual, when held too long in hot water
And they are very thin and very difficult to unraffle - even with Micro Set decal solution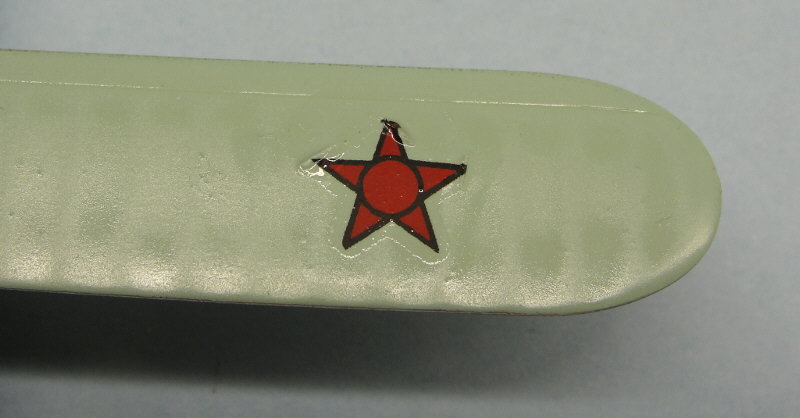 Experience now put to practice
Finally things started to look good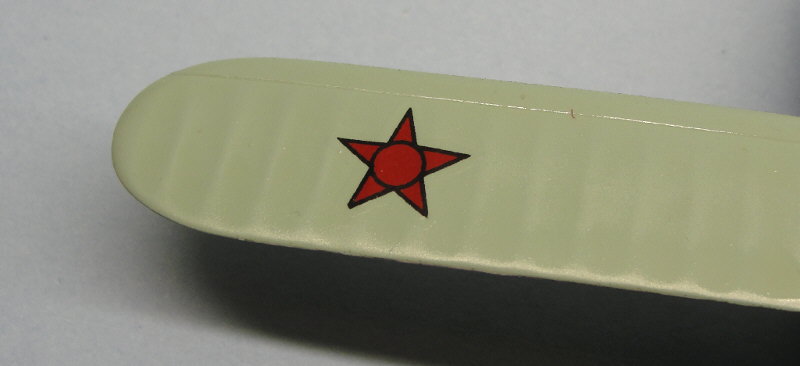 Ow sure !!!
Always something...

Oddly enough the white wasn't translucent - much to my surprise
And joy
... though the big decal had to break up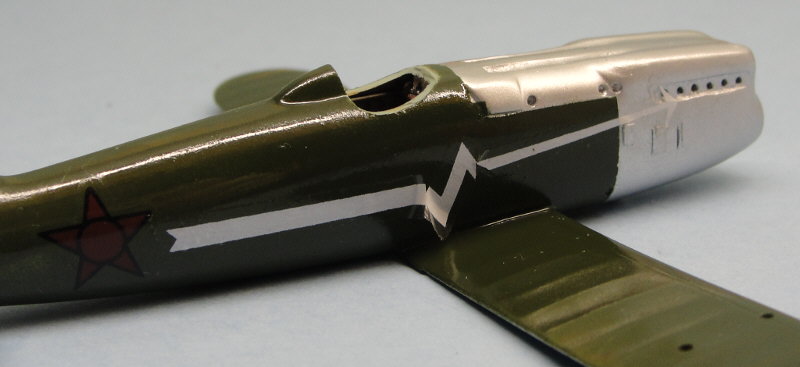 Luckily the decals were easy to slide around
... only to find out the arrow is too big

... to fit between engine covers and fuselage red star - as per instructions
I could not make the red star move anymore - it was firmly stuck and it even resisted to decal solution liquids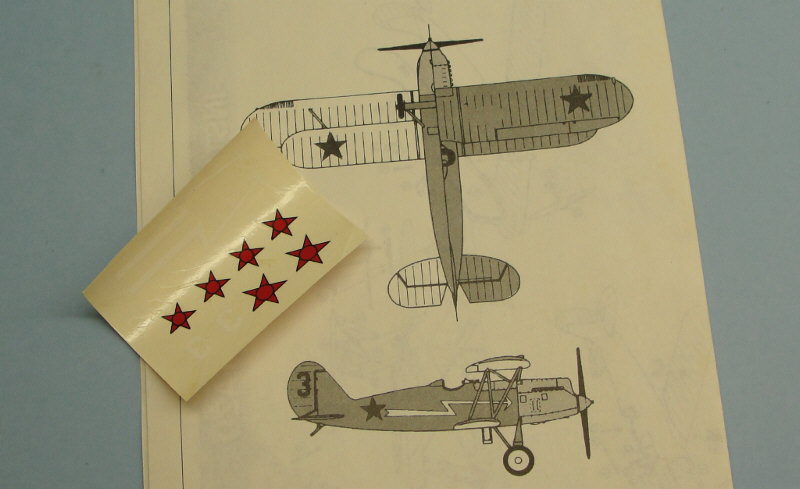 But actually the breaking up of the decal proved to be a benefit
Now I could slide parts over each other... and make it fit
Nifty
!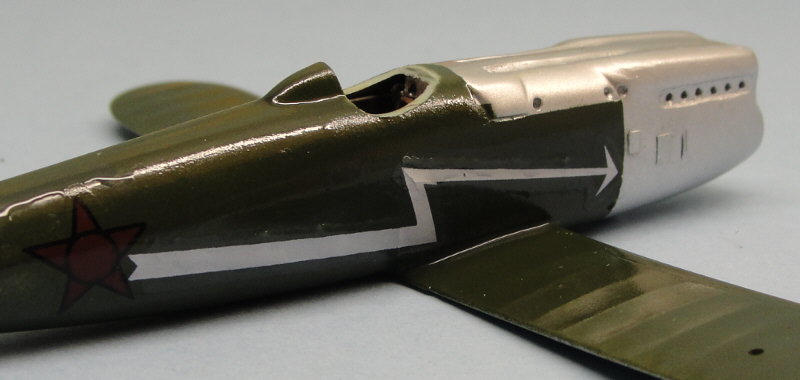 Of course the next decal did NOT break up - what did you expect ?
And I had to give it a careful helping hand with a razor blade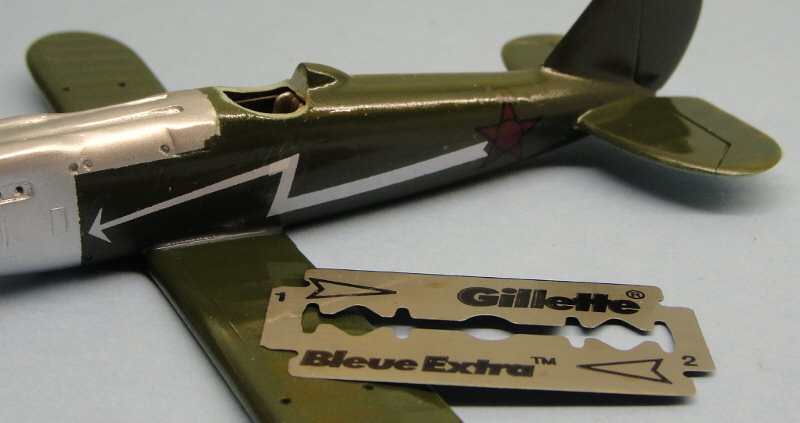 All in all I had fun with the decals - because I could overcome most of the problems
They were easy to apply, if not kept too long in hot water, and they are very thin and they show no silvering so far
I only used water, I tried a decal solution, but it had no positive effect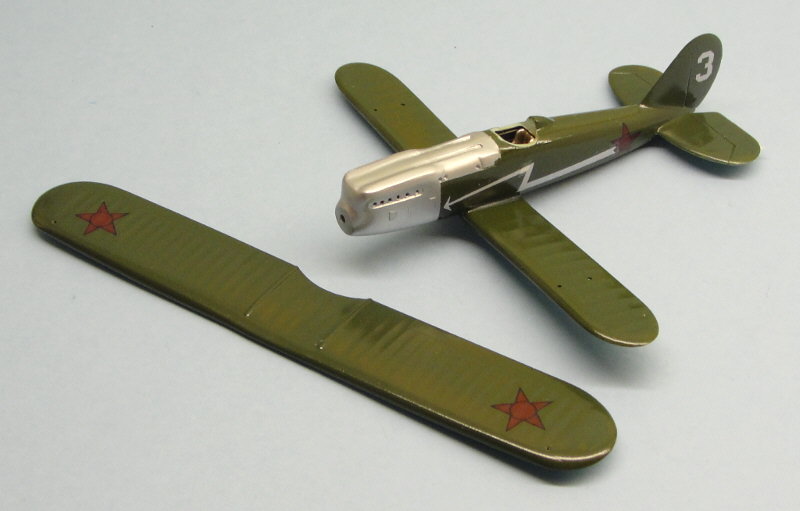 I can live with the translucent red - I mean, you still see the stars, and even the black lines in them
And I don't want to put this build on hold while waiting for Claus his decals to arrive from his friendly offer - but thanks anyway Claus, though I want to move on (and maybe I can pick up some decals over the weekend at Modellbrno)
Now onwards to the undercarriage, and putting the top wing on the model
I wonder what can go wrong
Thanks everyone
* * *
William De Coster / Belgium
/ past builds on HS :
Plastic Stories
-
Vami Models
- resin
Me P. Schwalbe
:
Part I
(incl Pantherscup 2011 show report Pt.1) -
Part II
(incl Beskyd Model Kit 2011 show report Pt.1)
-
AGA
-
Polikarpov I-3
:
Part I
-
Part II
-
Part III

Just like the perfect woman doesn't exist, I will never build a perfect model.
Puts me on a par with God